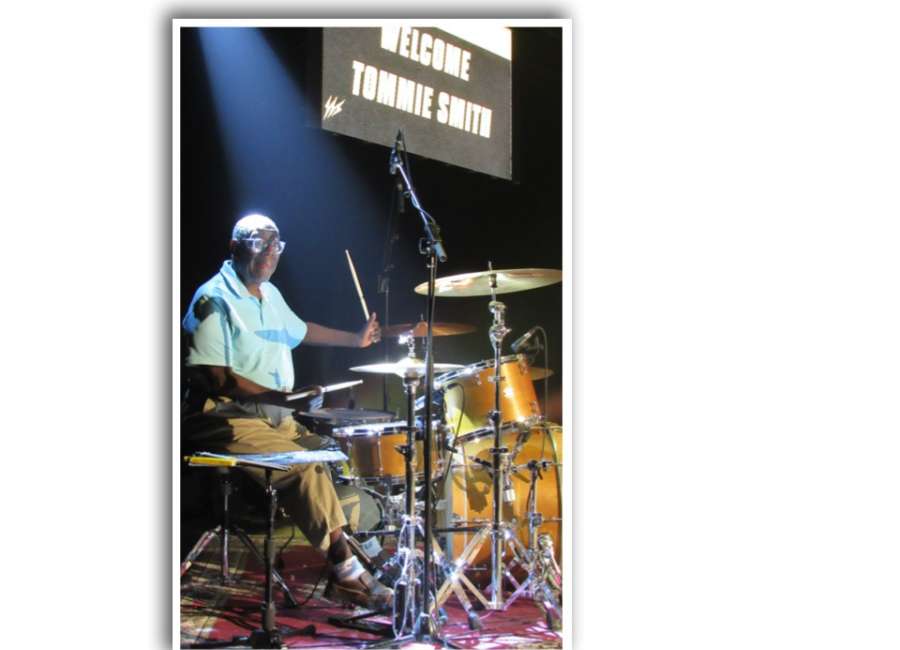 Local senior Tommie Smith was able to play the drums again, something he said he has loved to do since adolescence.
Dream fulfilled
In partnership with Insignia of Newnan, Brightmoor Hospice and Second Wind Dreams, Smith was recently able to play the drums in front of some close family and friends at Foundation Church in Newnan.
Jodi Falany, executive director of Insignia of Newnan, said Smith is a well-loved resident at Insignia.
"Tommy has been a total delight and improved all our lives here, " Falany said. "The joy that he has every single day is amazing. Tommy greets me every morning."
Falany said Smith often visits with her and other staff at Insignia. He has only been a resident for a few months.
"In just getting to know Tommy, I learned of his love of music," Falany said. "In one conversation, he wished he could play the drums again."
Falany said she got in touch with Amy Epperson with Brightmoor Hospice to help make Smith's dream come true.
Epperson said Brightmoor Hospice's partnership with Second Wind Dreams allows Brightmoor the opportunity to provide inspiring moments and dream experiences for its patients.
"We were honored to be able to make this dream come true for Tommie and be part of his special day," Epperson said in a press release. "Tommie spreads joy wherever he goes and is a blessing to all who know him. There is nothing better than putting a smile on someone's face, and we are grateful for everyone that helped make this dream come true."
Falany said the experience was special for Smith.
"The red carpet was rolled out," Falany said. "His name was in the lights on the big screen. We really made a big deal out of it. We went to lunch afterwards, and Tommie picked IHOP. Brighmoor took him shopping for some of his favorite snacks. He loves Cheez-Its and Cheetos. His favorite caregiver, Jennifer, came as well and other staff and close family and friends."
Clint Nolder, lead pastor of Foundation Church in Newnan, said Foundation Church was happy to provide the venue for Smith to play.
"He was incredible," Nolder said in an email statement. "We said yes to the request because it was a no brainer. We had everything he needed to make his wish come true, so it was an easy yes. Our church loves opportunities to serve those in our community — we believe we are most like Jesus when we are serving others. Mr. Tommy is an incredible human being, and he is a solid drummer."
Smith said it felt great to be able to play the drums again.
"I played Eric Clapton," Smith said.
A love for music
Smith said he started playing drums when he was younger. He said he made his first drum set out of pots and pans.
"I started when I was about 9-years-old," Smith said. "I would use mop buckets, gas cans to make my drum set. I used metal tops for cymbals. I used to make my drum sticks out of wood."
Smith is an Atlanta native and grew up in foster care. He said he always had a dream of playing in the school band, but there was one thing holding him back.
"I couldn't read music," Smith said.
Smith said he is a self-taught drummer and loves all types of music from The Osmonds to the Rolling Stones. His favorite band is The Beatles.
Smith, who is now 70 years old, said he got his first real drum set from his foster mom when he turned 18.
"It felt really good to get a real drum set," Smith said. "I spent a lot of time practicing. Music means everything to me — joy, happiness, everything."
Spreading joy
Falany said Smith has a talent for drawing and will often draw pictures and give them out to the staff and others. He draws all sorts of things, but many times he'll draw pictures of his favorite bands.
"We make sure Tommie has art supplies," Falany said.
Falany said Smith loves to brighten the days of others. She said he will often loan out DVDs from his collection and will even make tapes with different music to give out to others.
"Tommie has an old school boombox," Falany said. "He uses that to make the tape."
"If you're having a bad day, just talk to Tommie," Falany said.
Smith said that he loves sports as well, especially the Dallas Cowboys, Dallas Cowboys cheerleaders and Georgia football.
For more information or to nominate someone to have a Second Wind Dream fulfilled contact Amy Epperson, communications director amy.epperson@brightmoorhospice.com or call 404-831-1292.