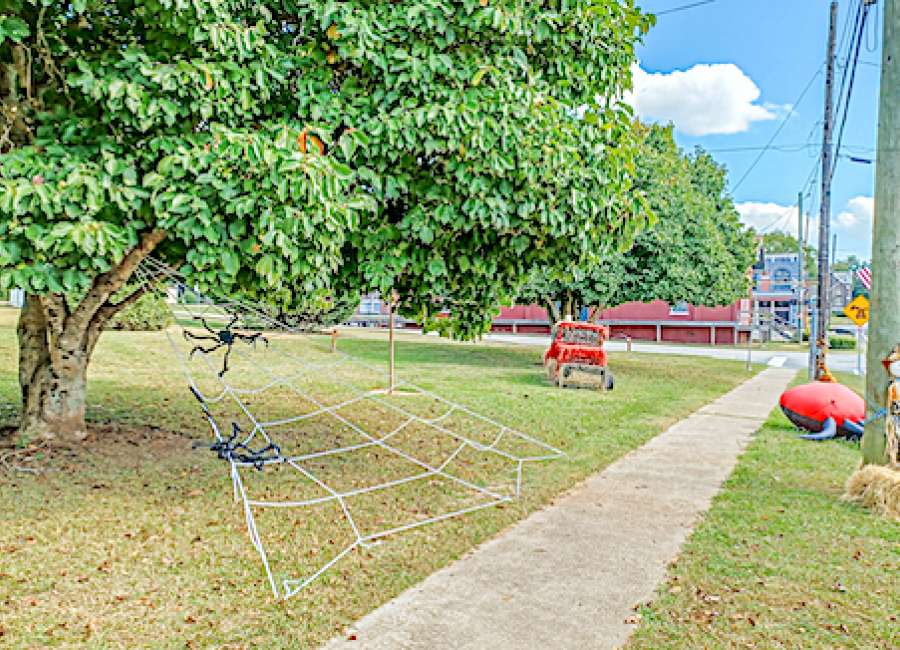 By Laura Camper / laura@newnan.com
After months of talking to residents, business owners, city officials and elected officials, and assessing what already exists, Lord Aeck Sargent presented a proposed master plan for Grantville's downtown to make it more vibrant and accessible.
The plan includes multi-use trails, downtown streetscapes and green infrastructure improvements, renovation of the freight depot, city water and sewer expansion, downtown stormwater infrastructure, residential opportunities and the development of a "town green" possibly at Colley Park. It includes a proposed 100-day action plan including creation of a board to make recommendations to the council for short-term projects. The proposal also includes proposed five-year and 10-year projects.
The planning process
Grantville won a $100,000 grant from the Atlanta Regional Commission in 2021 to go through a planning process, which included meetings to gather public input and an online survey.
The city was the first with a population under 10,000 that was awarded such a grant, said Grantville City Manager Al Grieshaber. The grants are awarded through the Livable Centers Initiative and it comes with opportunities for more grants, he said.
"It opens the opportunity for more funding as they relate to transportation and accessibility, walkability of your community," Grieshaber said. "It's all tied to federal transportation monies."
The study area included about 425 acres from Highway 29 to the Grantville Park Complex to Glanton Elementary School and Lagrange Street.
Grieshaber was excited about the plan.
"I'm pleased as punch; it just hits everything," he said. "I was pleasantly pleased with the in-depth, comprehensive handling of the citizen input with the professional consultant's ideas of what we can do to improve the quality of life for our residents."
The plan discusses things that he had never thought possible in the city, Grieshaber said.
It is something that the city and elected officials will have to review and prioritize before getting started, Grieshaber said. The city of course will be limited by its resources, but over the next five to 10 years, the vision of the plan can be brought to fruition, he said.
Lord Aeck Sargent presented a proposed master plan to the Grantville City Council including Colley Park remade into a town green.
Council members' thoughts
Some council members were more cautious in their comments about the plan.
"I think it's a good plan; I referred to it as a masterpiece," said Councilwoman Ruby Hines, adding, "But we need a study of the entire city."
She returned to the wish list that she has been campaigning on for months — sidewalks, walking trails and paving — all of which are included in the plan, just in relation to the study area and downtown. But Hines was adamant that the focus should be larger.
"We need to make the city inviting in all areas," Hines said.
Mayor Doug Jewell made similar comments.
"I think it's fantastic," Jewell said, adding, "I did have some concerns."
Those concerns include the fact that much of the downtown property, including Colley Park, are not owned by the city.
"We need to concentrate on the things we own — sidewalks and streets," Jewell said.
He also noted that the council members need to look at projects throughout the city, not just downtown.
"I think we need to think it through before jumping into it," Jewell said.
Jewell did say there were some projects the city could do immediately including burying power lines to create a prettier streetscape.
Grieshaber clarified that the city has a lease agreement with CSX railroad, the owner of the Colley Park property.
"We have control of that property," Grieshaber said. "They own the ground, but we can do whatever we want with it."
Councilman Jim Sells gushed about the plan.
"This is the most outstanding grant and activity I think I can remember in my 21 years in Grantville," Sells said. "It gave all the citizens a chance to come up and let us know what's important to them and it was done over such a period of time that no stone was left unturned."
The plan is so creative and the imaging done so well it brings the ideas to life for people who have a hard time visualizing them , Sells said.
"This is what city government is all about: figuring out what you can do with community money and community thought to improve the community that is so important to us," Sells said.
But he added, the 117-page plan is a lot to absorb. It's going to take committees to work on pieces of the plan to decide how to proceed.
Working for compromise
Sells acknowledged that the council members have had a hard time agreeing on priorities to this point. For instance, they all say they want to do sidewalks, but the where is at issue.
"I have demanded that the sidewalks downtown be redone. They're just terrible," Sells said. "Councilwoman Hines is demanding that we run a sidewalk all the way out to the interstate, to the two stores at the interstate."
Mayor Jewell, on the other hand, said he doesn't think the downtown sidewalks need to be redone. He would like to see sidewalks installed to allow people in the city residential areas to walk safely to the downtown.
So far, no estimate of any of the plans has been requested, Sells said. Still, he thinks that some of the projects in the plan will get done, Sells added.
"This is going to help us get together," he said of the plan. "Because now we not only have the input of the … five elected officials, now we have the input of several dozen citizens."
He's been sold on things he was initially against once he received more input, Sells said.
"That's what we have here," Sells said.
Grantville's Colley Park is in the middle of the city's downtown and proposed as a spot for city events under a new master plan proposed by Lord Aeck Sargent through the Liveable Centers Initiative the city participated in this year.