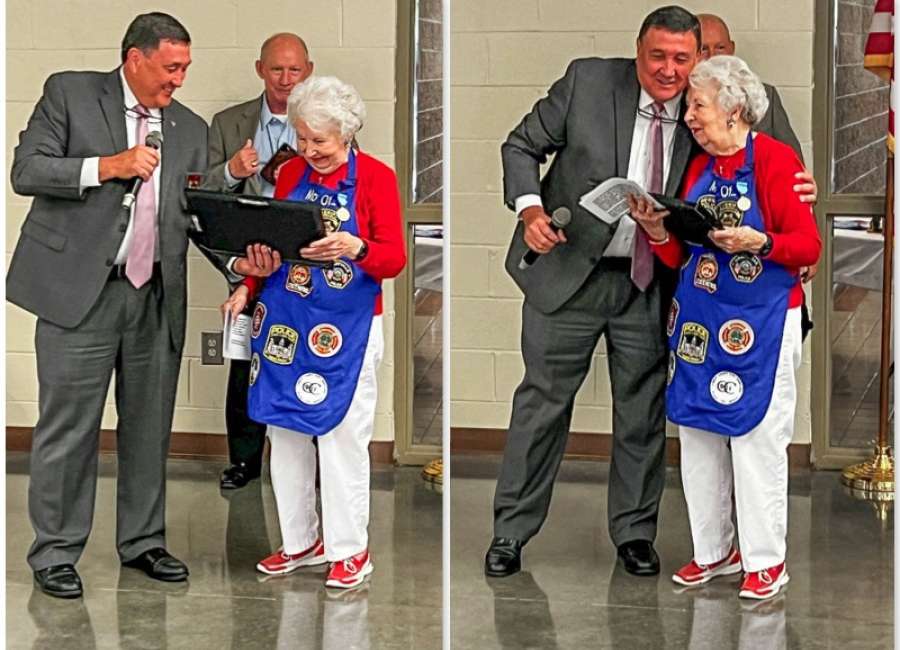 Coweta County's public safety community enjoys the support of the county's residents, and that support showed on Thursday with the annual Public Safety Appreciation Luncheon.

The luncheon, which was put on by the Newnan-Coweta Public Safety Foundation, was attended by numerous members of the county's law enforcement community, as well as government leaders that represent the county at different levels.
The event was the brainchild of Norma Haynes, chair of the Newnan-Coweta Public Safety Foundation.
The sheriff's office presented Haynes with an honorary badge and certificate at their annual Public Safety Appreciation Luncheon. Haynes is the proud "Mother of Public Safety" to all who serve in Coweta County, the department said.
"All I can say is best ever. I do think it's the best one ever," Haynes said. "It's just a great way to say thank you to our hometown heroes. We are so thankful that we can do this for them, because (public safety) gets so many complaints, and they risk their lives. That's the thing. I'm glad we have them."
Haynes is seen by many in the public safety community as "everybody's second mother," as Newnan Police Chief Brent Blankenship put it, and throughout the luncheon, law enforcement officers from all different agencies walked over to Haynes to give her a big hug.
"There's nobody that ever meets her in a public safety world that could ever say that she doesn't show them love, because she loves all of us," Blankenship said. "She's a special lady."
Blankenship said the event, as well as the gratitude shown by the county, is always appreciated by those that work in public safety.
"I know that our officers appreciate these events," Blankenship said. "It's very special to come to these events, and be thought of. We're very fortunate here in our community and county, because the community does support us regularly. We get this event and many others throughout churches and venues throughout the county, throughout the year, but this one is special because it is the Newnan-Coweta Public Safety Foundation."
Blankenship said the foundation does a great amount for the public safety population in Coweta County, helping in a variety of ways.
"We can't be thankful enough for them," Blankenship said.
"We're lucky to live in a community where they have great men and women willing to get out there and face the dangers of the day and keep us safe," said State Sen. Matt Brass, "but we're also lucky to have leaders in the county and city levels that support them as well, and extremely blessed to have people like Norma Haynes in our community that really take in the public safety community as her own children and really just bring everybody together and celebrate them and thank them."
"Norma and the Public Safety Foundation does a great job," said Michael Fouts, CEO of Coweta County. "The local government can only do so much. And we try to do right with our employees, but to show the appreciation coming from the public means a lot to them. Having a Norma Haynes in our community makes a big difference. She's a big advocate."
Fouts also mentioned that it was a rare opportunity for differing agencies to meet up with each other, something that usually doesn't happen in a casual setting. Usually, when other agencies join forces, it is in the midst of a crisis, Fouts said.