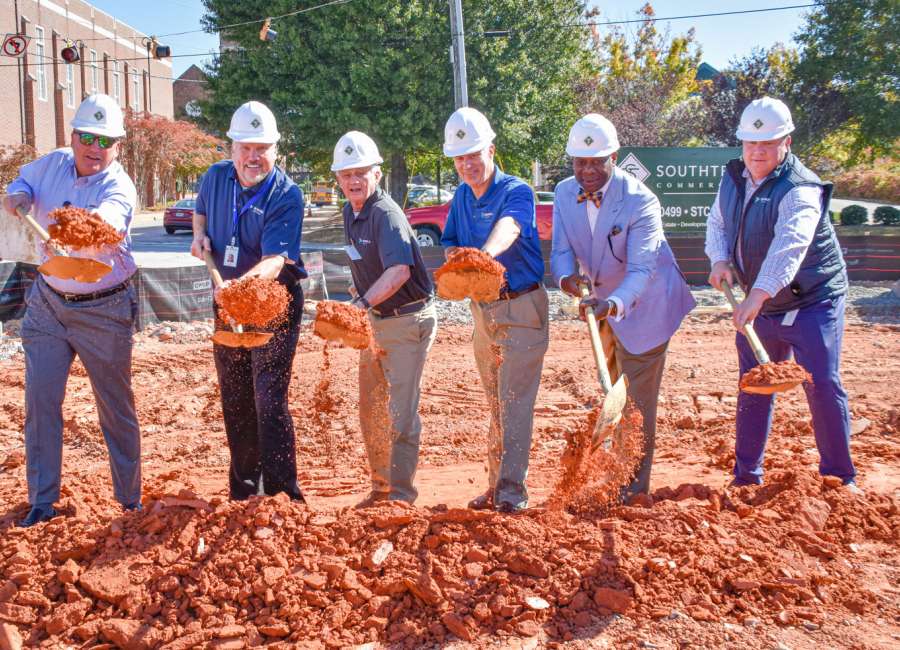 Bonnell Aluminum officially broke ground on its new downtown headquarters Monday morning.
Bonnell has been operating in Newnan for generations and the company's headquarters is currently in an office building near the factory off Temple Avenue and is housed in the original Bonnell extrusion building.
According to the plans that Southtree Commercial Development recently submitted to the city, Bonnell will lease the top two floors of a new building proposed for 37 LaGrange St.
When the building site on LaGrange Street became available, company representatives said it was a good fit that allowed the company to remain in Newnan, while fielding an office staff of 50 expected to work in the downtown office.
"We've outgrown the existing location," said Guy Charpentier, division marketing director for Bonnell.
Rather than renovating the existing facility, the company decided a new facility could suit their needs more efficiently, he said. For instance, the existing location is not compliant with the Americans with Disabilities Act, Charpentier said.
According to Southtree Commercial, the building, designed by architect Kip Oldham, will be about 31,000 square feet and will include between 70 and 80 parking spaces.
The first floor would be used for commercial space. Commercial encompasses retail and restaurants or small offices, according to Assistant City Manager Hasco Craver.
"From the city's perspective, I think it's an exciting project," Craver said. "It reinforces that downtown Newnan is a great place to invest."
Bonnell Aluminum is a subsidiary of Tredegar Industries. The 500,000-square-foot plant covers 12 acres and includes casting, extrusion, painting, acid etch anodizing, buffing and fabrication.