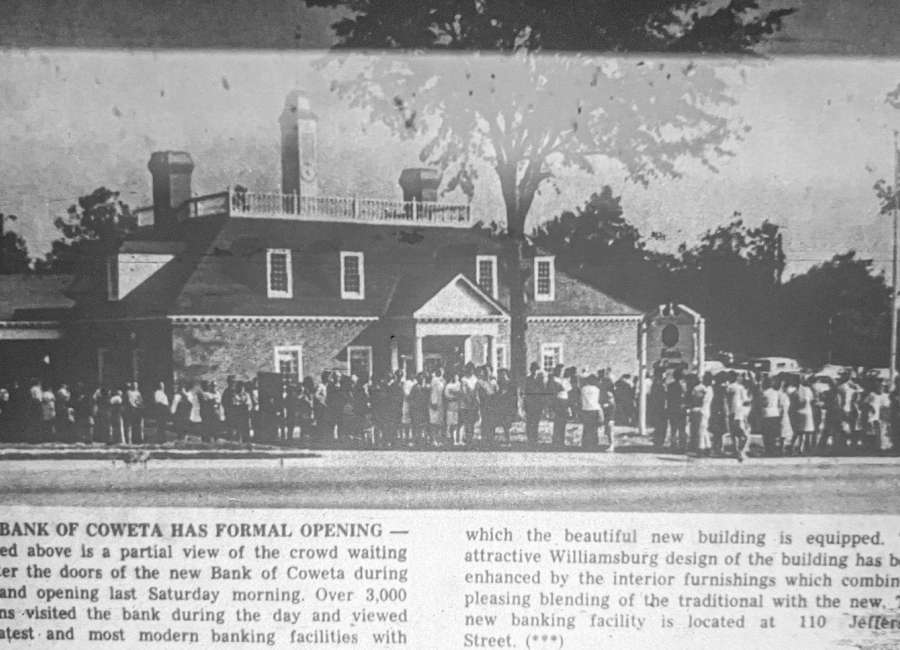 What a day! On October 6, 1972, the Bank of Coweta had its grand opening and residents of Coweta County were lined up to get in for the prizes and to see the bank.

The fifteen employees of the bank were very excited and anxious to help the prospective customers. Scott Wilson and the directors and officers of the bank were shaking hands and greeting everyone. It doesn't seem possible that it could have been 50 years ago!
Bank of Coweta offered a lot of new services when it opened - including reopening on Saturdays. This was popular with customers but unpopular with the other banks because they started opening also.
The bank also had the latest in drive-in windows with underground carriers. A lot of different marketing ideas resulted in many events held in the bank's parking lot such as - a car show, boat show and a market selling local vegetables.
One marketing campaign was "Courtesy is contagious". The bank passed out bumper stickers with this phrase and encouraged others to take part in it.
The bank was mostly concerned with providing the best customer service possible. The employees were trained to make customers feel special and assist them with their banking needs in every way possible. In an effort to assist more people, the bank eventually had eight offices to serve them.
For many years, the bank gave scholarships to the three high schools in the county. They contributed to lots of charities and took part in Relay for Life, Special Olympics, assisted with Kids' Castle and other special events in the city and county.
Banking has changed tremendously in the last 50 years, but I hope the customers of Bank of Coweta (Synovus) remember the opening and service provided during this 50 years. I am proud to be a member of the original staff and was the only one who was there from beginning to end of the "Bank of Coweta".
Thank you customers for your loyalty and support through the years.
Brenda Clark
Newnan