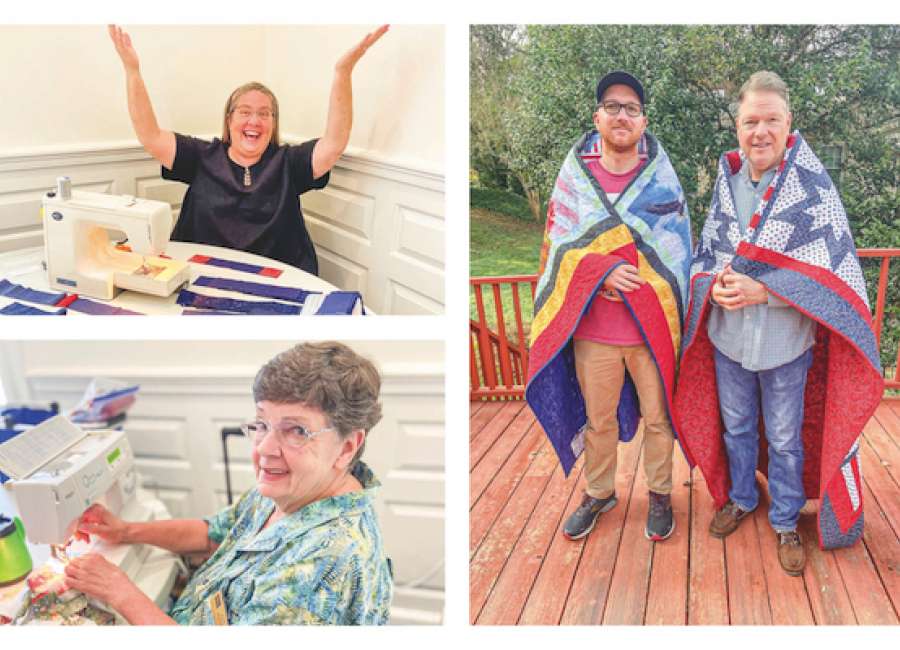 When Col. Catherine Harker was awarded her Quilt of Valor on Saturday, Sept. 10, the presentation not only honored her military service but represented a milestone for the local group responsible for recognizing her.

Harker's is the 800th quilt presented by Coweta County Quilts of Valor, a local offshoot of the national Quilts of Valor Foundation.
The foundation was founded in 2003 by Catherine Roberts, whose son, Nat, was deployed in Iraq at the time. Roberts' dreamed of volunteer teams who would donate their time, materials and expertise to comfort and thank service members and veterans for their service.
Quilts of Valor are handmade quilts that are machine or hand quilted by volunteers and awarded to service members or veterans who have been touched by war, according to the Quilts of Valor Foundation. The quilts are made to a specific size requirement, labeled, awarded and recorded.
Coweta Quilts of Valor formed in 2014 when Cathy Wilson and a couple of other local women sent out emails to gauge interest. One of those emails made their way to Barbara Pitkanen, who was working as a legal secretary at a Midtown Atlanta law firm.
"I was not really involved until I retired, and then Cathy had to cut back so I started handling nominations and the database," Pitkanen said.
As a child growing up in a tiny Michigan town, Pitkanen learned to sew through 4-H Club classes. She continued to craft and sew for her children when they were young, but she says quilting is an entirely different world.
"I didn't know what a ruler was, or flying geese," she said. "I didn't know how to put on a border."
Pitkanen watched YouTube videos, read and looked at photographs to familiarize herself with the processes involved in quilting, but she also decided she could contribute by utilizing her 45 years of career experience to handle the business side of things. She now serves as the contact for nominations and sets up presentations for approved recipients. She works closely with retired U.S. Air Force Lt. Col. Janice Spence Wilmot, who is the Northwest Georgia coordinator for Quilts of Valor, and logs every Coweta-created quilt by name, creators and date awarded.
"It's become important for me to get our veterans covered, so I enjoy all the paperwork and coordinating the presentations, which takes up a lot of my time," she said. "However, I love finishing a quilt and I am proud to present it to a veteran."
Coweta Quilts of Valor has grown from a handful of original members to 42 – including one man – leaving plenty to do for everyone involved. The local chapter includes veterans, current and former spouses of veterans, military supporters, crafters, quilters and even Pitkanen's 13-year-old granddaughter, Ava, whose first quilt is nearing completion after two years of work.
Members spend their time creating quilt tops that incorporate patriotic themes and colors during "sew days" at VFW Post 2667 in Newnan. The VFW not only welcomed the group for free, but also installed extra outlets in the facility to accommodate all the sewing machines.
"They opened up the building for us and just said, 'Here, we have this for you!" Pitkanen said.
Coweta Quilts of Valor volunteers Beverly Watkins and Brenda Hall do all the measuring for the batting and backing of the quilts on an unused pool table. Watkins handles shuffling the quilts among seven longarmers who use a specialized sewing machine to join the quilt tops, batting and backing.
Binders put the final touches on the quilts and include specialized tags. One Coweta quilter, Colleen Foley, always includes a dog somewhere on her work. The quilts are washed and dried before being presented to the veterans, whose service is emphasized during presentations before they are draped in their quilts.
Coweta County Quilts of Valor have been awarded to veterans of several wars, from recipients in their 90s on down, in all stages of health or sickness, and for some, on their deathbeds. Two active service members recently were honored during trips home to visit family. Presentations have been held for individuals and large groups in a variety of places, from churches and homes to parks, hospitals and retirement homes.
On the Coweta County Quilts of Valor Facebook page, members collectively addressed their most-asked question: Why do you make Quilts of Valor?
"The smiles and emotions on the faces of the veterans who receive them – that is one reason," the page states. "The joy we receive when we wrap a veteran in a Quilt of Valor as we honor them for their service to our country – that's another reason.
"The main reason? Honoring our veterans who have served our country, who signed up to do whatever they were asked to do – wherever, whatever, whenever – leaving their loved ones for months on end, missing birthdays, anniversaries, holidays, weddings, graduations, and even deaths of those they love. They deserve all we can offer – a quilt seems so small compared to the very large things they undertook in their service. That is why we make quilts – to help offer comfort and healing where it is needed.
"Thank you to each and everyone of you who have served our country in any capacity. You are loved, respected and will never be forgotten"
Coweta County Quilts of Valor will have a booth at the Coweta County Fair later this month, and 30 quilts will be displayed at the Historic Courthouse in downtown Newnan during the Oct. 1 Main Street Market Day.
More than 321,000 Quilts of Valor have been presented nationally since 2003. For more information on the Quilts of Valor Foundation or to nominate a veteran, visit www.qovf.org .