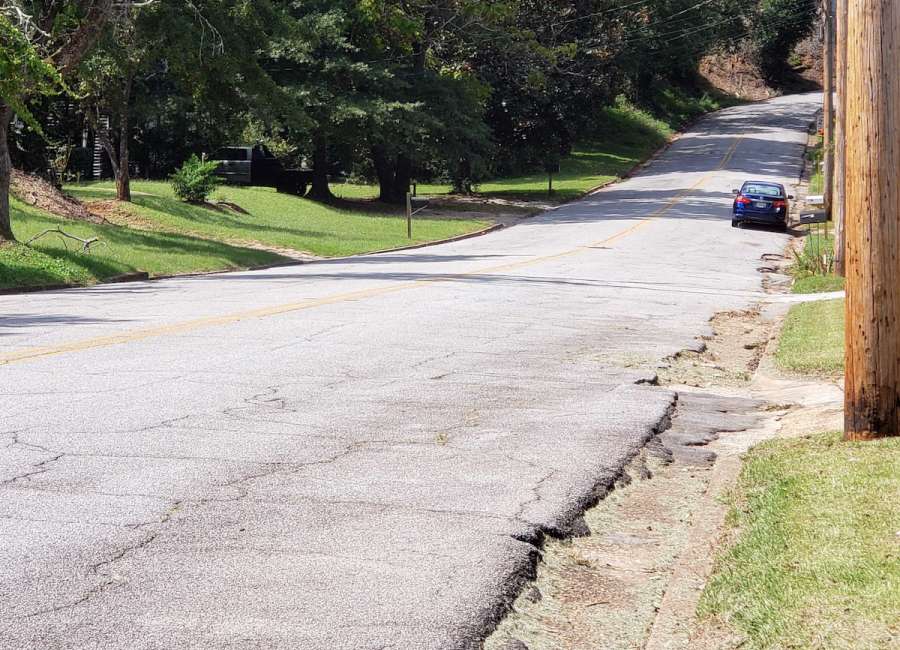 Many of the worst roads in the city of Newnan are located west of downtown, according to the city's grading system.
The city of Newnan grades the roads in their system on a scale from 0-100, with 100 being a road in perfect shape, and 0 being a road that has completely fallen apart, or impassable.
According to Newnan City Manager Cleatus Phillips, the city utilizes a consulting firm to assess these roads.
"Streets are reassessed after repaving and all the streets are reassessed every few years," Phillips said on Thursday.
Phillips said that the city strives for a target average score of 70 for all the roads in the city's road system. Currently, that target average score is 71.1, just above that target.
Phillips acknowledged that many of the city's worst roads are located west of downtown, stating that the infrastructure is older in that part of the city.
The most prominent road in need of work is West Washington Street, west of downtown Newnan. The road, for the most part, was rated between 24-30, or "Very Poor" or "Poor."
According to the city's road grading program, the condition of that road deteriorates past College Street. The road between College Street and St. Clair Street is graded at a 52, then drops to a 48 between St. Clair Street and Richard Allen Drive, and then drops further past the railroad crossing and Ray Street.
Past the railroad crossing, the road's condition fluctuates between a low of 24 between its intersections with Fisher Alley and Melson Street and a high of 31 between Hamilton Bohannon Drive and Neal Street.
"I am planning to ask council to set aside additional funds to repair West Washington and other lower scoring streets," Phillips said. "We are working now to compile this list and hope to get it before council soon. This list will be in addition to our normal LMIG state funding."
Phillips did not have a timeframe for when that list would be ready, stating that they can not submit it until their last list of LMIG projects is complete.
At the Newnan City Council's meeting on Nov. 23, 2021, the council approved a list of 12 streets for maintenance under the Local Maintenance Improvement Grant, or LMIG program. Under the LMIG program, the city is required to match 30 percent of the total funds.
During the Newnan City Council's retreat in Columbus last month, the council also discussed possible funding sources to help improve the roads, sources that have yet to be determined.
Other roads that ranked low on the city's chart included Fair Street, which was scored between 28 and 30, V C Street, which was graded at 28, Boone Drive between Camp Street and Rowe Street, graded at 29, and a portion of Sewell Road near Newnan High School, also graded at 29.
For the record, the lowest-scoring road in the system is Cates Alley, a road with a listed condition of 6. That road is on the east end of Salbide Avenue and appears to be used as a driveway for private residences and as a result, is not widely used by motorists.
The next lowest-scoring road is Newnan Crossing Court, a road off of Newnan Crossing Boulevard that is also not widely used by motorists.