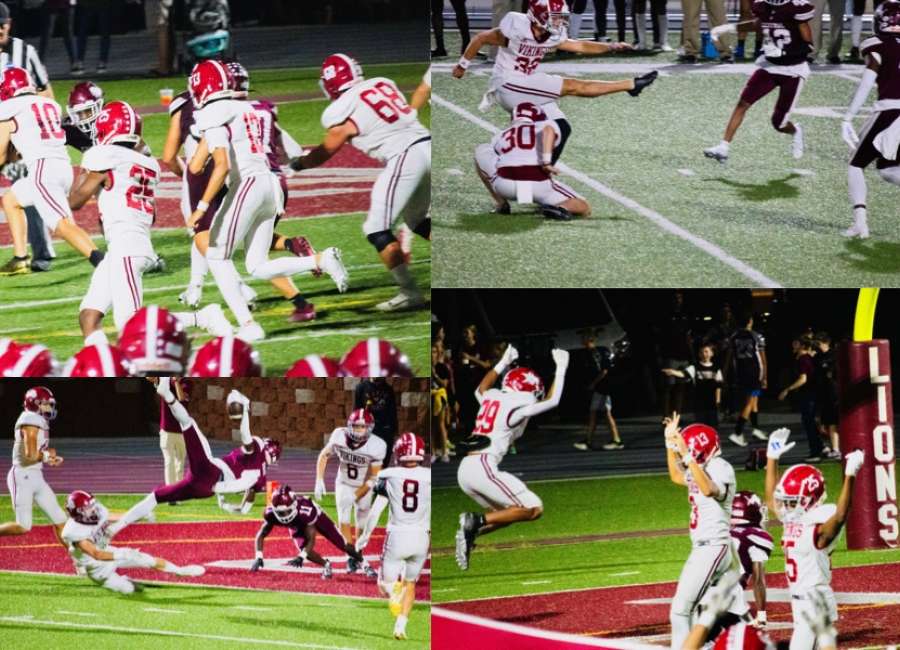 The Northgate Vikings once again displayed their grit on Friday night when they outscored the Central Carrollton Lions 14-13 in the final quarter. However, it was not enough to catch up and the Vikings fell 27-17.

After falling behind 7-0, the Vikings found the scoreboard with a Nickolas Troemel 46-yard field goal. That score would hold up through halftime.
The Lions added a touchdown in the third quarter on a Vicar Swain touchdown pass from Devan Powell, but that did not break the Northgate spirit.
The Vikings scored two touchdowns in the fourth quarter, Evan Garett caught a 12-yard touchdown pass from Ishan Metts and Clayton Cowart found the end zone on a 9-yard run. Cowart's touchdown was set up by a long kickoff return from Garrett.
It was another all-around performance from Garrett. He had 90-yards rushing on 19 carries and had two catches for 11 yards. Metts added 23 yards rushing and Cowart had 20.
Metts completed ten passes for 97 yards and a touchdown. Tyon Williams and Matthew McDonald caught three passes each, while Garrett had two and Antwan Herring and Cameron Coleman had one.
The longest offensive play of the night was a 33-yard pass from Metts to Williams.
This Friday, the Vikings return home to Henry Seldon Field for the homecoming against the Veterans Warhawks (3-1) from Warner Robins. The Vikings defense will have to contain the Warhawks' dual threat quarterback Matthew Bruce.
In the Veterans' 28-17 win last week over Lakeside, Bruce threw for 163 yards and three touchdowns and ran for 127 yards.
The Warhawks and the Vikings have shared one opponent to date; they both defeated Griffin.
After the Veterans game, the Vikings close out the regular season with their four region games. In non-region action, Northside Columbus is the top team to date in region 3-5A with a 4-1 record.