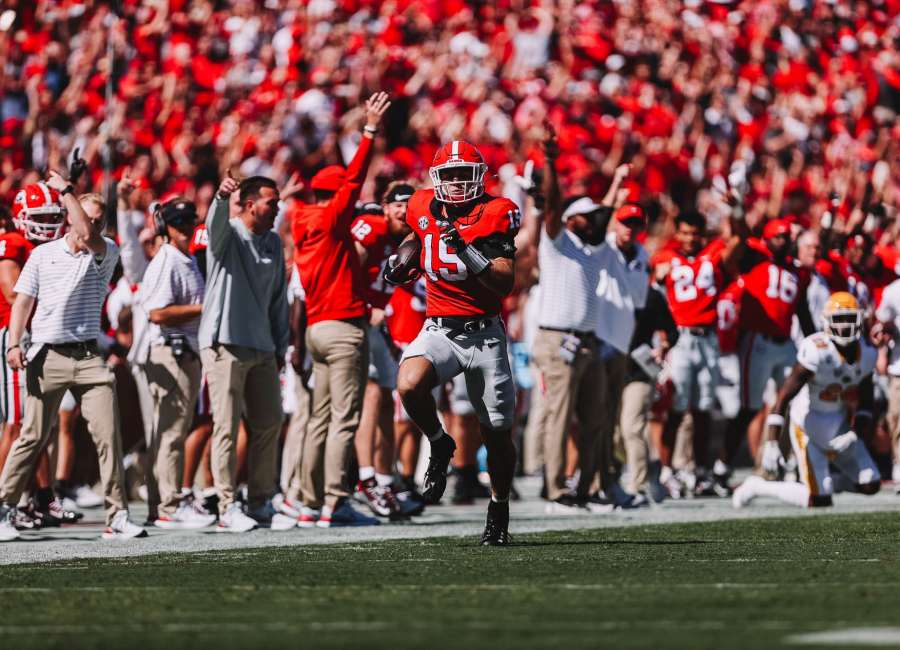 Let's begin by paying homage to ESPN, FOX, and ABC, for making up for last week's selection of noon kickoff games decided by a composite total of 135 points.
This week's three games came down to just 16 points, with two of them going into overtime:

Michigan beat Maryland, 34 – 27. Technically, the winner of the games was Big Blue running back Blake Corum, who carried the ball 30 times for 243 yards and two touchdowns. After their first three wins over sacrificial lambs, the # 4 Wolverines struggled at home in their initial Big Ten game against a team that committed 15 penalties as recently as a week ago. Michigan needs to take it up a notch before they face rival and # 3 ranked Ohio State, who demolished Wisconsin by 31 points.
In double overtime, # 5 Clemson escaped Winston-Salem with a thrilling and hard-fought 51 – 45 win over # 21 Wake Forest.
In an SEC game in Auburn, Missouri lost – not once, but twice: once in regulation, and once in overtime. In regulation, with the score tied at 14, Missouri had a chance for their talented kicker to make a game-winning chip shot field goal as time expired. Only he kicked the ball wide right. In overtime, Auburn kicked a field goal on their opening possession. Then, on Missouri's first possession, running back Nathaniel Peat fumbled away a game-winning touchdown - literally inches from the goal-line. Final score: Auburn – 17, Missouri – 2. (Technically, the score was 17 – 14, but since Missouri lost twice: 2)
In yet another overtime game, # 22 Texas – after losing to Alabama by a single point just two weeks ago – came up short against the instate rival Red Raiders and could be heading in the wrong direction. Texas Tech – 37, Texas – 34.
Meanwhile, Texas' nemesis Oklahoma couldn't take care of business at home in Norman, either. Kansas State – 41, Sooners – 34. Wildcat quarterback Adrian Martinez, who last year at this time was playing for Nebraska, took control of the game with 234 passing yards and another 148 rushing the ball while being responsible for all five of the team's touchdowns: one through the air, and four on the ground.
In another game with a fantastic finish, # 23 Texas A&M beat # 10 Arkansas, 23 – 21. The Razorbacks had a chance for a game-winning field goal in the closing minute, only to see the ball hit the right upright. Technically, the ball hit the very top of the upright, bounced high in the air, and fell a couple of yards on the wrong side of the crossbar. With the Aggie win, College Station will remain content with coach Jimbo Fisher for at least another week.
Out west in the Pac-12, in one more game with an exciting finish, # 15 Oregon finally got its money's worth out of former Auburn quarterback Bo Nix (33/44, 428 yards, 3 touchdowns) in a thrilling 44 – 41 win over Washington State. The Tigers needed 29 points in a frenetic fourth quarter to hold off the Cougars, who scored 14 points of their own in the final period.
Also in the Pac-12, # 7 USC struggled on the road against Oregon State in a narrow 17 – 14 victory. The Trojans of first-year coach Lincoln Riley, two touchdown favorites to win the game, may not be the offensive juggernaut everyone (out west, anyway) expected. Time will tell: they still have to play UCLA on the road, and the following week Notre Dame at home in their season finale.
In a complete surprise, # 12 North Carolina State beat Connecticut, 41 – 10. The score wasn't the surprise; it was the fact that the Wolfpack is considered to be among the top dozen teams in the country.
In South Carolina quarterback Spencer Rattler's 'race to 10,' there was no change from last week since he didn't throw either a touchdown or an interception in the Gamecocks' victory over Charlotte. After four games, Rattler holds firm with two touchdowns and five interceptions. Whichever reaches 10 first will determine his fate for the balance of the season.
Georgia, the top team in the country, beat Kent State in a win that many Bulldogs will consider as a loss. Final score: Bulldogs – 39, Golden Flashes – 22. Why will it be considered a loss? Two reasons: (1) Georgia was favored to win the game by more than six touchdowns, and they barely won by two, and (2) the Golden Flashes scored more points in the game than Georgia's first three opponents scored combined.
Now, as for those teams down in Florida:
# 25 Miami lost – at home – to Middle Tennessee, 45 – 31. In what many expected to be the year the Hurricanes got their swagger back with first-year head coach Mario Cristobal, it now appears that Miami will be kissing the Top 25 goodbye instead.
Over in Tallahassee, Florida State demonstrated it just might be the best team in the Sunshine State. It's almost ironic that the Seminoles are the only team amongst Florida's 'Big Three' – Florida and Miami being the other two – that wasn't in this week's Top 25. Final score: Florida State – 44, Boston College 14.
Up in Knoxville, in the biggest SEC game of the weekend (oh yeah, Alabama beat the pants off of someone; it doesn't matter who), # 11 Tennessee beat # 20 Florida, 38 – 33 in a game that wasn't decided until the last second - despite the fact that the ESPN app on my phone reported that Tennessee had won while there were still 17 seconds left in the game. The Gators scored a late touchdown, and after a successful onsides kick was just a Hail Mary away from winning the game. It could happen: the Gators beat the Vols on a 63-yard Hail Mary touchdown pass in Gainesville five years ago. This time it didn't.
Rocky Top appears to be on the way up. The jury is still out on the Gators and first-year head coach Billy 'I never met a fourth down I didn't like' Napier. Incidentally, this is the first time since 1955 that Florida has lost to Kentucky and Tennessee in the same season. With a conference record of 0 – 2, the Gators are tied with South Carolina for last in the SEC East.
(Incidentally, is it just me, or is Volunteer head coach Josh Heupel starting to look like Phil Fulmer?)
The Gators can take solace that they weren't the worst Sunshine State loss of the day. That distinction goes to the Royals of Warner University (located in Lake Wales), who lost a nail-biter to the Lumberjacks of Stephen A. Austin, 98 – 0.
Finally, the shoot-yourself-in-the-foot award goes to the Mountaineers of Appalachian State, whose first three games of the season were exciting for all the right reasons. Only this time, their game was exciting for all the wrong reasons. Leading James Madison by a score of 28 – 3 (sound familiar, Falcon fans?), their opponent scored 29 unanswered points and defeated the Mountaineers by a score of 32 – 28.
Scott Ludwig lives, runs, and writes in Senoia. His latest book, SOUTHERN COMFORT is his second collection of 101 columns. His first, SOUTHERN CHARM, and all of his other books can be found on his author page on Amazon. He can be reached at magicludwig1@gmail.com