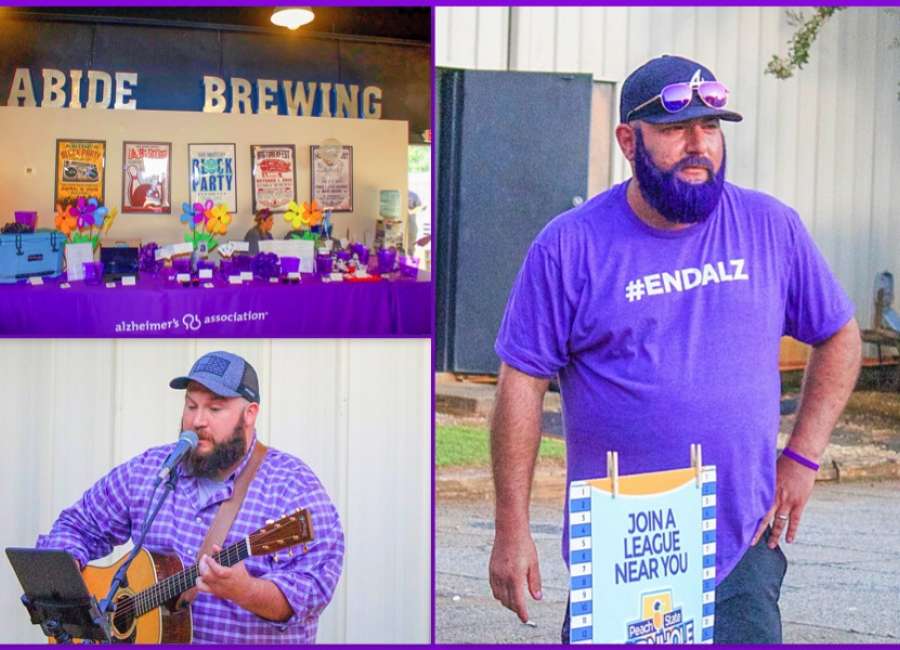 The Alzheimer's Association Walk to End Alzheimer's is the world's largest event to raise awareness and funds for Alzheimer's care, support and research.

Local residents can join the fight to end Alzheimer's by participating in the Alzheimer's Association Walk to End Alzheimer's set for Oct. 1 at Frederick Brown Jr. Amphitheater in Peachtree City.
Participants will complete a three-mile walk and will learn about Alzheimer's disease, advocacy opportunities, clinical studies enrollment, and support programs and services from the Alzheimer's Association.
Walk participants also honor those affected by Alzheimer's disease with the poignant Promise Garden ceremony.
Jim Laster, owner of Precision Pest, recently held a fundraiser for the event at Abide Brewery.
"We had a lot of support from the community and was fortunate to have some awesome prizes to raffle off," Laster said. "The Precision Pest ALZterminators raised over $3,200 leading up to the event."
Laster said he has two family members currently suffering from some form of Dementia or Alzheimer's — his Uncle Dennis and Aunt Beverly.
"It's been a rough road for them," he said.
Laster said that after meeting with Melissa Kemp from the Alzheimer's Association, "it just made sense" to start a Walk Team and help raise money to support the cause.
"As a small business owner of a service-based company, I've had the opportunity to meet a lot of people along the way," he said. "I have customers that have spouses (who) are dealing with some form of dementia, and it breaks my heart to see how it affects loved ones."
Ultimately, Laster hopes to have several fundraising events each year for the Alzheimer's Association to help raise awareness and grow the Walk to End Alzheimer's by getting more people involved, adding teams and generating funds.
In addition to the three-mile walk, participants will enjoy a family-friendly event where walkers, runners, wheelchairs, strollers and dogs are welcome. 18-piece Peachtree Jazz Edition is on hand to play music as well as an area for children.
"Like so many others, Alzheimer's has affected my family, and I understand the toll it takes on the person afflicted, their families and caregivers. It has been an honor to chair the Walk to End Alzheimer's Peachtree City/Newnan. I appreciate the efforts of all those involved. I walk and volunteer in honor of my husband, who we lost to Early Onset Alzheimer's." Says Jackie Miller, walk chair.
More than 5 million Americans are living with Alzheimer's disease, the sixth-leading cause of death in the U.S. and the only disease among the top 10 causes that cannot be cured, prevented or even slowed.
Additionally, more than 16 million family and friends provide care to people with Alzheimer's and other dementias in the U.S. In Georgia alone, there are more than 140,000 people living with the disease and 527,000 caregivers.
To sign up as a team captain, join a team or register to walk as an individual, visit alz.org/walk .