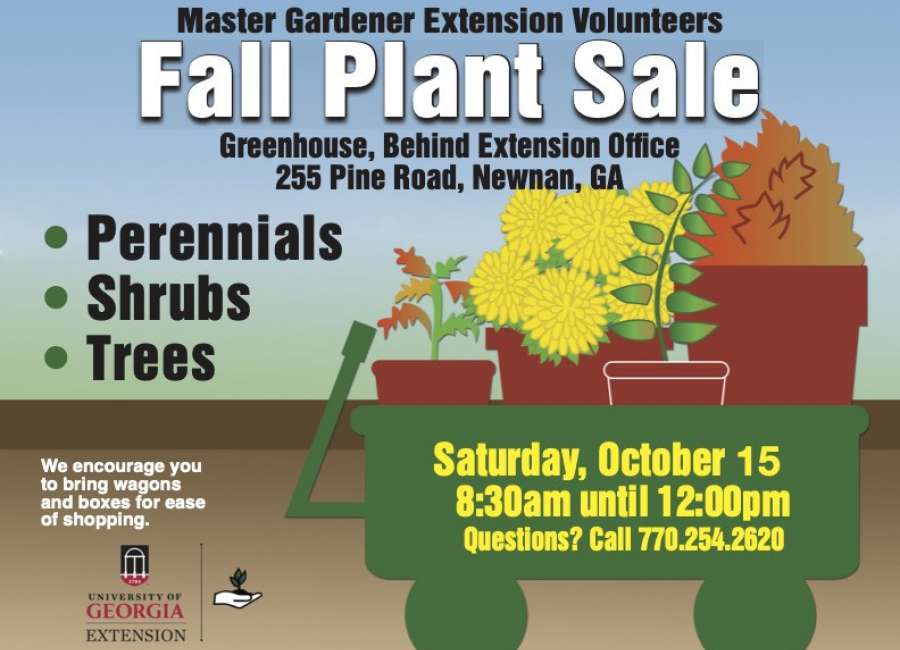 Fall is almost here, and that means it's time for the Coweta County Master Gardener Extension Volunteers Fall Plant Sale.

The event will be held on Saturday, Oct. 15 at the Coweta County Fairgrounds. The MGEVs are promising their best plant sale ever, with everything from vegetable plants to plants for your yard.
"We've planted a large assortment of shrubs, perennials and trees," says Kathy Olmsted, Fall Plant Sale chair. "We will also have pots of color ready for your porches and patios. Our "Collector's Corner" will feature hard-to-find plants. Our prices are very competitive, and our sale helps us support our mission to extend lifelong learning to Coweta County citizens through research-based education in agriculture, the environment, communities, youth and families."
Sale hours are 8:30 a.m. until noon on Saturday, Oct. 15, 2022, at the Coweta County Fairgrounds Agriculture Building, located at 275 Pine Road. All plants for sale have been propagated or grown by local MGEVs.
"Don't forget to bring low-edged cardboard boxes to carry home your plants," says Audrey Harrelson, Greenhouse Chair. "We'll have some on hand, but plant sale veterans know they go quick, so bring boxes if you have them."
Funds from the MGEV plant sale support Coweta County Extension's community education programs, youth scholarships, 4-H programs and more.
For more information about the sale, spring planting or gardening tips, please contact UGA Cooperative Extension-Coweta County at 770.254.2620 or visit ugaextension.org/coweta .
You can also find the MGEVs on Facebook, https://www.facebook.com/CowetaCountyMasterGardenerExtensionVolunteers .