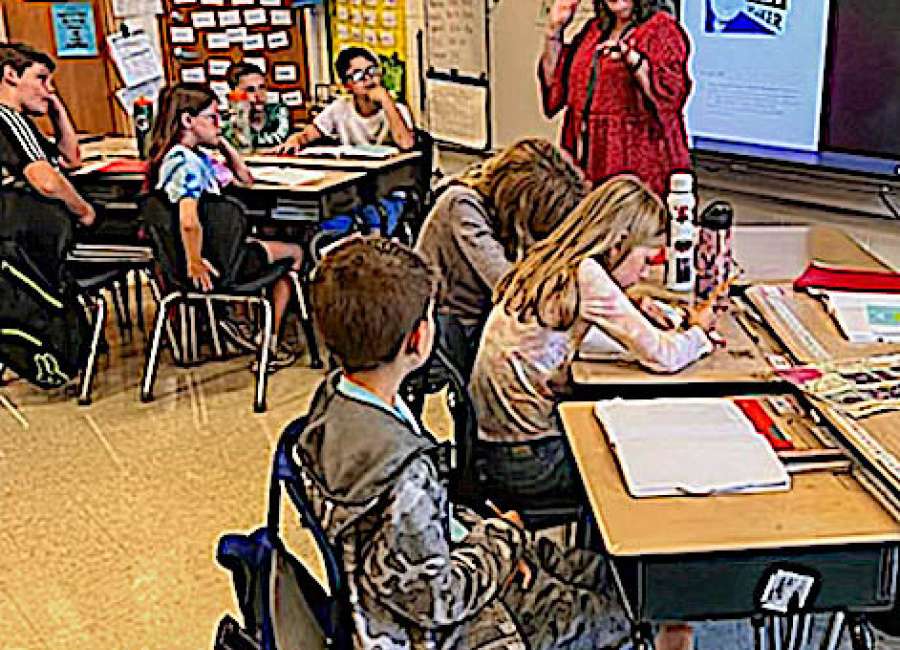 Students in Dr. Victoria Stephens' fifth grade English/language arts classes at Thomas Crossroads Elementary School were visited recently by a local newspaper reporter.

Rebecca Leftwich of The Newnan Times-Herald spoke with the students over three class periods, explaining her job and relating it to topics the students are currently studying in Stephens' classes. She answered questions from the students about her job and about other writing-related areas like note taking, plagiarism, fact vs. opinion, proper citation of sources and how news stories are generated.
Leftwich was in sixth grade when she first decided she wanted to write for a newspaper, and she followed that path by working for her high school and college newspapers and eventually ended up at the NTH, she said.
Below is a sampling of the questions and answers from Leftwich's visit:
Q. Where do the ideas for your stories come from?
A. Typically we cover what's called beats, which means one of our reporters might cover county commission, another might cover city council or board of education or other regular meetings. A lot of stories come out of that. And people might post on social media that they're upset about gas prices or an issue they can't get resolved, and that might give us some ideas. People email us and message us, or they call us about events or other stories that we end up covering. And sometimes we are personally interested in something that leads to a story.
Q. How long does it take to make one newspaper?
A. There are a lot of parts to putting together one issue of the NTH, because it's more than just writing. We have ads, layout, graphics, editing, researching and planning that goes into each issue Then, we have to send it to a printer and get it to our subscribers and sellers. But in terms of reporting, I'm pretty much writing something all the time. Some of my stories are breaking news – news that we cover right away as it happens or that we couldn't have known about in advance, like crime or accidents. Others are features or other stories we know about in advance, and sometimes those take longer to write. We have what's called a story budget that helps us plan which stories we will write and when they will be used.
Q. Do you like your job?
A. That is a very big question, and I ask myself that every night. Most days I love it, but sometimes I have to write stories about people who make bad choices or people who hurt other people, and that's hard. Sometimes what I write makes people very angry. But other times I get to write about people who are doing important things and making things better for other people around them, or who win awards, or who have interesting hobbies. I love being able to write about those things. I've always been very curious about how things work, and my job lets me explore lots of different things so it's really never the same from one day to the next. I like to joke that I am part mongoose, like Rikki-Tikki-Tavi, who says that his family's motto is "Go and find out."
Leftwich also spoke to students about specifics of news writing, including answering the "who, what, where, when, why and how" questions and using the inverted pyramid for the opening paragraph (or lede) – similar to a topic sentence for the students. She talked about practices rarely used in journalism, like writing in capital letters and using exclamation points, and about the difference between direct and indirect quotes.
"Mrs. Stephens' students were delightful," Leftwich said. "They asked excellent, thoughtful questions, and I very much enjoyed visiting with them."