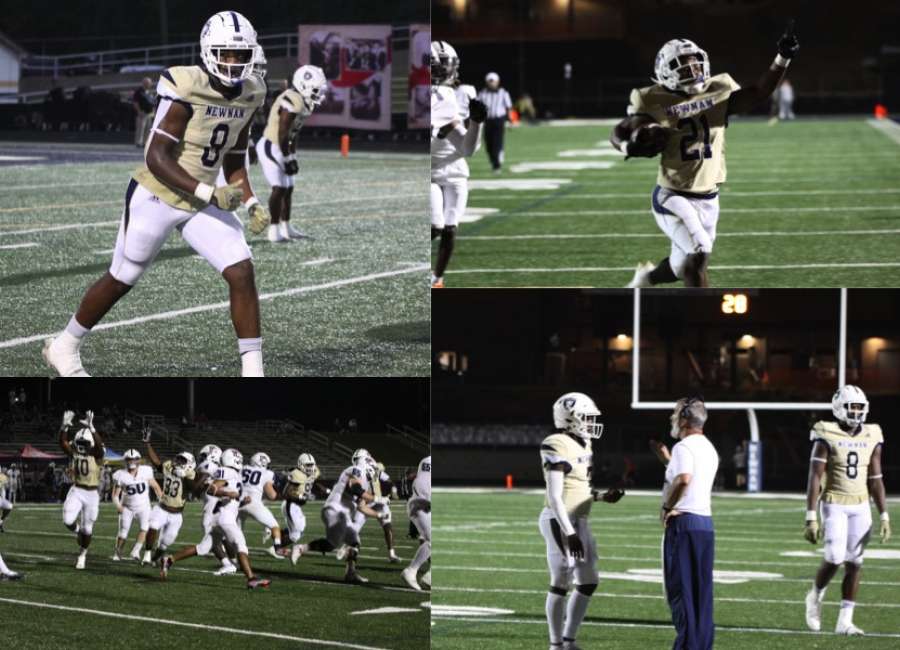 It was a tough walk out of Drake Stadium on Friday night.
After taking a 10-0 lead early, the Cougars found themselves down 24-10 to the Paulding County Patriots going into the fourth quarter.
However, a Newnan rally gave them a one-point lead at 25-24 with five minutes remaining in the game. The Patriots provided the last fireworks of the night; they scored a late touchdown on a 65-yard pass and held on to win 32-25.
The Cougars built their 10-0 lead behind a touchdown run from Jamarien McGruder and an Ethan Devers field goal.
Newnan caught a tough break when quarterback James Paige scored on an 80-yard touchdown run, but the officials called back the play for holding.
Their fourth-quarter comeback was spearheaded by a fumble recovery by the Cougars defense. The turnover led to a Quintavious Berry 47-yard touchdown to pull Newnan within seven.
They scored on their next possession on a seven-yard touchdown pass from James Paige to Justyn Reid. Head Coach Chip Walker decided to go for two and dialed up a successful conversion behind fullback Jakob Perry to complete the comeback and hold a 25-24 lead.
It was a breakout game for running back Berry. He finished with 148 rushing yards on 21 carries and a touchdown. He was just inches short of getting another.
Overall, The Cougars run game amassed 278 yards rushing for the game.
Reid was the top receiver with four catches for 57 yards and a touchdown. Paige threw for 105 yards and ran for 59.
This week, the Cougars travel to Douglasville to play the South Paulding Spartans (2-2) in another region 5-6A contest. The Spartans are led by senior quarterback Kasen Weisman who has committed to play college football for the Kansas Jayhawks.