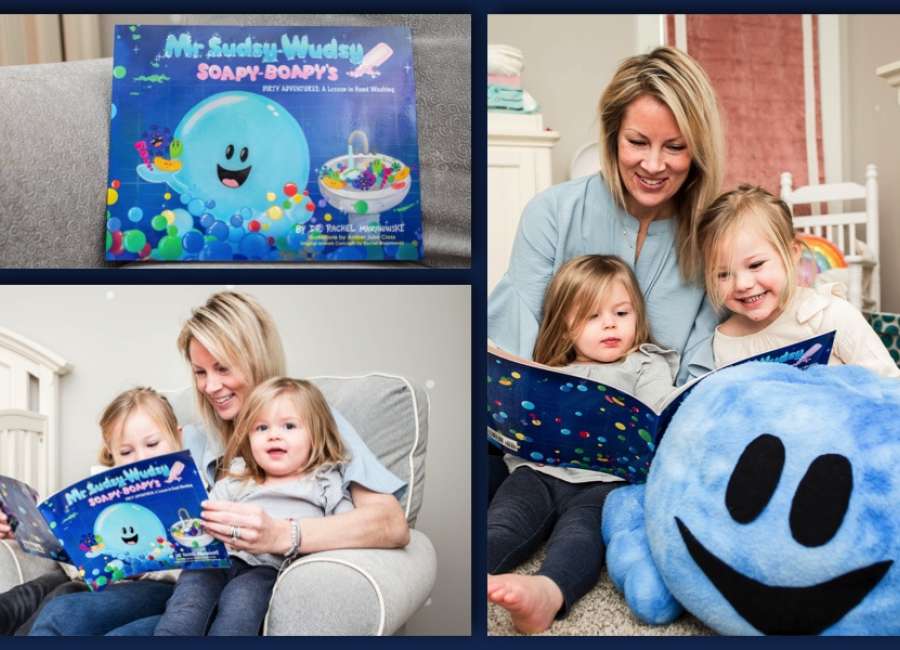 By Laura Camper / laura@newnan.com
Twelve years ago, Mr. Sudsy was born, but he didn't get out of the Marynowski home until recently.
Dr. Rachel Marynowski wrote her children's book, "Mr. Sudsy Wudsy Soapy Boapy," a dirty adventure, when she was in medical school. It was part of her life plan. Marynowski had two career goals growing up, she said.
"I always wanted to be a doctor, and I always wanted to write a children's book," Marynowski said.
She accomplished both about the same time — during her fourth year of medical school, she needed to let off steam. Always creative, she wanted to get back to art. So she wrote a children's book about hand washing featuring Mr. Sudsy.
"I hand drew each page with colored pencils," Marynowski said.
The book combined her two interests, art and medicine, specifically preventative medicine.
Marynowski is a naturopathic physician, one of only a few dozen working in the state. She specializes in health care for women at Intonu Wellness in Atlanta.
Naturopathic physicians focus on preventative medicine, removing obstacles to good health such as poor diet, chronic stress and digestive disturbances. One of the simplest preventative tools is hand washing.
As a mother of four, she knows how important hand washing can be.
"Children get about eight to nine colds a year," she said. "Some studies have shown that 26 percent of illnesses could have been avoided by hand washing."
So if kids learn the habit early, that means fewer missed school days, fewer days parents have to stay home from work with a sick child, Marynowski said.
As she started her medical career and had children, Mr. Sudsy was put on the back burner, she said. Then she started volunteering at her children's school, Arbor Springs Elementary. She brought her book to read to the children. She even created a curriculum for the book including pictures for the children to color. Marynowski showed her work to the teachers, and they showed the book to Shannon Hendrix-Caplinger, coordinator of the Coweta County Schools health program.
"It's a fantastic book," said Hendrix-Caplinger. "Anything that encourages hand washing is a good thing."
The book is not part of the school system's curriculum, they both said. To become part of the curriculum, it would have to be approved by the Coweta County Board of Education.
The school system doesn't have a specific curriculum dealing with hand washing. The nurses use a number of tools including Glo Germ, which shows children the germs they missed after washing their hands, she said. It's all specialized for the students by the nurses at each school. The book will give them one more tool to use, Hendrix-Caplinger said.
Hand washing is one of the most important habits we teach young children, and this book does speak well to elementary school students, she said.
Marynowski will be introducing herself to the nursing team at their next meeting on Sept. 15, Hendrix-Caplinger said. She has donated books to each of the nurses at the elementary schools.