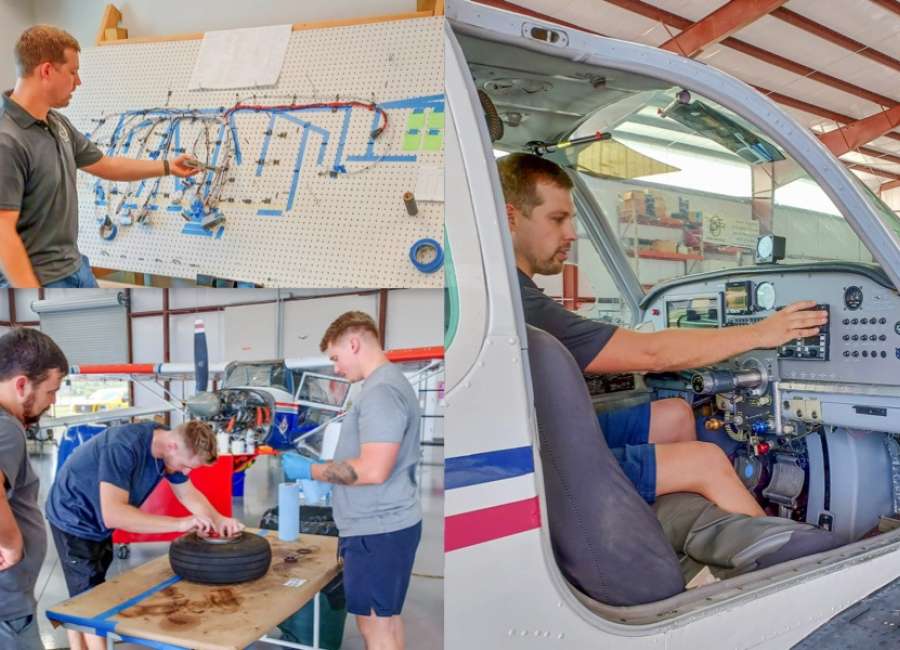 By Laura Camper / laura@newnan.com
His interest in aviation was piqued when he went to an air show with his son a couple of years ago.
So, they started going to more air shows. Then in June, Jon Morris, 37, quit his job at an area hospital and enrolled in a local apprenticeship for avionics technician.
"I was looking for something different. I've always been interested in mechanical stuff; I didn't want to work on cars, though," Morris said.
On Wednesday, he and two other apprentices were in the Oasis Aviation Maintenance hangar working on a tire from one of the airplanes needing repair.
Oasis Aviation Maintenance maintains and upgrades old, mainly privately owned airplanes to the new electronics available now. The planes come from all over the country. In the hangar on Wednesday were planes from Minnesota, Tennessee and Pennsylvania. The oldest was a 1957 model.
"A lot of the upgrades we do allow the pilot to fly in any weather," said Steven Olive, owner of the company. "They can fly in the clouds. They can fly above the clouds."
They add autopilot; they are basically adding the technology that has been available in big jets for a while and is now making it down to the small planes, he said.
In 2020, he added a school, Learn Avionics LLC, to his business.
"Really, this kind of grew out of necessity to try and find people, employees," Olive said.
Olive, a retired U.S. Air Force colonel, started his business in 2011 flying helicopters to do aerial mapping. He maintained his own fleet out of necessity and was soon asked to maintain other people's airplanes. His business grew, and he needed well-trained employees. Unfortunately, there are very few avionics programs offered, and most of them don't have the hands-on training that he is offering, Olive said.
In 2019, the Federal Aviation Administration approved the creation of avionics apprenticeship programs, he said. So, he decided that's what he would do. The building next door to his had already been set up as a school by another company that went out of business during the pandemic, Olive said. So, he took it over.
His training school started in 2020 with online and weekend courses. In March 2021, the school added the avionics technician 12-month apprenticeship program. Then recently, the school expanded the apprenticeship to include airframe and powerplant mechanics, airplane body and engine work.
The program is Department of Labor approved, which means it has to meet certain qualifications, he said. That includes paying the apprentices and tracking their progress, Olive said.
"The apprenticeship falls under my maintenance and avionics company because the Department of Labor requires a sponsor for the apprentices," Olive said. "So, I'm the employer-sponsor."
Three apprentices have graduated from the program, and there are currently seven in the program. The first graduate, James Hertig, is now the lead instructor of the school.
Hertig was an instructor in the U.S. Navy, a submarine electrician.
"Submarines are basically underwater planes," Hertig said. "They have wings and everything."
When Hertig left the military, he didn't want a desk job. He wanted a job just as interesting as working on a submarine, so when he heard about Learning Aviation, he decided to give airplanes a try.
"I've got an engineering background, and planes are very much an engineering thing, everything from how they fly — airlock engineering — to how the computers work — electrical engineering," Hertig said.
He also thinks he'd like to get his pilot's license eventually, Hertig said.
Chris Vallery, 25, an apprentice in the two-year program, is contemplating the same thing. Vallery used to work as a field tech on construction equipment, but since his family worked in aviation has always been around the industry. He wanted to give airplanes a try. He likes the work, and that he gets to fly in the planes on test flights to make sure all the new equipment is working.
"We have a pilot that shows up, so he'll fly and we're like co-pilots," Vallery said. "We look at the instruments while he's flying. It's pretty cool."
The school is limited by the small staff and Olive's payroll, since he pays all the apprentices. They can currently accept about three apprentices in January and three in June. But he has applied for a grant to expand the program.
"I can't produce (technicians and mechanics) fast enough," Olive said.
He started ticking off companies that have contacted him to see if he has any technicians ready to graduate including a company in Naples, Florida, and companies in Savannah, Georgia, and Atlanta. One soon-to-be graduate is now finishing his last couple months of apprenticeship in Miami where he was hired, Olive said. Once they finish the classroom portion — the first five weeks of the program — and pass their Aircraft Electronics Technician Certification exam, the apprentices can finish the apprenticeship at another company, he said.
"It's really a good intro into everything aviation," Hertig said of the program. "Whether you want to be a pilot but you're just not there yet, or you want to do anything aviation related, this is a good first step."