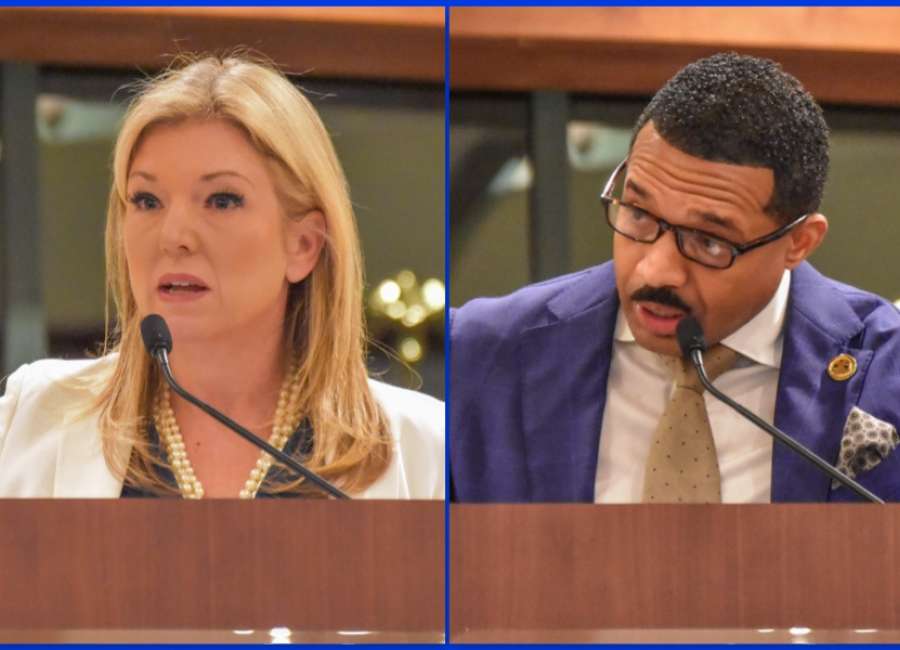 In the wake of the recent Roe v. Wade reversal, it was only fitting that both speakers at the Atkinson-Arnall Tribute Dinner were lawyers and the subject of women's autonomy was a persistent theme.

The Atkinson-Arnall Tribute is named for William Yates Atkinson and Ellis Gibbs Arnall, the two Georgia governors who were from Coweta County. Both were progressive Democrats with interests in education, legislative reform and economic development.
State Sen. Jen Jordan and Dr. Rashad Richey spoke at the annual fundraiser for the Coweta Democratic Party. Also on the program were local candidates seeking election including Frankie Harden who is seeking the District 3 County Commission seat currently held by Bob Blackburn.
Candidates Janice Laws Robinson, Ellen Wright, Lydia Glaize, Calvin Anderson and Dr. Val Almonord also delivered speeches.
Jordan
Sen. Jen Jordan was elected to the Senate in a special election in 2017. She represents Georgia's 6th Senate District, which includes portions of Cobb and Fulton counties.
She's currently running against Republican Chris Carr for state attorney general.
Jordan spoke about her rural upbringing in Dodge County, Georgia, and how it shaped her on her way to becoming a successful attorney and public servant. As the daughter of a single-mother hairdresser, she learned a lot about the lives of women just by listening at the salon.
"You got stories from all walks of life and learn that bad things happen to good people for no reason. That's when people need someone to stand up for them," she said.
Jordan said the opportunities afforded her by policies created by Democratic lawmakers helped pave the way for her to take the ACTs, SATs, apply for the HOPE scholarship and eventually law school, where she found her passion for helping others.
"The law is my language," she said. "When you see a wrong, you can call it out and lawyers can do even more. The law is the tool for justice."
After the 2016 election that flipped the 6th district from red to blue, Jordan said she saw a shift that revealed an increase in animosity among lawmakers.
Jordan gained national recognition after a video of her dissent of Georgia House Bill 481, the "heartbeat bill" that criminalizes most abortions after six weeks of pregnancy, went viral.
Exceptions are provided for women whose pregnancies are considered futile (e.g. anencephaly) or a medical emergency and women pregnant by rape or incest — but only if they are less than 20 weeks pregnant and only if they have filed a police report.
Jordan objected to the wording of the legislation: a woman would have only 1 to 2 weeks to realize she had missed a menstrual period and schedule an abortion, in order to stay within the time frame allotted by the bill.
In her 2019 speech, which has been viewed and shared thousands of times, Jordan revealed publicly her personal struggles with conception.
"I have been pregnant 10 times," Jordan told the audience on the Senate floor, "I have seen what many of you in here have called a heartbeat 10 times. But I have only given birth twice. I have lost seven pregnancies at varying points of time before 20 weeks. And one after five months. Her name was Juliette.
"I have laid on the cold examination table while a doctor desperately looked for a 'heartbeat.' I have been escorted out the back door of my physician's office so as not to upset the other pregnant women in the waiting area, my grief on full display and uncontainable."
Jordan told those in attendance at the Atkinson Dinner that she hoped that maybe somehow, her personal story would make an impact on those seemingly unmovable lawmakers.
"The fight over 481 was the toughest night of my life," she said. "I thought if the Republican men could just listen and open their hearts and mind, maybe they won't vote. Maybe they'll take a walk."
It didn't happen.
In her decision to run against Carr, Jordan cited her experience when attempting to raise awareness about Sterigenics, a medical sterilization facility in her district that was reportedly emitting dangerous amounts of cancer-causing chemicals into the air.
Phil Macnab, president of Sterigenics, told residents he would not shut down the facility while improvements were made because doing so would disrupt the supply chain for medical devices in the U.S.
Jordan filed a lawsuit asking a Fulton County judge to throw out a consent order on the Sterigenics construction plan that the company reached with state officials. Jordan said the consent order between the state EPD and Sterigenics was negotiated behind closed doors and executed without making the public or elected officials aware of it.
A spokeswoman for Attorney General Chris Carr, who will defend the state in the case, told Georgia Health News that she was unable to comment on pending litigation.
"(Carr) was the one person who could have done something, but not only did he fail to do something, he made a deal behind closed doors to keep the facility operating," Jordan. "It's not about the people of this state or fighting for them. It's about power, partisanship and party. It's not changing."
Richey
Closing the dinner was keynote speaker Dr. Rashad Richey, noted academician, national lecturer, Emmy-nominated political analyst, national television news anchor, talk radio personality and business executive.
When it comes to issues like criminal justice reform, common sense gun laws, affordable higher education, a woman's right to choose and increasing minimum wage, Richey says most Americans are on the same page.
"Policies we believe in represent the normative thinking of most Americans. You are standing up for the America that says we'd rather draw circles than draw lines," he said. "So why is there such a disconnect? It comes down to narratives and messaging in a post-truth society."
In the years leading up to the Roe v. Wade reversal, Richey asked the audience if they noticed more red states passing laws regarding restricting access for abortions.
"Our Supreme Court lied about not wanting to overturn Roe v. Wade, so no one thought it was in danger," he said. "But if it's overturned, these will be trigger laws. Do you think that was a coincidence?"
Believing in the value of people is what Richey says separates Democratic principles from others. In his return to law school, he encountered a young man who was denied financial aid because of a misdemeanor marijuana possession charge at 17.
"It's a life sentence. A conviction of a minor drug charge will eliminate you from receiving financial aid," he said. "Does the penalty fit the crime? It's just not adding up. Decriminalization isn't for people to smoke marijuana. It's for a second opportunity in life."
Richey shared a similar story about another 17-year-old from DeKalb County who was charged with a felony the first year that Georgia created a law allowing 17-year-olds to be charged as an adult.
"The law was just a way to lock up young Black men for many, many years," he said.
That teenager was facing 22 years in prison, but the district attorney at the time, J. Tom Morgan, decided to charge the teenager under the First Offenders Act to give him a second chance.
"That child took the opportunity, got his GED, took the SATs at no cost and got into college on the HOPE scholarship all based on the policy of two Democrats," he said. "He went on to become a college professor, broadcaster and Emmy nominee. You're looking at him right now."
"So when I tell you good policy saves lives, it saved mine, and good policies will help change the world."