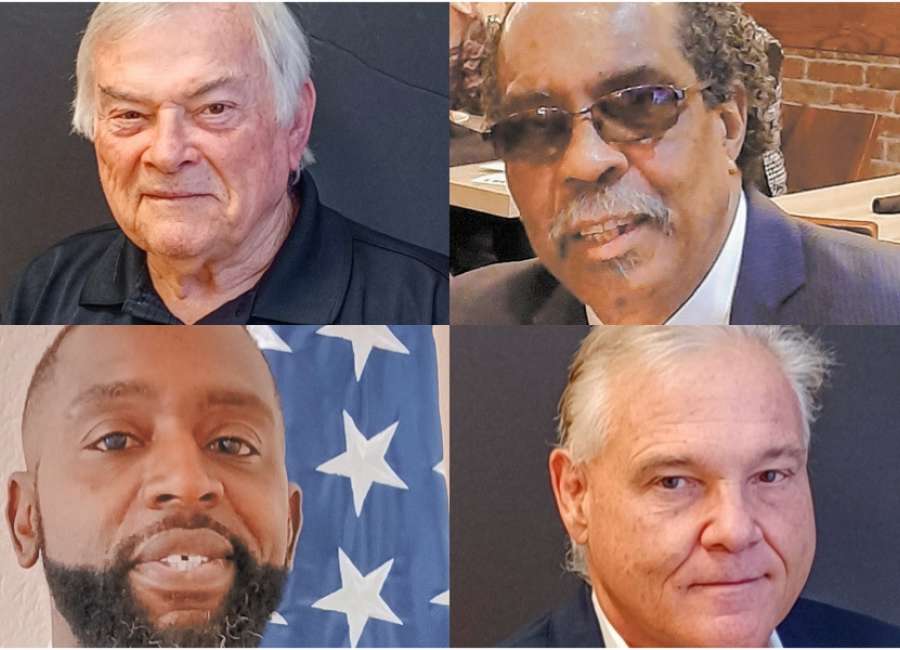 By Laura Camper / laura@newnan.com
While the Nov. 8 election seems a long way off, early voting is less than a month away, beginning on Oct. 17. So now is a good time to get to know the candidates.
Grantville residents will have four mayoral candidates to choose from in the ballot box. Incumbent Doug Jewell is facing three challengers, Johnny Cooks, Mark Bynum and Richard Proctor, each with their own ideas of how to make Grantville a great place to live.
What needs to change
Bynum, 42, said he decided to run for mayor because he thinks the city is stagnating.
"I think everyone wants the same thing," Bynum said of local residents. "That's for the city to move in a positive direction."
Both he and Cooks, 70, said they believe the city is being held back by bickering on the city council. Cooks, a former Grantville city councilman, said he believes that his political experience including an ability to negotiate and compromise would help move things forward.
"We need leadership that'll make a difference," Cooks said.
Proctor, 60, said the people of Grantville have been underserved for years.
"With my extensive background in business and (my) drive, I know I can help the city of Grantville and its residents," Proctor said.
Incumbent Mayor Jewell, 82, said he believes the city is moving in the right direction, though.
He said there are businesses planning to settle in the community including a 1-million-square-foot warehouse that is currently in the permitting stage.
"I moved here in 1987, and when I first moved here, we had industry and commercial businesses," Jewell said. "They were all small businesses, but they were what you needed in a small town."
But over the years, that disappeared, he said.
"I would like to see Grantville get back to what it was: the best little bedroom community," Jewell said.
Candidate priorities
Proctor said he would focus on improving the city's infrastructure to help Grantville grow and grow in the right direction. He would like to see broadband fully deployed in the city as well as a review of the city utilities and how well the city is serving the residents. He specifically mentioned water treatment as an issue.
Bynum also mentioned water treatment as a problem. He wants to see the city's "sludge ponds" cleaned up, Bynum said.
Cooks said he would look to other entities to help Grantville grow including the University of West Georgia, which often works with local governments on education projects.
"Education is a big thing for employers," Cooks said.
All of the candidates cited recreation as an important resource for local residents.
Cooks said while on the council, he voted for the splash park and was involved in bringing the skate park to the city. He voted to hire a recreation director, and he thinks that position should be refilled. He also would like to see the drafts of a walking trail through the city be put into place.
Proctor and Jewell would also like to see the city hire a recreation director to bring youth sports back to the city, they said. Jewell said he would also like to hire a part-time history center director.
Bynum noted that sports should be available for young Grantville residents.
"We tried baseball," Bynum said. "Baseball didn't work out, so I'm thinking soccer. … If soccer doesn't work, let's try football. You know, let's try something."
Jewell listed a stack of projects he would like to tackle if reelected including paving, installation of handicapped accessible sidewalks and seeking grants for a number of the projects. Notably, he said that he would like to seek a grant to renovate the city's freight depot, although in July, he voted against accepting a $170,000 grant for that particular renovation.
Communicating with residents
All of the candidates also declared their desire for the city to be more transparent to the community.
"One thing that we are lacking is a means of proper communication to our residents," Proctor said.
He suggested enhancing the city's webpage, sending out a monthly newsletter via email to residents and streaming the city council meetings on Facebook lLive.
Cooks suggested creating a youth council and making videos highlighting the city's business community.
Jewell said he encourages people to call him and prefers one-on-one communication. But he would like to follow in Hogansville's footsteps and try having some town-hall-style meetings with residents.
Candidate experience
Proctor worked in the telecommunications business for 35 years eventually managing more than 500 employees and a $50 million budget.
"When I become mayor of Grantville, I am going to run Grantville as a business," he said.
The city has to balance the needs and the available revenue and prioritize what it does — that's business, Proctor said.
Bynum, owner of three Grantville-based businesses, agreed that the city should be run more like a business, and he's proven that he can take an idea and create a successful business.
"I've taken a plaza that was basically dormant," Bynum said, "and built three businesses."
Jewell said that his political experience will help him continue to move the city forward. He noted that he has taken a number of courses through the Georgia Municipal Association about government operations and economic development.
Cooks also said his political experience would be an asset for voters, much more than business experience.
"Government is just not a business," Cooks said. "I've been on the council before. I know how to compromise. I know how to get things done."
Doug Jewell (Incumbent)

Age: 82
Address: 249 Grandma Branch Road
Occupation: retired and drives a school bus for Heard County Schools
Education: some college in the area of criminal justice
Political experience: mayor since 2015
Johnny Cooks
Age: 70
Address: 77 Griffin St.
Occupation: Retired business owner
Education: BA in Education from Ball State University and MA in education from Northwestern University in Indiana
Political experience: served on Grantville City Council, 2010 to 2014
Spouse: Karen Cooks
Mark Bynum
Age: 42
Address: 14 College St.
Occupation: owner of three Grantville-based businesses: a nail salon, Harris Hand Barber College and Miss V's Wings
Education: Fort Stewart Army Education Center
Political experience: none
Richard Proctor
Age: 60
Address: 279 Lagrange St.
Occupation: Author, former businessman in telecommunications industry
Education: BA in economics and political science from University of Georgia
Political experience: none
Spouse: Tegan Proctor