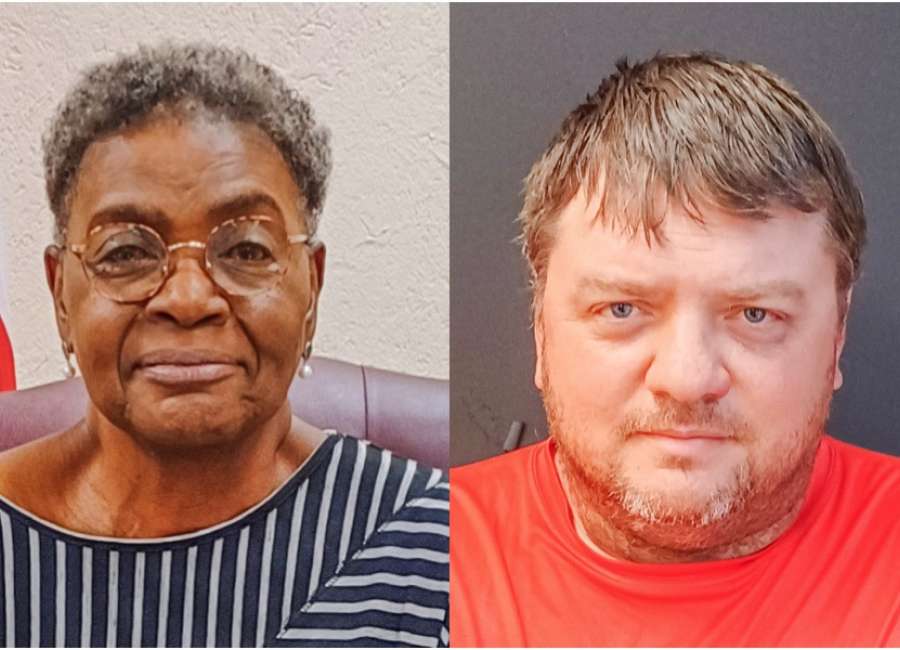 By Laura Camper / laura@newnan.com
Beginning with early voting on Oct. 17, Grantville voters will have to decide whether they are happy with their current representation for Council Post 2 or if they're ready for a change. Incumbent Councilwoman Ruby Hines, 80, who offers eight years of experience on the council, is being challenged for the seat by David Clark, 38, a passionate political newbie.
"I know Grantville," Clark said. "I (have) been here my whole life. … My family has been here over 100 years."
Councilwoman Ruby Hines said she wants to continue to be a voice for the people on the City Council.
"I want to get those things done that concern them completed or corrected," Hines said.
Clark, a self-employed handyman, manages the Real Talk of Grantville Facebook page and has seen what people in the community want, he said.
"I want to bring something for families to actually get something from Grantville besides taxes and high utility bills," Clark said.
Clark said he has three priorities — paving streets, recreation, and better communication between city hall and the residents.
"For the past nine years, there has not been nothing for children to do in Grantville," Clark said. "A dog park and another basketball court was promised eight years ago, and that's never come to fulfillment. And also the current parks are in deplorable condition."
Hines also lists paving as one of her priorities, as well as handicapped accessible sidewalks in the downtown. But she notes that money needs to be available and unfortunately, not everything can be done at once.
"We need to work with patience and concern to get our sidewalks installed and our roads paved," Hines said.
A flyer listing priorities for Mayor Doug Jewell, Hines and candidate for Council Post 1 Dee Berry includes applying for grants for paving and sidewalks. It also includes seeking a grant to renovate the city's freight depot. But Hines voted against accepting a $170,000 grant for that purpose in July.
Hines said the time was not right for that grant. The city has more pressing needs, including sidewalks that will make the city more welcoming and walkable, she said. Grantville already has two rec centers that residents can use, she added.
Additionally, she would like to see the city's history highlighted in the newly renovated History Center in the downtown. She would like to hire a part-time director to man the building.
"Our history is our story," Hines said. "Our citizens need to reflect on others who have played a significant role in making Grantville what it is today."
Both candidates say they would like to see a Parks and Recreation director at the city.
Clark additionally said he would like to see some changes in the city's utility billing.
"There's no payment plans. There's no warning notices. There's no leniency whatsoever," he said. "(I would like) a friendlier utility billing process more in line with other companies such as Georgia Power."
His own electricity was shut off in January 2018 for an overdue balance of just $2.18, he said. People are fed up, Clark said.
Clark went on to say that what the city needs is some new blood on the City Council, council members who are more responsive to their constituents.
"Connection from City Hall to the citizens is nonexistent," Clark said. "There's barely any communication whatsoever."
Hines also has heard those complaints, she said. As she has campaigned, she said people have told her they don't come to meetings or talk to their representatives because they don't think their voice matters. Her goal is to present their wants and needs and use her experience on the council to help bring them to fruition.
"Experience can be a vital asset to the operation of the city," Hines said, adding, "We all need to take a seat at the table and learn from each other."
Emily, please put in box with mug next to person's information:
David Clark
Age: 38
Address: 184 Lagrange St.
Occupation: self employed at All Trades
Education: graduate of Newnan High School
Political experience: none
Spouse: Nikki Clark
Ruby Hines (I)
Age: 80
Address: 81 Clarence McCambry Road
Occupation: retired secretary/bookkeeper
Education: graduate of Coweta High School, attended Meadows Business College and received association degree in Christian ministry from the King University
Political experience: has served on the City Council for eight years, founder of the Grantville Recreation Board
Spouse: J.D. Hines