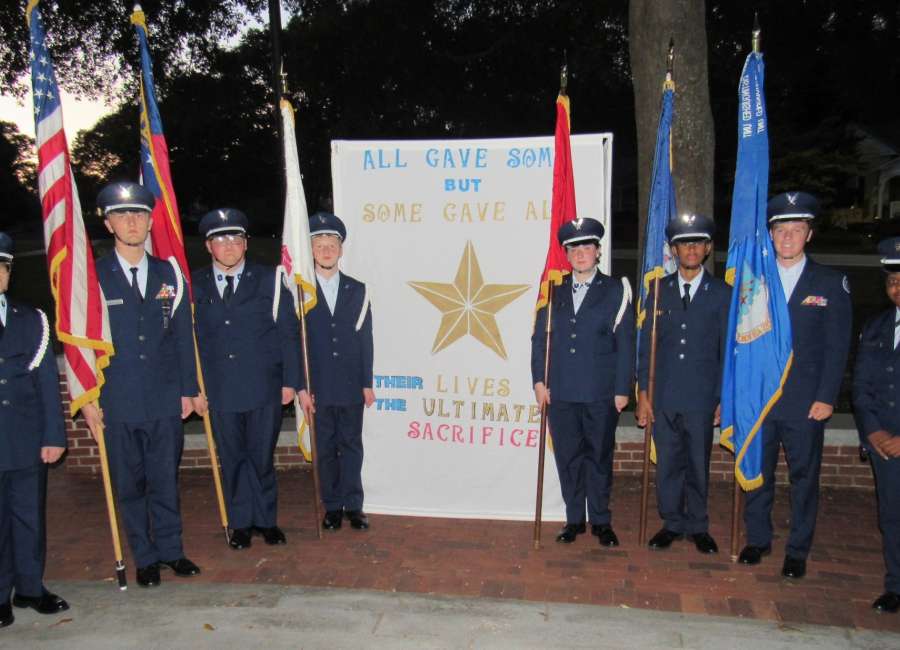 The families of those lost defending this country were honored on Sunday at a ceremony at Veterans Memorial Park in Newnan.

Those families, mothers, fathers, wives, husbands, children, that have lost a loved one who were serving their country are known as Gold Star families.
Verna Funk, who organizes the Gold Star Initiative Luminary Ceremony, among other patriotic events in the Newnan area, said the event is about making sure that those lost, and their families are never forgotten.
"No American hero should be ever forgotten," Funk said.
During the ceremony, Funk explained what a Gold Star family is.
"Memorial Day is a day that we honor those that have fallen in combat or during military situations," Funk said. "They gave the ultimate sacrifice. It's their families that they leave behind, it's their love and broken hearts, it's their sacrifice too. The mom has sent their child, sometimes signing the paperwork for enlistment. The mom that has lost that future with her child, to never see what her child could have accomplished.
"When it's their only child, it's their lifetime of loss," Funk said. "It's that child that made them whole. It's that child that would be there to give them a grandchild. To hold their hand when heaven would call her home."
Funk continued, stating that for the wife or the husband, it is not any easier.
"There are the regrets of no longer sharing hugs, secrets, or what to buy for the children," Funk said. "The list continues as life continues with a hole in your heart. All the firsts can last a lifetime. There are stares when you show up with children and no spouse. The friends that stop calling."
For the fathers and siblings, the loss is just as profound.
"They will never have another day at the lake, fishing alone is not the same. That toast at his retirement dinner, those last letters sent didn't say it all."
"There are so many names that appear on this wall behind me," said Jeff Bouchard, VFW Post 2667 Commander. "Names that have sworn an oath and signed a blank check. The names on this wall, they came home, but in a coffin draped with the American Flag. Knowing that the reason we remember them on this day, they fought to return home. They fought to protect those they loved. They fought to protect a homeland worth fighting for, they fought for you and me."