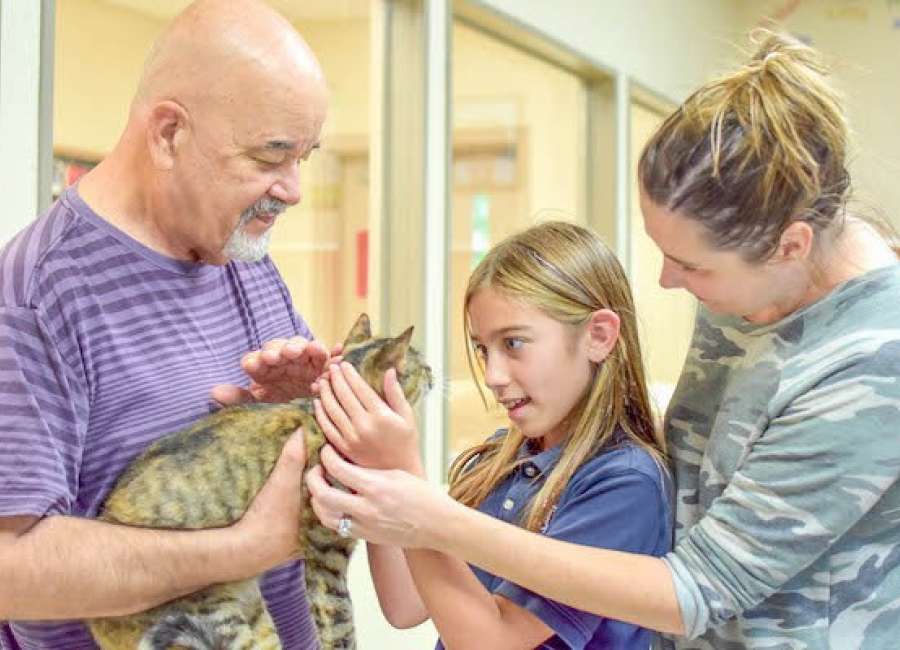 About 1,500 pets come through the Coweta County Animal Shelter in a typical year, and the county is looking at ways to improve the process – especially for the animals.

The gears are moving on one major project that could alleviate chronic overcrowding issues that frequently interfere with the shelter's compliance with Department of Agriculture animal occupancy guidelines.
Officially, the shelter was built to house 92 dogs and 92 cats. The original dog runs had indoor and outdoor sections separated by a swinging door, installed to allow a single dog to move freely between sections.
Several years ago, the shelter increased its capacity by dividing the large runs into two runs, with one dog on the inside and one on the outside. Rollup doors were installed in front of the runs so that in the winter the doors can be closed to keep out the cold and wind, and there are heaters for each outdoor run.
But the limit is 134 dogs and when the Department of Agriculture inspected the facility in mid-August, 151 dogs were housed on-site. New guidelines implemented in 2019 limit the amount of time dogs are allowed to be housed in crates, and while the shelter manages to come into compliance without euthanizing animals, it is a yearly struggle.
Local rescue organizations struggle to find enough people willing to foster pets and help alleviate overcrowding. They say that the county outgrew its current facility years ago. They are advocating for a separate, more family-friendly adoption center, where potential adopters could visit adoptable pets with plenty of room to view, visit and bond.
Plans are now in the hands of an architect, but with the project at least a year or two away from completion, other avenues of relief are needed now. Two large dog yards have been divided into four smaller yards so more dogs can be exercised at one time.
Rescue organizations are still urgently seeking fosters for cats and dogs, and the county is still offering a $25 flat adoption fee for all animals, which includes spay or neuter surgery, vaccination and an identification microchip.
To attract potential adoptees, shelter dogs and cats are frequently featured in local news outlets, on website galleries and on social media – including on a new Coweta County Animal Services Facebook page created and populated primarily by office manager LaKina Gay, who features adoptable pets, pets who have found their forever homes and even the shelter's Office Pet of the Day.
Colorful pet paintings by local children, footprints on the floor, pictures of adopted pets and their forever families and other welcoming touches are constantly being added to encourage visitors and potential adopters.
It's not idea, county official say, but it's come a long way from where the shelter was when Gay first started working there.
"When I was down there, somebody would come in to adopt a dog and we would give them a voucher to take to get the animal fixed, and they'd bring us back the paperwork," said Gay, who is now based a few doors away, in Coweta County Prison Warden Larry Clifton's office. "That's how we started. Now, we're at the point where you get a fully vetted dog."
And it probably will have at least some training, thanks to the inmates assigned to animal care duties. The workers assess personalities, level of training (and work with them on additional training while they're waiting to be adopted). They can help best match an animal with a potential adopter, and that adopter can expect their pet to be up to date on its vaccines, microchipped and sterilized, clean, fed and exercised.
"When a citizen comes in, they can say, 'This is what I'm looking for,' and (the inmates) know exactly which dog or which cat to go to," Gay said.
The inmates' work with shelter animals can actually earn them a technical certificate, too, once they've put in a required number of hours and become proficient in certain tasks.
"We've had two or three move on to jobs working for veterinarians," Clifton said.
Administrative shifts are in the works for Animal Services, too. Clifton said after many meetings with stakeholders, county officials and employees, plans are to shift adoptable animals to the new center when it is built, making the Selt Road shelter an intake-only facility, and to split supervisory duties between two positions: facilities supervisor and code enforcement supervisor.
"Right now, they try to do everything in one," Clifton said. "This would make one person in charge of the shelter, surgery and intake sides, and then you can separate that from code enforcement. It will provide better service."
All positions would not require sworn officers, either, allowing an opportunity for career advancement that previously was not in place.
"In the past, there was nowhere to go. But now everyone doesn't have to be a certified officer, so everybody's got a chance for advancement," Clifton said.
Bringing everyone who cares about animals into the conversation has been extremely productive, said Clifton, who gave credit to former warden Bill McKenzie – who retired last year and was recently elected to the Coweta County Board of Commissioners – for the improvements and innovation in animal services over the past few decades.
"This was his passion," Clifton said. "And now everyone out there is reaching for the same common goal."