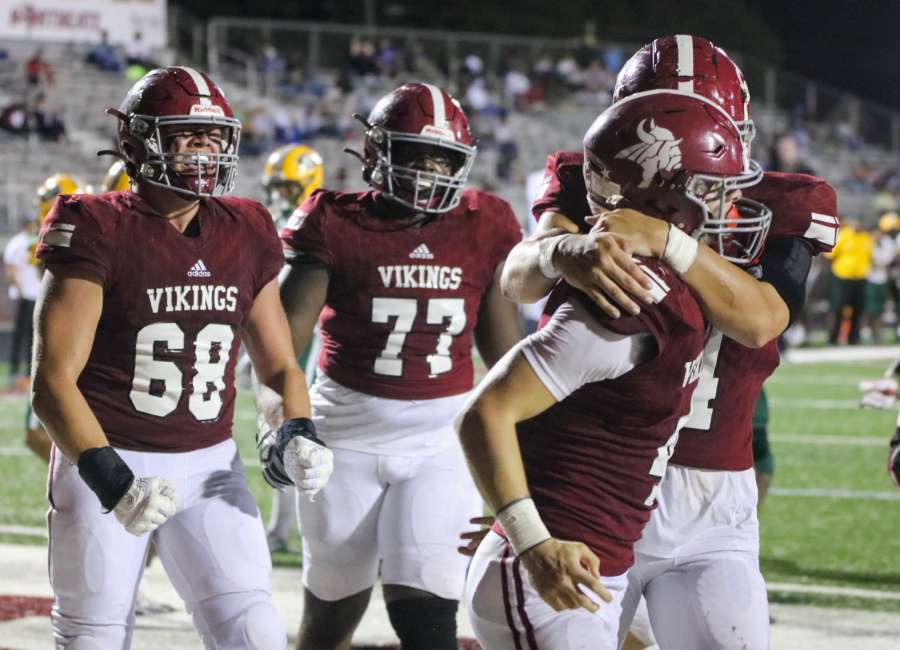 The darkest hour is just before dawn. At Henry Seldon Field on Friday night, it got very dark.

The Northgate Vikings fell behind 13-0 in the game's first four minutes to a team they had never defeated in school history, the Griffin Bears. But things changed quickly.
The first light of the game emerged in the form of running back Evan Garrett. With their backs against the wall, he returned a kickoff the length of the field. Even though the Vikings offense did not score a touchdown, Nickolas Troemel seemed to calm the Northgate sideline.
The momentum grew on the next Griffin possession when the Vikings defense forced a turnover that Caleb Duke recovered, and Garrett converted a touchdown a few plays later.
Even when the Bears scored a touchdown and converted a two-point conversion to take a 21-10 lead, the Vikings were not discouraged. They came back immediately and scored on a swing pass from Ishan Metts to Garrett to pull the Vikings back at 21-17.
Northgate took their first lead of the night before halftime when Garrett plowed into the middle of the line, and they pushed him across the goal line.
Another Troemel field goal gave the Vikings a six-point lead in the fourth quarter, but the Bears took a late lead when quarterback Tony Green scored on a long keeper to put the Bears up 28-27.
The Vikings had come too far to let this one get away. Led by Metts, Northgate drove the field and scored on an 18-yard touchdown pass from Metts to tight end Matthew McDonald.
The Vikings went for two and it appeared that Garrett broke the plain, but the official ruled him short.
Head Coach Mike McDonald, whose son Matthew caught the winning score, said he did not know the play that was called. Coach McDonald said, "I was on the defensive headset when the play call came in and did not know. It was a special play for us."
With just under two minutes remaining and the Vikings up 33-28, there was still time for more drama. The Bears drove the field but failed to reach the end zone on the game's final play from the 11-yard line.
In the end, the opportunistic Vikings defense closed the deal.
It was an epic night for Garrett; he had 102 yards rushing on nine carries, a touchdown reception and the long kickoff return that jump started the night.
Coach McDonald said of Garrett's game, "We were proud to see how we know he can play."
The attention has now turned to this week's opponent, the Central Carrollton Lions, on the road. They have a freshman running back, Jonaz Walton, who has already gotten an offer from the University of Georgia.