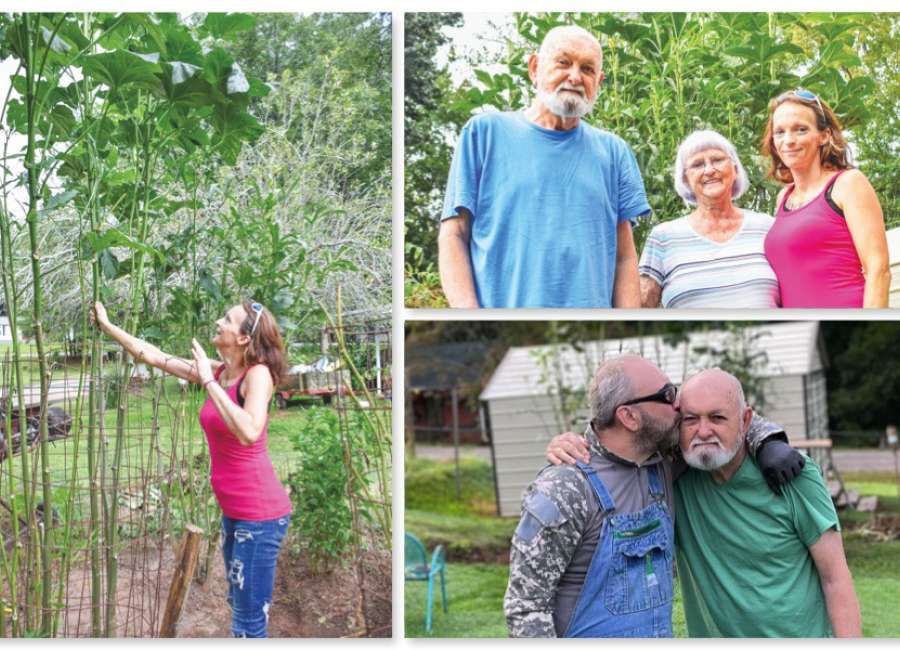 Gene and Joan Lester have been married for 62 years and have lived in their home on Camellia Drive for almost as long.

For years, the Lesters ensured a garden was part of their annual routine on their land. Joan grew up on a 200-acre farm in Alabama before moving to Newnan with Gene.
"The soil was horrible here," she remembers. "So, every year I would keep building it up with leaves and lime until I had the prettiest garden every year."
Over the years, the couple harvested copious amounts of fruits and vegetables, including butter beans, tomatoes, peppers, apples and pears.
"We've had running butter beans all the way into November, and I've canned hundreds of jars of tomatoes," she said. "Our trees provided us plenty of apples and pears for pies, jellies and preserves."
The two retired from Georgia Power and the Coweta County School System several years ago but kept a garden until it became more difficult with age.
This year, their grandson, Jason Wallace, decided to step in and help out to show his love and respect for the people who helped raise him.
"The garden has been so very important to their happiness and a necessity as important as breathing," he said. "Not a single child or grandchild wanted anything to do with gardening, and I'm sorry it took me 45 years to realize how much it meant that someone would tend to the garden after they became incapable."
In March, Jason had stopped by Lowe's and grabbed a packet of okra seeds and hand sprinkled them into the garden, along with some tomato and pepper plants.
Each day as the family ate breakfast, they witnessed the ongoing development of the garden, most notably from the okra plant.
Okra roots
Okra originated in present-day Ethiopia, in the mountainous or plateau portion of Eritrea and the eastern, higher part of the Anglo-Egyptian Sudan.
One of the earliest accounts of okra is by a Spanish Moor who visited Egypt in 1216. He described the plant in detail, as cultivated by the Egyptians, and stated that the pods when young and tender were eaten with meal.
Present-day Southerners know how to cook it with corn meal — slice the pods, dip the pieces in corn meal and fry them.
It was introduced to North America by the French colonists of Louisiana in the early 1700s. It had been introduced to the New World, however, before 1658, reaching Brazil supposedly from Africa. It was known in Suriname in 1686.
Strangely, records of okra during early American colonial times are lacking, although it must have been common among French colonists.
It was being grown as far north as Philadelphia in 1748; Thomas Jefferson said it was known in Virginia before 1781, and from about 1800 onward numerous garden writers had something to say about it. Several distinct varieties were known in 1806.
As a member of the mallow family, it is related to such species as hollyhock, cotton and hibiscus. The term "okra" most commonly refers to the edible seed pods of the plant.
Products of the plant are mucilaginous, resulting in the characteristic slime or "goo" when the pods are cooked.
Okra seeds can be roasted and ground to form a caffeine-free substitute for coffee, which was often consumed by soldiers during the Civil War. Very mature/old okra is used to make rope and paper.
A garden of love
At the Lester house, Jason's wife, Amy Hite, tends to the maintenance of the okra plant, which as of last week, measured 12 feet, 9 inches. Like most Southerners, the family prefers to fry their okra.
"I've also figured out how to freeze it with the batter on it," Amy said.
With plenty of growing season left, the family is curious to see how high these plants will soar. A quick internet search for the tallest okra plant shows a 13-foot, 6-inch specimen from an Oklahoma woman last fall.
But for Jason, the symbolic nature of the garden eclipses anything a tape measure can produce. He says the happiness the garden has provided his grandparents is invaluable.
"I've never seen them more proud, and I will have a garden every year for the rest of my life," he said. "Without them, I would have never known how truly beautiful this life, however small or simple, can be. They are the best this world had to offer.
"They are too humble to realize how much of a blessing they really are."