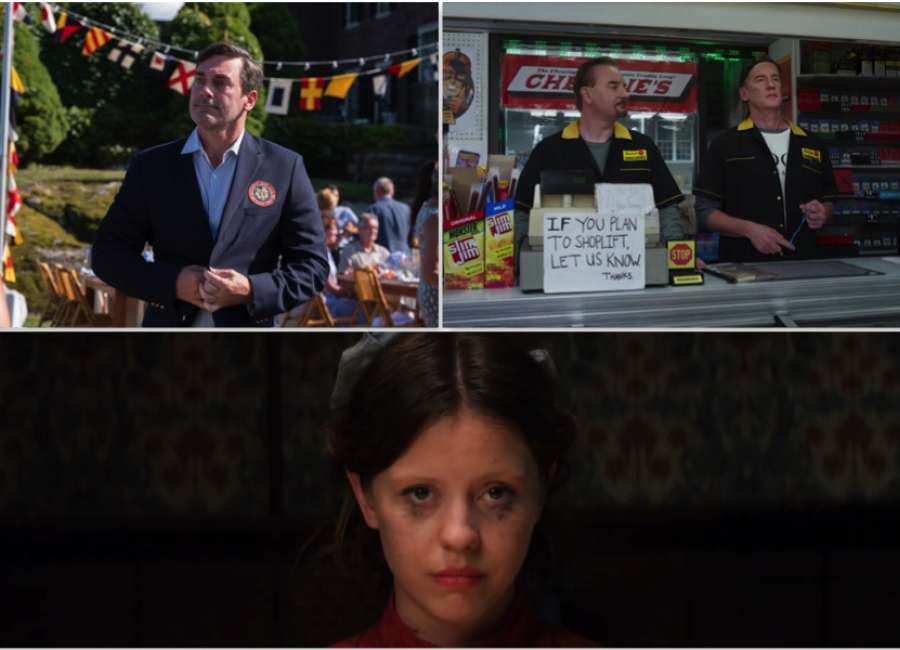 Reviews By: Jonathan W. Hickman

Confess, Fletch
Review Rating: 6/10
Film Details:
Director: Greg Mottola
Cast: Jon Hamm, Roy Wood, Jr., Marcia Gay Harden, Kyle MacLachlan, Lorenza Izzo, Annie Mumolo, and John Slattery
MPAA Rating: R
Running Time 1 hour, 39 minutes
Available on Paramount+
It's a peculiar coincidence that the reboot of the "Fletch" series launches the same weekend that "Fletch" champion Kevin Smith releases the final chapter in his "Clerks" franchise. Smith long wanted to direct an adaptation of Greg McDonald's popular novel series about the on-again-off-again investigative reporter. Alas, we may never see Smith's vision on screen, but in the meantime, "Superbad" director Greg Mottola's "Confess, Fletch" should whet the appetite of ravenous fans.
"Confess, Fletch" is an update of the novel of the same name. Having taken in almost all of the books in the series, I was eager to see a new incarnation of the character first given birth in the 1970s. In "Confess," Fletch (Jon Hamm) returns to the United States after spending time in Italy. When he arrives at his rented brownstone, he discovers the body of a young woman murdered on the living room floor.
The always unflappable Fletch fixes a drink and calls the police. Instead of dialing 911, he calls the administrative line to give a detective the details. After all, Fletch reasons, the emergency has already passed, and the young woman is long dead.
Once the police arrive, Fletch encounters Investigator Monroe (Roy Wood, Jr.). His somewhat unusual title of "investigator" was bestowed on him by the mayor after he solved the murder of a politician. Monroe is a great stand-in for the novel's enigmatic character Investigator Flynn, who got his own book series in 1977. Monroe wants Fletch to confess, although you get the impression that he has no sincere belief that Fletch committed the crime.
This new film is a fun reimagining of the character previously brought to the screen in 1985 with Chevy Chase in the lead. Where Chase went for sarcastic chuckles, Hamm plays him more in line with how the protagonist was initially written, albeit with a modern spin.
Although Fletch was in his mid to late 20s and a Vietnam veteran and winner of the Bronze Star in the book, Hamm's Fletch is naturally older and not given much backstory. But he's nonetheless charming as hell, which helps overcome some of the film's more clumsy bits.
As an introduction to the Fletch universe, "Confess, Fletch" effectively gives viewers something to build upon. Hopefully, Hamm will get an opportunity to continue in the role as more Fletch adventures are brought to the screen.
Clerks III
Review Rating: 5/10
Film Details:
Director: Kevin Smith
Cast: Brian O'Halloran, Jeff Anderson, Jason Mewes, Kevin Smith, Rosario Dawson, and Ben Affleck
MPAA Rating: R
Running Time: 1 hour, 55 minutes
Available in theatrical release
Kevin Smith's final film in the "Clerks" series returns to the grounded but sophomoric humor that launched his career in 1994. That popular first film captured the imagination of nerds everywhere. And while Smith moved on to telling more sophisticated stories with films like 1999's excellent "Dogma," "Clerks III" reverts to less nuanced narratives.
"Clerks III" returns to the convenience store owned by Dante (Brian O'Halloran) and Randal (Jeff Anderson). One of the film's funniest gags is that the video store located in the same strip mall as the convenience store is now a marijuana dispensary run by Jay (Jason Mewes) and Silent Bob (Smith). And even though it's legal to sell their product, they still insist on pushing in front of their establishment like a couple of comical drug dealers. Jay and Silent Bob are fun, but the humor is undercut by way too many false moments.
When Randal has a heart attack, he decides it's time to realize his dream and make a movie about his life. The consummate film buff, Randal, hammers out a script in a single passionate night. But his story might alienate the people who mean the most to him.
"Clerks III" takes a good 30 minutes to engage the viewer. Time hasn't been kind to the "Clerks" universe. The cardboard acting and leaden jokes fall terribly flat throughout the film. Things take a meaningful emotional turn when Veronica (Marilyn Ghigliotti) shows up in the store to air her grievances. But it's a convincing performance that exposes the limited skills of her fellow cast members. However, the engrossing sentiment is short-lived, as the film's conclusion leaves us happy to say goodbye to the "Clerks" franchise.
Pearl
Review Rating: 8/10
Film Details:
Director: Ti West
Cast: Mia Goth, David Corenswet, Emma Jenkins-Purro, Alistair Sewell, Matthew Sunderland, and Tandi Wright
MPAA Rating: R
Running Time: 1 hour, 42 minutes
Available in wide theatrical release
There's something wrong with Pearl (played by a fantastically tweaked Mia Goth). The frightening elderly slasher that creeped us out in the 1970s set horror film "X" gets her own movie, and it's bloody remarkable.
I'll say it: 2022 is the year of the Goth. The distinctive-looking actress impressed audiences in March in (SPOILER ALERT!) a surprising dual role in this horror franchise's introductory outing. In this inventive prequel, she plays the title character, who lives on the farm in 1918. In "X," the farmhouse was somewhat run-down; in "Pearl," it's neat and tidy.
Pearl's German immigrant mother, Ruth (a fantastic Tandi Wright), manages their household with an iron fist. But Ruth's puritanical discipline has an essential purpose. Her husband (also Pearl's father, played by Matthew Sunderland) is confined to a wheelchair and unable to communicate due to the effects of the Spanish Flu. In 1918, masks were commonplace, and Ruth was determined to keep her house clean of the threatening germ.
The farm is a depressing environment for stargazing Pearl that's only made worse because her husband, Howard (Alistair Sewell), has shipped out to Europe to help the allies in World War I. Lonely and isolated, Pearl longs to leave the farm and become a movie actress. The little girl's dark side might take over when Ruth doesn't let Pearl try out for a traveling dance troupe. And that means wielding an axe and a little help from her pet alligator.
"Pearl" isn't for everyone. Its rich technicolor cinematography gives us bright, highly saturated, bouncy images that play as biting contrast against the great bloodletting that marks the film's violent conclusion. But the Grand Guignol that director Ti West achieves is something special to behold.
Goth is a standout here. Her guttural howls and cracked expressions are so terrifying that they will make you laugh uncomfortably. And as "Pearl" draws to a close, the promise of the next installment, reportedly entitled "MaXXXine," can't come soon enough.