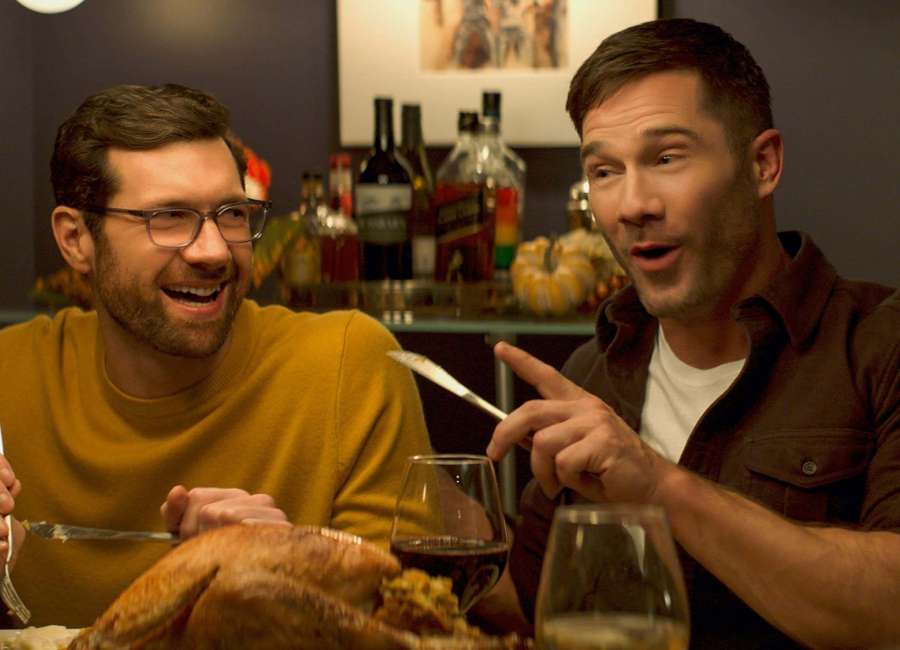 Review By: Jonathan W. Hickman

Review Rating: 7/10

Film Details:
Director: Nicholas Stoller
Cast: Billy Eichner, Luke MacFarlane, Kristin Chenowith, Debra Messing, Dot-Marie Jones, Ts Madison, Jim Rash, Miss Lawrence, Eve Lindley, Bowen Yang, Guy Branum and Amanda Bearse
MPAA Rating: R
Running Time: 1 hour 55 minutes
Available in wide theatrical release
The "meet cute" occurs under flashing lights and loud pulsating music in a steamy nightclub. Their eyes lock across the crowded dance floor; a spark strikes between them. They chat and then part ways, hooking up with someone else that evening.
A few days later, they text and go on a casual date. Something is stirring as they stroll along a pleasant New York City street, but neither is interested in a serious relationship.
Of course, you often find your soulmate when you're not in the market for one. And like all potential relationships, trust starts with partners letting their collective guards down. The journey is a funny tear-jerker.
You've seen that rom-com over and over, right? Except, in the case of "Bros," you haven't.
"Bros" is a romantic comedy far different from any widely released, major studio movie. You see, the couple at the center of the love affair are two vibrant, attractive and intelligent men. And they are surrounded by a colorful collection of LGBTQ+ supporting characters.
Despite the sexual identities of the film's protagonists, it follows a tried-and-true cinematic formula honed, at times, to perfection in recent years by the writing/producing/directing team of Nicholas Stoller and Judd Apatow (see 2008's "Forgetting Sarah Marshall"). They found comic gold in mining the quirky, rocky road to true love giving us messy ups and downs that are heartening and downright hilarious.
Stoller, a straight man, turned to "Billy on the Street" star Billy Eichner to help him craft the essential gay rom-com. Stoller knew the script beats, and Eichner understood gay culture. Both men educated one another, working on "Bros" for over five years. And the resulting finished film is a revealing, irreverent, very funny addition to the genre.
In "Bros," Bobby (Eichner) is a successful podcaster in his 40s living in NYC. His nights are spent at raucous events that provide him with empty sexual encounters. On his podcast, Bobby defends his single lifestyle. And even with his intimate friend group, he puts up a front.
One night, he sees Aaron (Luke Macfarlane) dancing shirtless on a packed dance floor. Aaron is a chiseled bro, who Bobby thinks might not be interested in a talky, gawky, prickly thinker. Even Bobby's all-knowing bud tells him that while Aaron is hot, he's boring. It's this piece of gossip that Bobby shrewdly uses as an icebreaker with Aaron. And this raw honesty hits the sexually intimidating Aaron hard.
As Aaron and Bobby talk, Bobby quickly realizes that Aaron is anything but boring. Of course, Aaron, a probate lawyer, can't shake the "boring" comment because he knows that there's some substance to it.
Aaron returns to a job he hates, and Bobby begins a stressful new career as the director of an LGBTQ+ museum. As they deal with daily pressures, the two men can't stop thinking about each other. We know from how they lovingly look at one another that they're meant to be together. And we're along for the ride as they find their way into each other's arms and beds.
Ground-breaking as it is, I was surprised by how quickly the shocking sexual elements yielded to the love story at the movie's heart. And while sexual content on screen can be provocative and arousing, Apatow and Stoller know that this material can also be scorchingly funny.
There are some terrifically funny explicit sequences in this film, but the thought-provoking, most memorable laughs are the subtle ones. Ever consider a "throuple?" Ever wonder how gay men talk about their sexual encounters? Some answers are provided within.
"Bros" is a movie that straight adults should embrace without reservation. And despite an almost exclusively LGBTQ+ cast, it plays broadly, casting a net over a wide demographic. Even Garth Brooks fans are respected.
But what Eichner is able to add to the screenplay is rich education for the uneducated on gay culture. However, the teaching moments are a double-edged sword. The Bobby character isn't too far removed from the Billy we know from his "Funny or Die" sketches. One sequence, inspired by Billy's previous work, involves Bobby going to the gym and picking up a hunky guy by adopting a false "bro" persona.
It's this sequence that is particularly revealing. The guy Bobby hooks up with is horrified when he discovers that Bobby is faking the deeper voice, and his displeasure significantly impacts Bobby. Not all bros want to be with other bros all the time. Opposites really do attract; it's just science.
The supporting cast includes funny LGBTQ+ examples that are not depicted as caricatures. "Community's" Jim Rash is great as a bombastic bisexual who insists on his place at the table. And Dot-Marie Jones holds her own as a strong-willed lesbian. I particularly liked how Miss Lawrence and Ts Madison balanced their real-world, larger-than-life personalities, becoming the voice of reason during tense and humorous sequences.
"Bros" doesn't make these folks sidekicks or comic relief; instead, the script uses the rom-com to mount a sensitive and meaningful discussion of the issues that real people confront in our modern society.
But the delicate balance Apatow, Eichner and Stoller achieve almost tips into camp when Debra Messing appears playing a parallel universe version of herself. The laughs do come, but they feel cheap and out of place.
And Bobby's endless LGBTQ+ history lessons could have been tempered with a little more context. At one point, he advocates for an installation in the museum about Abraham Lincoln's closeted gay relationship. This thread doesn't seem to be a comedy bit, nor does anyone seem to take it seriously. The effect is flat and distracting.
Luckily, there is some authentic reflection when Aaron pictures himself on display in the museum and thinks about his bland existence. His passion for crossfit doesn't seem to be a great accomplishment.
The film's closing act is a little rushed and lacks the "aha" moment that marks the best of the rom-coms. And things are wrapped up a little too neatly with a tune that might factor into the year's awards race for best song.
But these are minor quibbles that are undoubtedly the product of studio requirements. Ultimately, "Bros" is a major step forward in romantic comedy storytelling that brings gay characters to the forefront.
And above all, the effectiveness of the romance is undeniable. If you ignore the genders, it's impossible not see the chemistry between Eichner and Macfarlane. Let's face it, Macfarlane, an actor whose filmography includes a list of holiday-themed Hallmark TV movies, is a beautiful guy who instantly warms an audience with his blue-eyed gaze. It's positively infectious. He makes Aaron an object of desire but a complicated one.
And Eichner knows Bobby inside and out. Bobby's ravings may grate on some viewers' nerves. But hidden within the deluge of constant chatting, there are salient truths that have an impact. It helps that Aaron is written as an excellent listener. Opposites find their opposite.
Don't let the "gay rom-com" moniker put you off. "Bros" is a fun, adult, romantic romp told from a unique perspective.