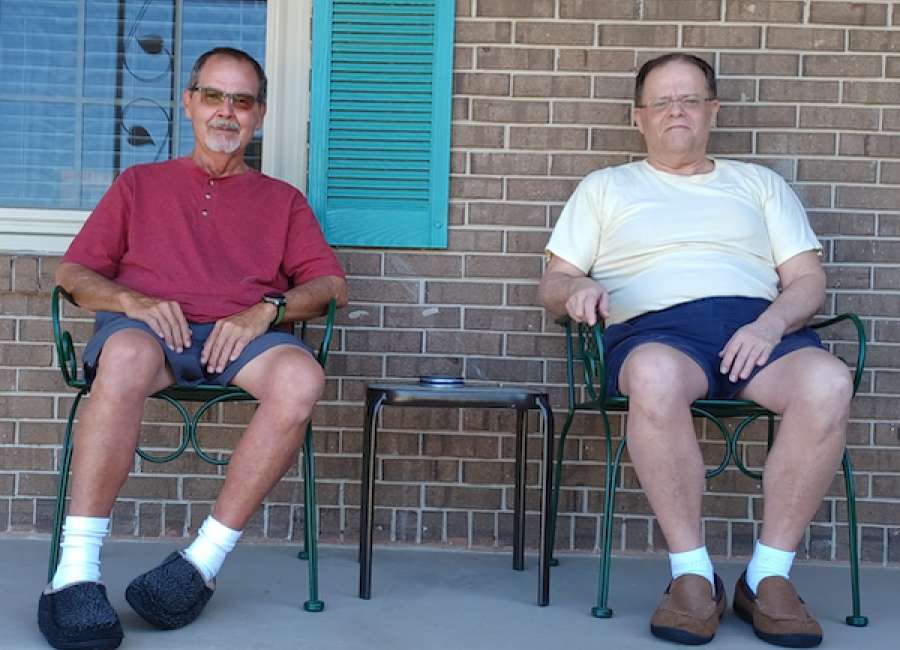 By Laura Camper / laura@newnan.com
When they moved from Florida to their brick ranch just outside of Grantville in 2021, James Lyons and Doyt Lowry didn't think to ask if internet service was available in the house. It's not.
"I'm one-tenth of a mile from the city boundary," Lyons said.
His husband, Lowry, said they moved from a city in Florida to be closer to family, and were surprised to find that cable and internet weren't available everywhere.
"Who in their right mind in the 21st century thought you'd have to ask is there cable and internet?" Lowry said.
Even their cell service is sketchy, he said.
Most of Coweta County is served with broadband except for the southeast and southwest corners of the county and a few other places scattered throughout the county.
The areas of Grantville and outside of Senoia and Haralson are not served as well as the area of Chattahoochee Bend State Park, according to the state broadband map.
But the areas are not populous, so just four percent, or about 2,572 locations in the county, are not served by some kind of broadband service, according to the map.
But that four percent are suffering.
Al Grieshaber, Grantville city manager since 2015, said the lack of access to high speed internet in the city makes it hard to attract business and hampers growth. High-speed internet is one thing that all businesses ask for, and the city has not been able to say that it has access, he said.
The city does have some internet service through Comcast, AT&T, Swift Link Wireless and Hughes, but not enough, Grieshaber said.
"One of the challenges I've been working on since I arrived in Grantville is to expand broadband coverage throughout the city," he said. "We literally have tried everything to get high speed internet in Grantville, because we think that's obviously necessary for education, for our school system, Glanton Elementary, and for our residents to be connected."
The city has unsuccessfully lobbied AT&T to expand into the city since 2015, he said.
"They basically have said they're up to capacity," Grieshaber said. "They only do it where they have a good return on investment, and unfortunately, we do not have the customer base that they were willing to do."
In 2016, the city unsuccessfully applied for a Cool and Connected Grant through the U.S. Environmental Protection Agency. In more recent years it has met with several companies trying to expand their service in the city including signing on to a grant with Lagrange-based Diverse Power, he said.
Diverse Power did win the grant, but the city hasn't heard anything from them since, Grieshaber said.
The city also partnered with Comcast on a grant, but that grant wasn't funded, he said. Comcast is still going ahead with some expansion, though.
"They have inundated us with utility location requests," Grieshaber said.
But all this will take time, he added.
Coweta County also fields inquiries about internet service.
"The County routinely gets requests from citizens for assistance with acquiring broadband," Coweta County Administrator Michael Fouts said by email. "While we ask the providers for assistance to determine service availability, the County does not have a contract or any leverage to force them to provide service."
Using some of its American Rescue Plan Act funds, the county recently partnered with Spectrum to expand its service range, he said.
"(Spectrum) is currently performing a field verification to determine the exact areas of expansion," Fouts said.
The company said the expansion will reach an additional approximately 2,000 homes and small businesses.
"The rural build out is currently underway. Spectrum teams are physically 'walking out' to verify locations and addresses, and network design is in process, said Patti Michel, senior director of regional communications, by email.
"A construction timeline will be developed after these walkouts and engineering is completed, with actual building to begin shortly thereafter. The expansion will begin with areas closest to our current network around Newnan. Activations will occur as construction is completed," Michel wrote.
Lyons said he has tried everything he can think of to get access. But he and Lowry are frustrated.
"If we don't have internet within a year, I'm going back to Florida," Lowry said.