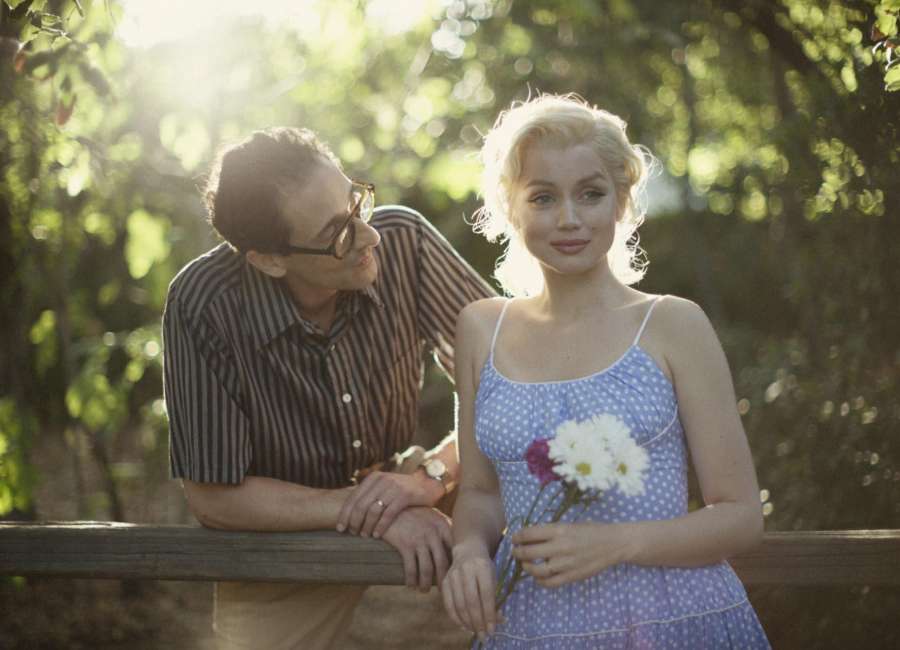 Review By: Jonathan W. Hickman
Film Details:
Director: Andrew Dominik
Cast: Ana de Armas, Adrien Brody, Julianne Nicholson, Bobby Cannavale, Xavier Samuel, Evan Williams and Toby Huss
MPAA Rating: NC-17
Running Time: 2 hours, 46 minutes
Available in limited theatrical release followed by streaming on Netflix
Compared to other questionable expenditures by Netflix, the $22 million outlay on the messy and almost incomprehensible "Blonde" is a relative bargain. By whole-heartedly embracing the vision of film auteur Andrew Dominik (the well-regarded artist responsible for "The Assassination of Jesse James by the Coward Robert Ford"), the streaming giant will get plenty of press.
And this edgy and arty film might excuse their shallow dalliances into reality programming with shows like "Too Hot to Handle" or original movies like "The Ridiculous 6." But after watching the loopy "Blonde," some viewers might argue that this movie takes the streamer to a new low.
Based on Joyce Carol Oates' novel of the same name, "Blonde" is a fictitious, although eerily reality-shaped, biography of Norma Jeane Baker/Mortenson (aka Marilyn Monroe). And while Oates, in her book, avoided naming names, instead referring to certain characters as Mr. Z, the ex-athlete and the Playwright, Dominik's adaptation isn't as cagey.
But where Oates channels the actress and iconic sex symbol climbing inside her mind in a sometimes-unmoored stream of consciousness, Dominik uses his camera to leer at the Monroe body — to confuse, bewilder and insult. The result is cinematic masturbation of the highest order.
The Marilyn Monroe story is told in a series of constantly shifting aspect ratios, film stocks, colors and experimental techniques. It's hard on the eyes. And the sound design is sharp and assaultive. These choices appear to be random and without a narrative purpose. They also distract from what might be an award-winning performance by Ana de Armas.
Bright moments come deep into the film with a perfectly cast Adrien Brody as playwright Arthur Miller (possibly Norma Jeane's one true love) and Julianne Nicholson's searing portrayal of Norma Jeane's mentally ill mother. And while de Armas nails the role's physicality and is very brave in helping the film earn the notorious NC-17 rating, her lightly detectible accent strikes an odd tone for the Marilyn we know.
Admittedly, the soft, breathy, undeniably seductive Marilyn Monroe voice was originally an affectation and a creation by talented actress Norma Jeane Baker/Mortenson. And Oates' source material isn't meant to be a literal biography; this Marilyn is a work of fiction, which is ironic. Suppose Oates gets anything right in her bestseller. In that case, it is that Marilyn Monroe was a sardonic cartoon character brutally birthed by a gifted natural acting talent and exploited by an evil studio that was quick to cast her aside.
Dominik's adaptation is an indulgent meander. He approaches Monroe as a platform for nausea, wallowing in everything sad and depressing about her life without giving viewers any of the magic, love or happiness that Oates is able to subtly weave into her itchy but purposeful tome. And while Oates' story was loose, it was still structured in a way that could be appreciated and followed. I found it emotionally impactful and revealing.
The film's central recurring visual is an exacting focus on one of Norma Jeane's abortions. He takes viewers through the birth canal and into the body, scornfully examining the fetus. This contemptible filmmaking is unsettling, to say the least.
Over 20 years ago, in talking about how she defined Norma Jeane in the novel, Oates admitted that she shrunk the reported many abortions down to one composite, which streamlined her focus. Abortion didn't equal Norma Jeane's life; there was more to her, a dash of many brilliant pieces. The craving for a child was a theme that Oates explored but not to the exclusion of other parts of Norma Jeane's life. Oates was sensitive to the exploitation that marked the time and the Monroe alter ego.
Dominik's film is so morbidly focused on abortion that it makes the entire movie maudlin and infinitely unpleasant. And his commitment to showing the baby in utero is so disturbing that it is hard to understand what theme he's trying to convey. This aspect alone turns "Blonde" into a horror show of fantastic proportions.
All this wastes de Armas, who could have brought more dimension to the character if given the opportunity. Instead of giving us enough of the authentic Norma Jeane side of the protagonist, Dominik leaves his talented actress in Monroe mode almost exclusively.
Oates handled her subject more humanely. Norma Jeane was a person to Oates, and Monroe was the mask, the creation, the thing that led to the human being's demise. Dominik gives de Armas the thankless task of delivering the depressed character, Monroe, over nearly three hours running time; it's daunting and repetitive. We get it, Monroe was a tragic icon, but Norma Jeane was more than just the sad parts. Oates knew that all too well; Dominik didn't.
"Blonde" is a dismal and dreary viewing experience.