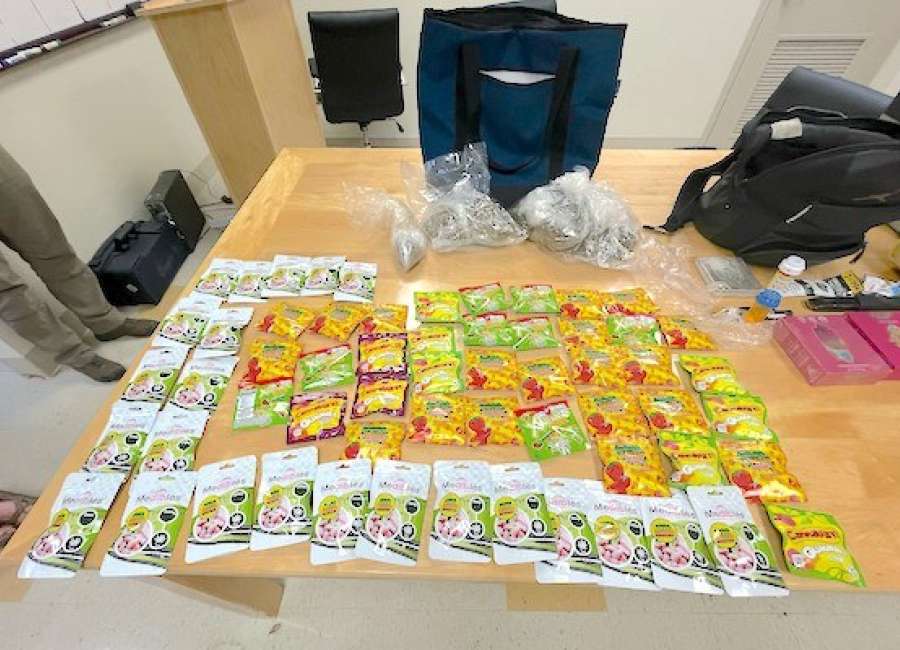 He claimed sipping tea caused a deputy to pull him over, but a Lawrenceville man ended up in jail after authorities discovered his cup runneth over with drugs instead.

On Sept. 23, Lavar Kirkland, 42, was traveling south on Interstate 85 in a Mercury Grand Marquis when a Coweta County Sheriff's Office traffic enforcement unit got a hit on the vehicle's tag that indicated Kirkland had a suspended license. After the deputy saw him veer into another lane, he initiated a traffic stop.
Kirkland said he had failed to maintain his lane because he was taking a drink from a bottle of tea, according to the CCSO report. The deputy asked him to step out of the car because he smelled marijuana, and Kirkland reportedly admitted he had "just put out a blunt" and had an ounce in the car.
After he was cuffed, the deputy discovered nearly $15,000 in cash in Kirkland's pockets. Kirkland assured the deputy that it was "legit money and not gathered from illegal means," though and he was taking it to Columbus to buy a Ford F-150 truck, according to the report.
Kirkland allegedly notified the deputy he had a gun in the vehicle and that he was a convicted felon.
Authorities began searching the vehicle after backup arrived. According to the report, among their initial finds were:
• Two large bags of suspected marijuana and several bags of THC gummies in a soft-sided cooler.
• Two prescription pill bottles – one prescribed to someone other than Kirkland and one without a label – that both contained oxycodone pills, inside a duffle bag.
• A loaded 9 mm handgun on the driver side of the vehicle.
• A small digital scale and a bullet-filled extended firearm magazine in a black bookbag.
Also inside the book bag were two Lipton tea canisters with false bottoms. One contained two small bags of marijuana, and the other contained pills and powdered substances.
The Crime Suppression Unit reportedly logged more than 118 grams of cocaine; 3 grams of powdered fentanyl and 37 tablets of fentanyl; 19 oxycodone pills; 60 THC gummies; 17 large and 16 small cups of THC ice cream; 14 THC vape pens; more than 163 grams of ecstasy; approximately 3 pounds of marijuana; and more than 55 grams of methamphetamine.
Kirkland was transported to the Coweta County Jail, where he was charged with possession of drug-related objects, trafficking cocaine, trafficking methamphetamine, trafficking fentanyl, trafficking ecstasy, possession of a schedule 4 substance, possession of marijuana with intent to distribute, possession of a weapon during the commission of a crime, possession of a firearm by a convicted felon and possession of THC edibles with intent to distribute.
He was also cited for driving on a suspended/revoked license and failure to maintain a lane.