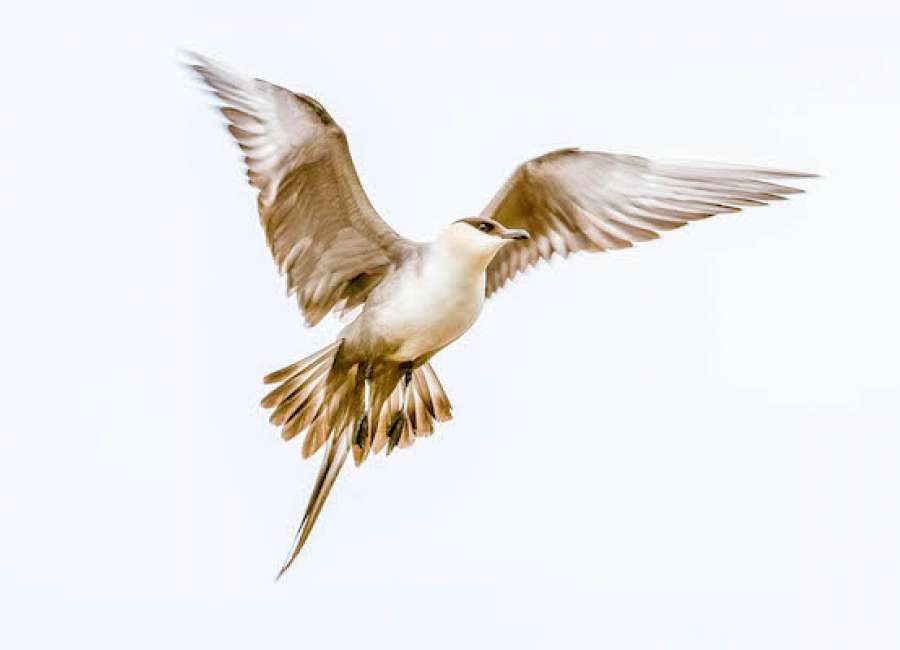 By GORDON KILGORE, Special to the NTH
These birds are long-tailed jaegers at Svalbard, also known as Spitsbergen, which happens to be the main island in the archipelago of Svalbard that was first discovered by the Vikings in the 12th century and is located between Norway and the North Pole.
The largest town is Longyearbyen, which was formed to support coal mining in the 1920s. Svalbard is home to seals, foxes, reindeer, walrus and polar bears. There are no trees on Svalbard, but flowers grow profusely in the summer. It is by far the best place that I have been to see and photograph polar bears.
These pictures were taken at Kongsfjorden, an inlet on the west coast of Spitsbergen in the Arctic Ocean. The inlet is 16 miles (26 kilometers) long and ranges in width from 3.7 to 8.6 miles (6 to 14 kilometers). At the head of the fjord are two mighty glaciers that calve into the sea, Kronebreen on the left and Kongsvegen on the right.
The long-tailed jaeger, Stercorarius longicaudus (the jaeger is called Skua outside the Americas) at a nest on Kongsfjorden Svalbard. The nest is nothing more than a depression in the rocky ground. The long-tailed is the smallest of the three jaegers. It is 18-21 inches in length. It has a slightly hooked bill, webbed feet, and 6-10 inch long pointed center tail feathers that stick out beyond its other tail feathers.
I walked among several breeding pairs in the surrounding Arctic tundra. One nearby nest had two eggs, and they were defending it from intruders such as me. Good thing that I had on a hat, or the bird would have drawn blood with its sharp beak. A fellow traveler took the picture of me while I was photographing the birds.
Technical Data:
A – Taken July 06, 2006, at 10:32 a.m. with Nikon D2x body and Nikon 200-400 mm f/4 lens set at 200 mm. ISO 100, 1/320 sec., f/7.1.
B – Taken by a friend using the same system as I was using at 10:42 a.m. with lens set to 400 mm, ISO 400, 1/1000 sec., f/9.0.
•••
Gordon Kilgore is a self-taught photographer who has spent decades perfecting his craft on photo safaris to 169 countries … so far. Kilgore continues to travel extensively, capturing unique images along the way. "There & back again" highlights Kilgore's art, as well as the stories and technical information behind his photographs. Email gordon.kilgore@gmail.com with comments, questions and requests for photography advice.