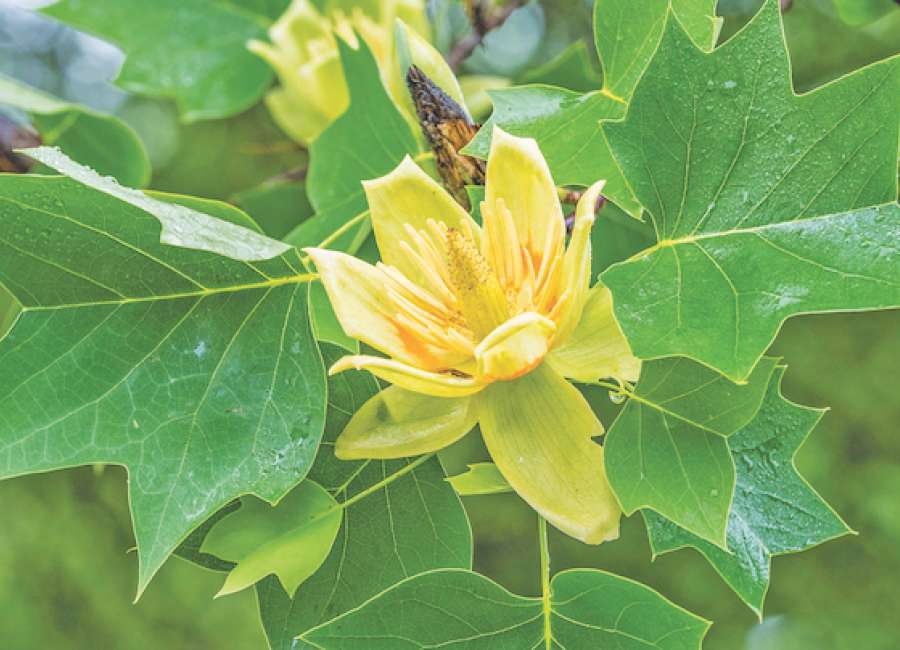 By GORDON KILGORE, Special to the NTH
The flower of a tulip tree is so common yet hard to see on a tree.
I am referring to the Liriodendron tulipifera, also known as the American tulip tree, tulip poplar, whitewood or – as I grew up calling it – the yellow poplar. This tree is widespread east of the Mississippi in the eastern half of the United States, from about the Great Lakes in the north to northern Florida in the south.
The tulip poplar tree is the tallest of our eastern hardwoods, growing to about 160 feet high. It grows very straight but needs sunlight to grow well. In the forest, seeking light causes it to grow taller than most of the surrounding trees. It is common for the lowest limbs to be 30 to 80 feet above the forest floor.
With that being the case, the flowers can only be observed at a great distance or after they wilt and fall to the ground. The tulip tree also makes a beautiful feature tree for a home yard. With no other competing trees around it, the limbs will be much lower and the flowers easier to see.
The flowers that you see here were on a tree in the front yard of Connie and Gary Miller's home in our neighborhood. The lowest limbs were no higher off the ground than about 8 feet, making the flowers easy to view and photograph.
It is rare to find such a tree. As you can see, the flowers do not droop but sit erect and they do resemble the tulip flower that grows from bulbs. The color is greenish yellow with dashes of red and orange.
Technical Data:
A – Taken 4/24/2017 at 9:14 a.m. with Olympus E-M1 Mark II body and Olympus 40-150mm f/2.8 lens set to 150mm. ISO 400, 1/60 sec at f/6.7.
B – Taken 4/22/2017 at 6:23 p.m. with Olympus E-M1 Mark II body and Olympus 60mm f/2.8 macro lens. ISO 200, 1/10 sec at f/5.6.
C – Same as Photo B except at 6:20 p.m. and 1/15 sec.
Gordon Kilgore is a self-taught photographer who has spent decades perfecting his craft on photo safaris to 169 countries … so far. Kilgore continues to travel extensively, capturing unique images along the way. "There & back again" highlights Kilgore's art, as well as the stories and technical information behind his photographs. Email gordon.kilgore@gmail.com with comments, questions and requests for photography advice.