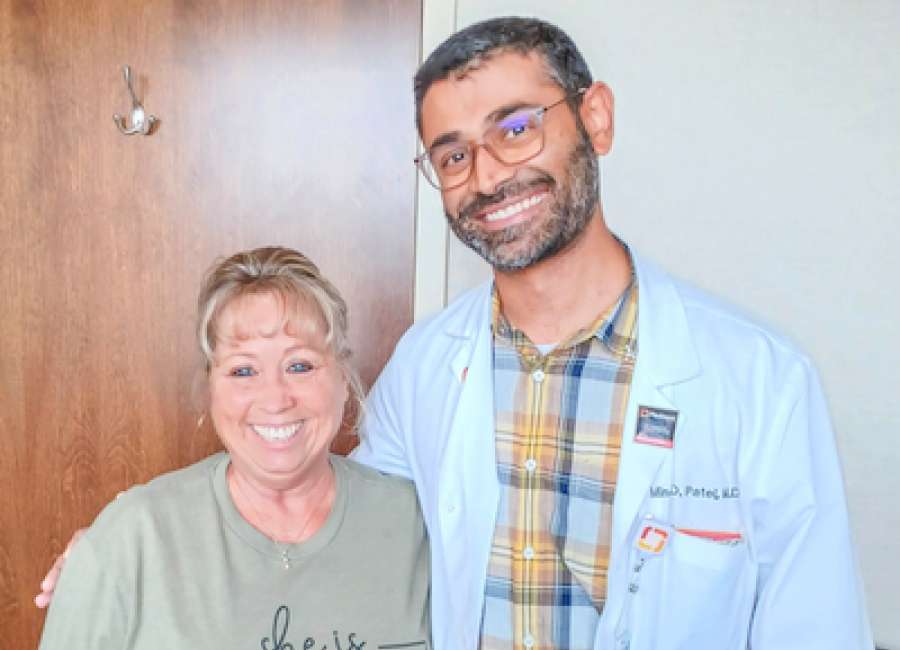 By Laura Camper / laura@newnan.com
Positivity and her doctor have made Pamela Smallwood's battle with lung cancer bearable, she said.
Nearly four years after she was first diagnosed, in February 2021, her doctor found another cancer. She was upset, but said she "put her big girl panties on," and started treatment.
"Stay focused; be strong and stay positive," Smallwood said.
Dr. Minesh Patel, of the Piedmont Cancer Institute, nodded his head as she spoke.
"That's something that Miss Smallwood's been from day one," he said. "You were always positive. Always, always, always."
Smallwood was first diagnosed with cancer unexpectedly in 2017. She went to the doctor because she thought her allergies were getting out of hand. Instead, she was diagnosed with lung cancer.
Both her parents died of lung cancer in their 50s, but still she hadn't considered the disease as part of her future.
She was a smoker, but had quit smoking cigarettes in favor of vaping about a year before her lung cancer was found. The diagnosis shocked her into quitting that, too, Smallwood said. But it was too late; Smallwood said her doctor attributes the cancer to her smoking.
Lung cancer is the leading cause of cancer death worldwide, but people don't know it, said Laura Houston, director of marketing for Piedmont Cancer Institute. In the United States in 2022, an estimated nearly 237,000 people will be diagnosed with lung cancer and an estimated 130,180 people will die of lung cancer. That's more than colorectal cancer at 52,580, pancreatic cancer at 49,830, breast cancer at 43,780, and prostate cancer at 34,500, according to statistics on the GO2 Foundation for Lung Cancer website. But people are much more aware of those cancers. That awareness can translate into funding.
Lung cancer doesn't get near the research funding that other better known cancers receive. According to a study published in 2019 by Northwestern University in Chicago, breast cancer receives by far the most research funding at $460 million, followed by leukemia at $201 million, pediatric at $177 million and lymphoma at $145 million. Lung cancer rang in at $100 million.
"Lung cancer is killing a lot of people and it's killing a lot of people who have never smoked," Houston said. "It's all about awareness."
Lung cancer is linked to smoking in many people's minds, but about 20 percent of people diagnosed with cancer have never smoked.
Beside smoking, environment is a leading risk factor. Exposure to radon gas is the second leading risk factor. Secondhand smoke, air pollution, diesel exhaust, asbestos, radiation and certain metals including arsenic, chromium and cadmium are also risk factors.
Fortunately, lung cancer detection and treatments are improving, even since Smallwood was diagnosed in 2017, Minesh said.
"Treatments that are available now are better than anything we've seen in the past," he said. "We have good long-term remissions for patients that even have stage 4 disease now."
Minesh has worked at Piedmont Cancer Institute for seven years, he said. He was inspired to go into oncology by his family history. When he was in high school, both his grandmothers were diagnosed with cancer.
"Me and my siblings watched both grandparents go through it," Minesh said. "Taking them to and from appointments, seeing the side effects of treatment, chemo, radiation, just kind of stuck near and dear to me."
He's encouraged by the new technology and medicines available.
"A few years ago, there was only systemic chemotherapy, radiation and surgery," he said. "Now, it's more of a personalized medicine."
There are oral therapies, oral inhibitors, immunotherapies and they can be very effective for patients, he said.
Smallwood is currently on one of those new immunotherapy treatments.
"It's a miracle treatment," she said.
Even now, she is very positive and approaching her disease as a challenge.
"I've got a lot of faith," Smallwood said.