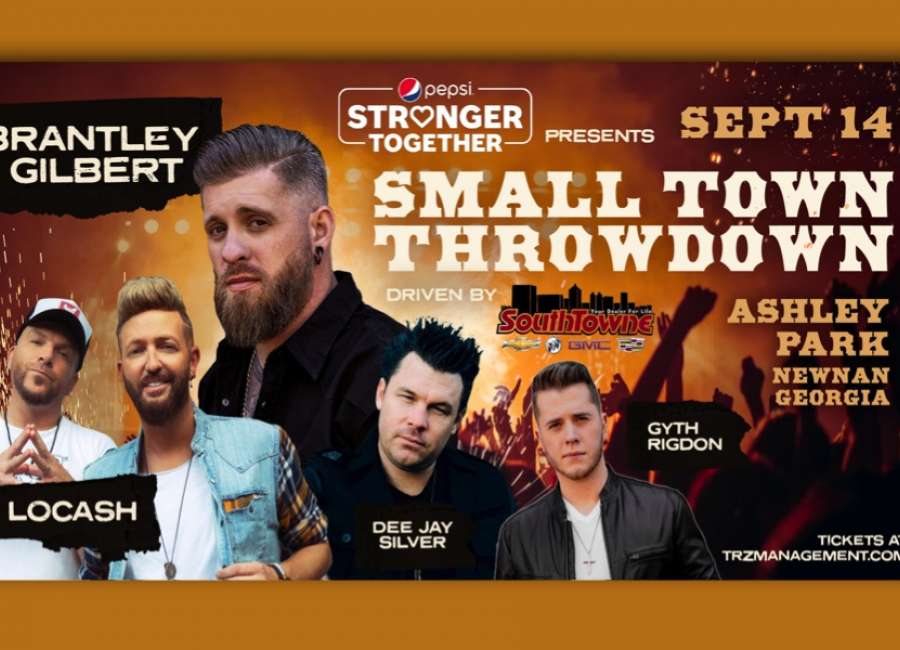 Following on the heels of last year's successful Alan Jackson concert, another live event to benefit the Coweta Community Foundation is being staged in Newnan.

Produced by Palmetto Entertainment and with Pepsi as Presenting Sponsor, the Small Town Throwdown concert driven by Southtowne Motors at Ashley Park will be hosted by Shaquille O'Neal and will feature Brantley Gilbert, LOCASH, Gyth Rigdon and Dee Jay Silver.
The event is set for Sept. 14, 2022, and gates will open at 5:30 p.m.
With back-to-back Platinum albums and a grassroots following millions strong, Gilbert's music has been shared, covered and adopted as the soundtrack to Saturday night and Sunday morning by audiences around the world.
The Georgia native who started as the defiant life-of-the-party can still go until sunrise, but he's also emerged as something far greater: the leader of a massive tribe of hard-working, fun-loving believers for whom electric guitar-shredding, rapping and twang can go hand-in-hand-in-hand. They call themselves the BG Nation, and when the BG Nation watches Gilbert on a stage, they don't just see a star. They see themselves.
Seven No. 1 hits punctuate his career: "Country Must be Country Wide," "You Don't Know Her Like I Do," CMA Awards Song of the Year nominee "Dirt Road Anthem," "My Kinda Party," RIAA 5x Platinum-certified "Bottoms Up," "One Hell of an Amen" and collaboration with Lindsay Ell "What Happens In A Small Town."
Gilbert's landmark record Just As I Am clinched the 2014 American Music Award for Favorite Country Album. Earning praise from the New York Times, NPR, American Songwriter and more, Gilbert has mined a rich vein of conflict between the party and the pew on all of his albums. Instead of toiling in limbo, unable to enjoy good times for fear of Judgment Day, Gilbert fully lives — rowdy friend, man of faith, devoted husband, smitten new father — just as he is.
Gilbert recently teamed up with longtime friend Jason Aldean for their long-awaited collaboration "Rolex On A Redneck," encompassing the hard-working and fun-loving attitude that both Gilbert and BG Nation possess. Gilbert has been back in the studio preparing new music to be announced later this year.
LOCASH is the country music duo of singer-songwriters Preston Brust and Chris Lucas. Now rising up the country ranks with a streak of hits, critical acclaim and awards-show recognition, the duo has two albums, eight charting singles and nearly 500 million global streams to their credit. Gyth Rigdon is quickly finding fame on The Voice, but the country singer has been belting out hits for years. The 25-year-old from Singer, Louisiana, first discovered his passion for music when he was 15 at the "family campfire jam session," according to his bio on NBC.
Dee Jay Silver is the first DJ ever signed to a major Nashville record label, RCA Nashville. Dee Jay Silver has been a top touring DJ/remixer/producer for the past 15 years, having played in premier venues in virtually every major market in the U.S., Mexico and Canada. The groundbreaking open-format DJ/performer has thrilled millions with his unique ability to blend all types of music from hip-hop and rock to house and country for crowds of all sizes as well as on mash-ups and remixes.
Tickets will range from $39-$79 and will be available at TRZmanagement.com beginning Thursday, Aug. 4, at 8 a.m.
"After the enormous success of last year's concert, we're so excited that we can again use the gift of music to entertain Cowetans while raising money for the Coweta Community Foundation," said Kristin Webb, the Foundation's executive director. "Sponsorship proceeds will allow us to enhance our community's quality of life by encouraging philanthropic interaction in Coweta County."
For more information, please visit www.cowetafoundation.org/concert .