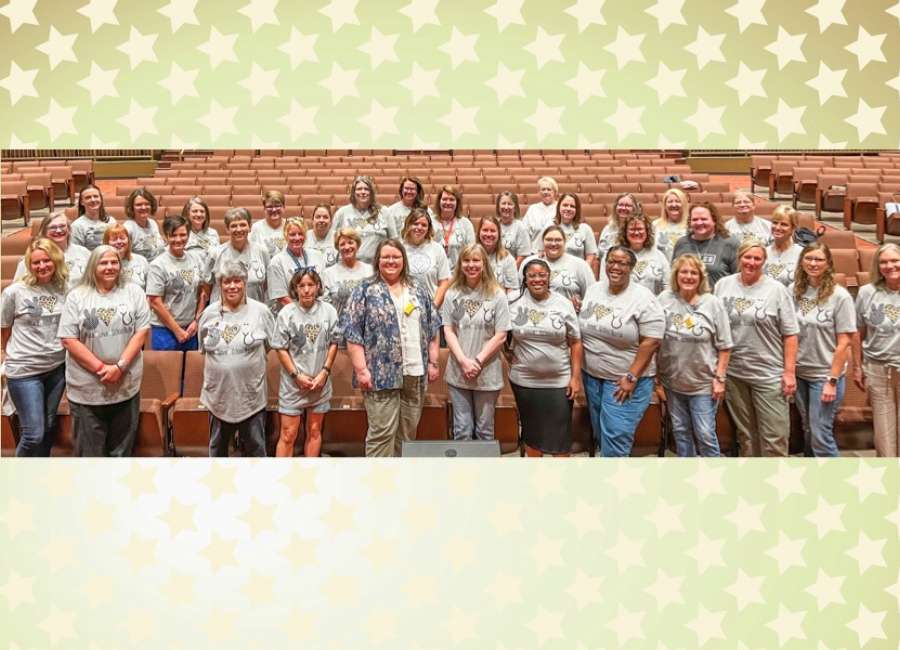 By Laura Camper / laura@newnan.com
Coweta County School System nurses were recognized for their dedication during the pandemic at an annual organization meeting on Tuesday.
The school nurses meet every year to plan for the upcoming school year, said Shannon Hendrix-Caplinger, health services coordinator for the school system. But for the first time, the system had community partners who donated door prizes and T-shirts for the nurses. It was appreciated.
"We've not had someone that said, 'Listen, we know you've had a really rough couple of years.'" Hendrix-Caplinger said.
The last two years have been tough on nurses working in any capacity. Clinic volume was up as was the paperwork load, she said. People were panicked; stress was high causing exhaustion and burnout among the nurses.
"There was a time when every symptom of COVID-19 had to be screened through and determined whether (students) went home," Hendrix-Caplinger said. "In an unpopular time, when it was very divisive when you talked about masks and immunizations, our nurses kind of took the brunt of some of the anger and the frustration that our population was feeling."
It was understandable, but that didn't make dealing with it any less difficult, she said.
Ken Kesselring, director of Safety and Student Services for the school system, said he thought it was time to recognize the nurses.
"The past few years have been stressful for everyone," Kesselring said. "Nurses have had to deal with a lot."
So, he passed along some names of people that he thought might help, including Kelly Hines at the Samaritan Clinic, he said. This was really their doing, Kesselring said.
Hines said she was heartened by the response when she began looking for ways to recognize the school nurses.
"I connected with several CCSS vendors that provide medical supplies to our schools, local health care organizations Cancer Treatment Centers of America and Piedmont Newnan Hospital, and personal friends who have children in the school system," Hines said by email, adding that the planning meeting was just the start.
There also will be multiple "lunch and learns" throughout the school year to both educate and reward the nurses with relevant topics and delicious meals, she said.
Now as the pandemic wanes COVID-19 has become more endemic. It is no longer a reportable illness, so a lot of the paperwork driven by the Department of Public Health is no longer necessary, and the stress level has decreased considerably, Hendrix-Caplinger said. The school system was open for all but a few months at the beginning of the pandemic. They've put the processes in place, and they know what they need to do if a cluster shows up at one of the schools. But for the most part, things have calmed down.
"We're really treating it much as the rest of the (U.S.) is as a whole, in that it's just another infectious disease that we're working our way through," Hendrix-Caplinger said. "It is now part of our culture."
For the first time since the pandemic hit, the nurses' meeting this year was not COVID-centered. The nurses discussed new diabetic standards, policy changes based on state laws, professionalism and coping tools to use during the school year.
"It feels like the first normal year in a while," Hendrix-Caplinger said. "We're seeing children are excited. Parents are excited. Teachers are excited. We're just excited to get back in the classroom."

Coweta County school nurses received T-shirts at their annual planning session on Tuesday as part of a community program to thank them for their dedication during the pandemic. Front row from left are Ashley Easom LPN, Regina Cook LPN, Cindy Pitre LPN, Cindy Jones RN, Katie Sims RN, Katie Rypkema RN, Jemekya Beadles LPN, Stephanie Brown RN, Shari Rose RN, Jessica Skinner RN, Kristina Rossey LPN and Linda WIlliams RN; second row are Kim Elrod LPN, Deanna Foster RN, Brandy Taylor LPN, Martha Fleckenstein RN, Leslie Storey LPN, Darlene Garner LPN, Beth Vinson RN, Lisa Coggin RN, Maggie Garrison RN, Rebecca Sims RN, Kate Casweel RN and Holly Holmes RN; third row are Ashley Bortolazzo RN, Cindy Huntington-Ray RN, Rebecca Skidmore RN, Alayna Adams RN, Stephanie Duncan RN, Shelly Brewer LPN, Shannon King RN, Meta Thompson RN, Heather Espy LPN, Brittany Kornacki LPN, Lillian Harrison RN and Annette Driver RN; fourth row are Shannon Hendrix Caplinger RN and Sheryl Wren LPN.