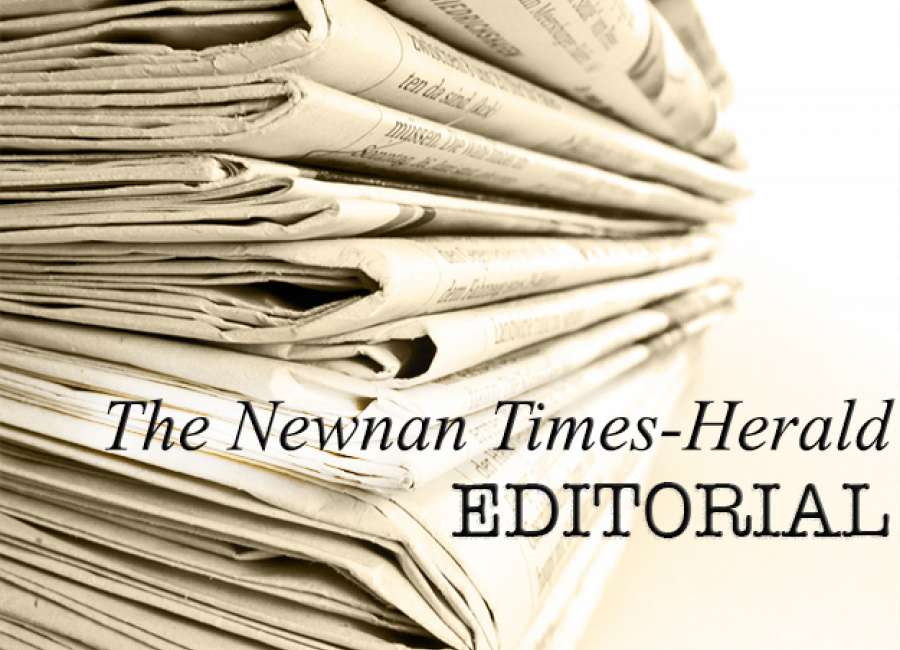 Thanks to a botched delivery by the U.S. Postal Service, 163 acres of land running from Green Top Road down to the city limits at the railroad tracks could be annexed into the city and developed into 366 single-family homes.
That's a density of 2.23 units per acre, a minimum lot size of 8,200 square feet, and an average lot size of 10,500 square feet.
The county has since filed a motion with the Coweta County Superior Court to halt the city of Newnan's annexation process.
At least the City of Newnan doesn't need to pretend to worry about rural preservation.
In the last two weeks, Coweta County commissioners voted to rezone land previously zoned Rural Conservation to Light Industrial for the purpose of building a single 270,000-square-foot warehouse almost directly across the road from the Orchard Hills Business Park, home to expansive Prologis and Goodyear industrial warehouse/distribution centers.
It's a mighty big jump from Rural Conservation to Light Industrial, and the neighbors aren't thrilled.
Several of those residents appeared before the commissioners to voice their concerns, only to be rebuffed by Commissioner Tim Lasseter, who acknowledged that the proposal was difficult at first, "because of the negative impact, especially to residents on Walton Road."
He ultimately voted in favor of the development.
When you can justify the rezoning for a 200,000-square-foot warehouse in the middle of an area previously designated for Rural Conservation, the writing is on the wall: "Rezoning For Sale."
It's pretty amusing that this was the same group of commissioners who so adamantly opposed the Green Top Annexation, based in part because the plan differs "substantially" from the existing uses suggested or permitted for the property, pursuant to the county's zoning and land use ordinances.
Commissioner Al Smith, the lone voice of dissent for the Highway 16 warehouse rezoning, said, "If we continue to fold under pressure, or under the idea that more money can be made, we're in a long slog toward uninhabitability." This led to a round of applause that had to be moderated by the chairman.
The zoning laws clearly seem to have been meant less as "laws" and more as "financial deterrents."
Any zoning law can be changed if the buyer's pockets are deep enough. Back taxes aren't going to bother giant corporations who want something badly enough, and not too many people nowadays are willing to turn down exorbitant sums of money for land that isn't being used.
Sadly, you can't blame the property owners for selling. That land that's been in the family for generations might be desperately needed to pay bills. The family farm is fallow, but the family's needs are still alive and well, especially in the current economy.
And it's safe to say not too many buyers are coming to Coweta County to snatch up green space and keep it that way.
Just outside of Sharpsburg, another developer has purchased 517 acres of Rural Conservation to develop into 1,000 single-family homes. It still has to come before the county commission for approval.
The problem isn't that we're lax with our zoning laws. The problem is that we're setting the prices too low.
We need our demand for green space and rural conservation to be higher than any price a developer wants to pay.
Because not allowing a buyer to purchase a piece of property that's for sale can land you in legal trouble. The county is no stranger to this process.
Change is inevitable, and it's also hard. For those who grew up in Coweta, our hearts break for you as you watch the crown jewel of the West Georgia region transform into a town that's almost unrecognizable.
We suggest paying close attention to which businesses are applying for licenses in our county and especially to the notices from the Board of Zoning Appeals, which are legally required to be publicized in this newspaper before a vote can be held.
Every single one of these developments came as no surprise to those who take the time once a week to scan the legal pages in The Newnan Times-Herald.
But that's the easy part. The next step is showing up to these meetings and speaking up if you don't like what you're seeing. These commissioners and council members were elected to serve their constituents.
Allowing them to proceed without consistent input is putting a whole lot of trust into a very small handful of people who likely won't be around to witness the fruits of their decisions in 5, 10 or 20 years.
Local government is the most rewarding to participate in because the likelihood of having an actual conversation with your representative is high. Talk to them. Their contact information is located on page 5A of every edition of our newspaper. They are here to serve you.
Everyone has always wanted to be the last person to move to Coweta County. That's what happens when you have a history of a fantastic community that is the envy of so many others.
Now is your chance to participate in shaping the future of our county. Show up. Speak up. Vote in every local election. Make the changes you want to see happen.