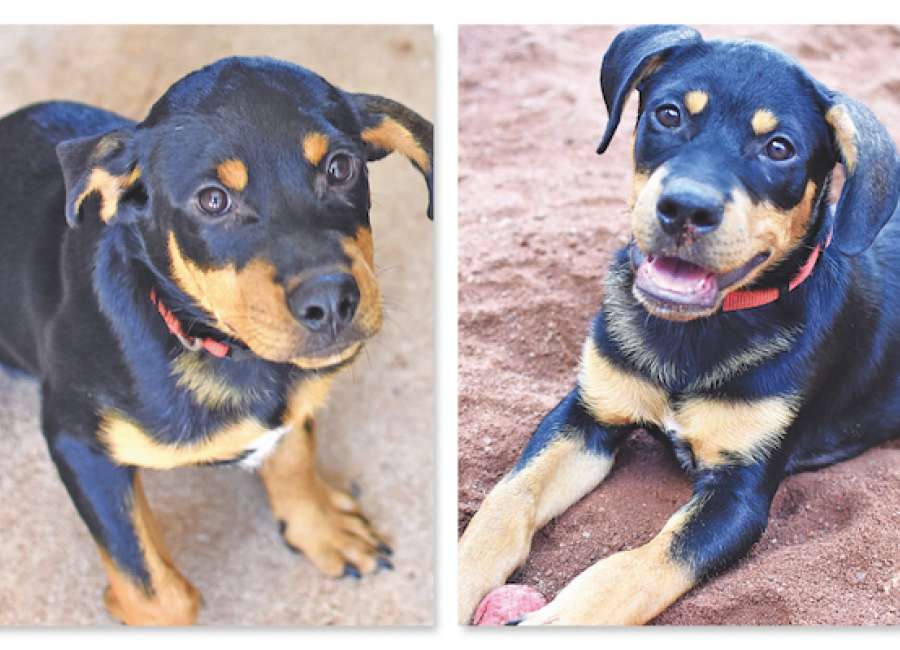 Hi! My name is T-Bone!

T-Bone is a precious Black and Tan Coonhound mix puppy who is about five months old.
T-bone has long legs and big paws, and he is a little mischievous. He likes to chase balls and play with toys, but he also likes to be involved in whatever his humans are doing. Expect him to tug on the edge of your trash bag or swipe your towel while you're cleaning house, and never leave your PB&J unattended!
You can expect T-Bone to grow into an affectionate, easygoing and slightly snoozy family member with a mournful howl and a fierce hunting drive. He will grow up big and strong, so a strong leash and a fence are ideal, and you should plan on spending lots of time training him.
T-Bone has a very sweet disposition and loves all big and small humans, as well as other dogs. He was brought to the shelter in mid-July as a stray from the area of Bexton Road and Highway 54.
You can meet T-Bone, A045172 from Kennel A-1, at Coweta County Animal Services.
All adoptions are $25
The Coweta County Animal Services Shelter is full of dogs and cats who need loving homes. All adoptions are a flat rate of $25. That fee includes spay or neuter surgery, an implanted microchip that helps the pet be identified if it should ever be lost, and the first round of vaccines.
Adoptions are free for those 65 and up, county employees and military veterans, and for heartworm positive dogs. Potential adopters who are renters must bring a letter from their landlord verifying that they can keep a pet at their home. Adopters who already have dogs can bring their dogs to the shelter to meet with potential new family members, but must bring proof of rabies vaccination.
Coweta Animal Services is located at 91 Selt Road in Newnan. Adoption hours are 10 a.m. to noon and 1 p.m. to 4:30 p.m. Monday through Friday and 10 a.m. to 1:30 p.m. on Saturday. Animals up for adoption can be viewed www.24petconnect.com . For more information, call 770-254-3735.