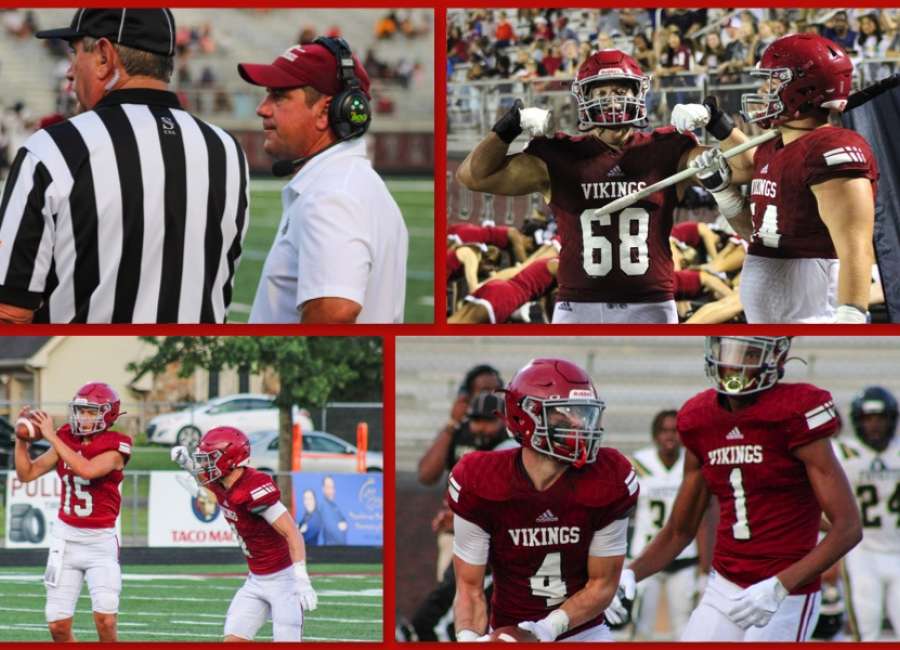 After an eight-month offseason, the Northgate Vikings football team gave their fans a peek of what to expect for the 2022 season.
They put on a pretty good opening show.

In their 2022 scrimmage game against Fayette County Friday night at Henry Seldon Field, the Vikings exhibited the skills necessary to win; a solid running game, stingy defense and a kicking game with the potential to be elite.
Following a slow start, the Northgate offense put together a methodical drive to score their first touchdown in the second quarter.
Evan Garrett took a handoff from quarterback Colin Meehan and followed the blocking of lineman Carson Coghlan and Malachi Mitchell for a 25-yard scoring play.
Nick Troemel's point after gave the Vikings a 7-6 lead going into halftime.
Northgate Head Coach Mike McDonald went with two junior quarterbacks in the game, Meehan and Ishan Metts. After the contest, McDonald spoke of his two signal callers: "We are blessed to have two good ones; they have grown up so much since last year."
Both had highlights in the game; Meehan found senior receiver Tyon Williams on a receiver screen for 14 yards and a first down and executed an option play perfectly when he disced to keep the ball and had a 13-yard first down run.
Metts had an impressive first down pass to tight end Matthew McDonald and found Garrett out of the backfield for a 14-yard completion on a screen pass to Garrett.
On defense, the Vikings lost some experience with graduation, but Coach McDonald was pleased with the performance against Fayette.
"We played well on defense; that's where we lost our experience. I wanted to kick the ball off because we need those guys to play now," McDonald said. "I like the guys we got, but we lack experience now."
The defense turned in a clutch moment early in the third quarter. After a Vikings fumble gave Fayette County the ball, the Northgate defense forced a fourth down stop to get the ball back to the offense.
The Vikings added another touchdown in the fourth quarter in the junior varsity segment of the scrimmage for the final 16-6 margin.
Overall, Coach McDonald said of the win, "I liked a lot of things we did tonight, but like everybody this time of year, we have a lot to clean up."
The Vikings now focus on their season opener on Saturday in the Coweta-Fayette Classic. The Vikings will face Whitewater at Starr's Mill High school in the first game of the triple header at 12:30 p.m.