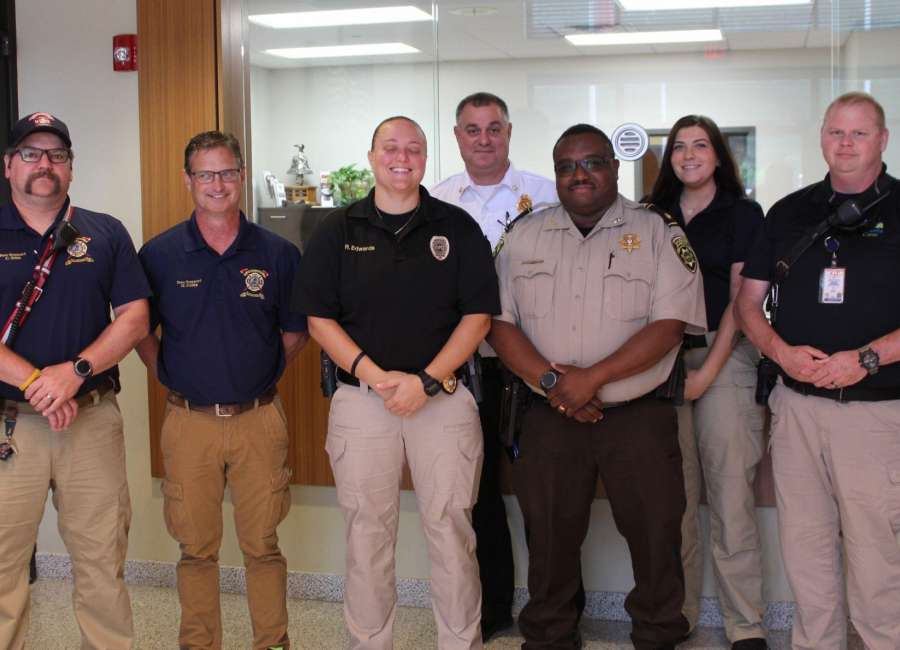 Public safety officials, be it those that work in the police, fire departments, the medical field or dispatchers, are helpers. They help people in their time of need, when they need someone to turn to for help.
But what happens when the helpers need help themselves?
With the trauma that public safety deals with on a regular basis, it's hard for them to seek help with someone that may not understand their position. So various public safety personnel have taken it upon themselves to help each other, people that understand each other and the unique circumstances they face on a daily basis.
In Coweta County, members of the Sheriff's Office and the Fire Department and E-911, along with Newnan's Police and Fire departments work together to support each other in the face of trauma and in the face of personal difficulties.
Robby Flanagan, chief of the Coweta County Fire Department, said public safety agencies have great support from those in Coweta County, but public safety officers find it hard to reach out to others when they face personal difficulties.
"They're the ones that take care of everyone on the inside," Flanagan said of peer support. "They have to make the right decisions at the right time within fractions of a second. I'm proud to be able to support the peer support group, because just having that ability and that outreach allows people to continue their job for the longevity and day to day."
Peer support: preventing post-traumatic stress from becoming a disorder
The idea behind the peer support programs is to help public safety officers process a traumatic situation they have encountered, and to allow public safety officers to handle it before it becomes a problem that could impact their work.
Chris Sims of the Coweta County Fire Department spoke extensively about the necessity of these peer support programs for the county's public safety departments.
"Our initial goal was to have a peer support team within the fire department, and I recognized the need for it in every agency in Coweta," Sims said. "So at that point, I reached out to all the department heads and said we were going to host this class, and it grew from there."
There are now trained members in the Coweta County's Fire Department and Sheriff's Office, as well as Newnan's Fire Department, Police Department and 911 departments.
"We all operate our own teams within our own department, and if there's a large-scale incident, we can all pull together; we're all trained to the same levels and same certifications."
Sims said the training received by peer support personnel allows them to recognize crises and the signs and symptoms of traumatic events, as well as to recognize when people are having issues dealing with difficult situations.
"It gave us the training, number one, to help defuse those situations and gave us a lot of resources on how we need to locate professional counselors, professional psychiatric help, and we were able to bridge the gap between that," Sims said.
Sims said that any kind of incident can trigger a traumatic response.
"When dealing with PTSD, it can be any small incident that triggers someone to a traumatic event they've had in the past. It's an accumulation of all the years of traumas you've gone through."
For instance, someone driving past a car accident on a highway may just see an accident, but a first responder could see a reminder of a traumatic scene from years before.
"There's really no set incident that triggers a peer team response," Sims said. "Normally, what we do is we assess from the on-scene officers, how is everybody on the scene, is there anybody in particular that is not acting their self?"
There are some incidents that trigger an automatic response, including scenes "that we know are traumatic," Sims said, including anything with children and mass casualty incidents.
Earlier this year, Maj. Eric Smith of the Coweta County Sheriff's Office lost three family members in the span of only a few weeks.
"One of the guys from the peer support team at the Sheriff's Office, without me reaching out to him, he reached out to me, and he came and provided that one-on-one with myself, talked with me, and worked through some of the feelings I was going through at the time," Smith said.
"A lot of us have calendars," Sims said. "We just had a firefighter whose family had a traumatic event probably 10 years ago. Their family member that they lost, it was their birthday. We already know, birthdays, Christmas, things like that are hard. So we reached out on the birthday of their family member, and said we understand it's a hard day for you, we're just checking in, and if you need us, we're here."
Sims said to them, it is worth their weight in gold.
"They know then they're not going through that incident by themselves. There are people that, number one, we remember the date, and number two, they're there if I need them. And that's important."
"We employ a lot of military folks," Flanagan said. "You might not know everything in their military service, but just the way the world's been lately, even something like that can spur back up. Them knowing they've got someone they can call at any time, that's their answer rather than going to a dark place right away."
Legislation helps the peer support groups
While public safety organizations may find the idea of peer support groups to be beneficial for their organization, what isn't – or wasn't – attractive to them, at least in Georgia, was that of cost.
"Every organization that certifies peer support counselors charge, on average, $1,500 to $3,000 per participant," Sims said. "It's not very cost effective for a public safety agency, when you look at our goal, at Coweta Fire, to have 10 members per shift. So we'd like 30 people, times $3,000 a person, it's very cost prohibitive."
In 2018, however, a group of lawmakers sponsored a bill that did something about that very problem.
"Thank goodness the state saw the need for peer support, and a few of the state representatives started a bill in the House, House Bill 703," Sims said. "House Bill 703 funded peer support programs for public safety programs in the state of Georgia, and it started the Georgia Office of Public Safety Support, which is a group of counselors and a group of peer support personnel tasked with bringing the training all over the state of Georgia at no cost. That's when all of us were able to get certified through the state of Georgia."
The bill passed the General Assembly and was signed by then-Gov. Nathan Deal in 2018.