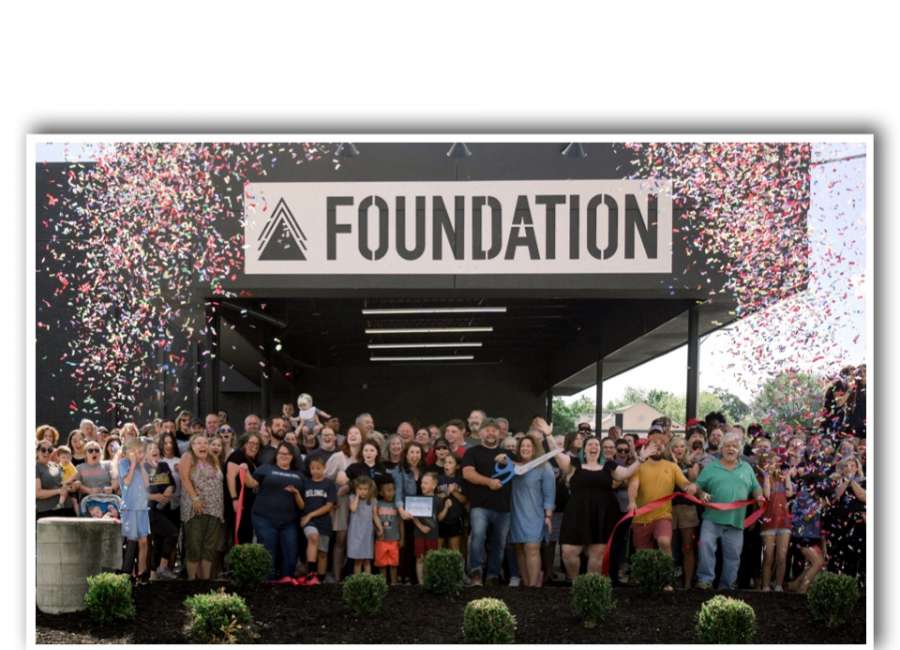 Foundation Church in Newnan has expanded its facilities into the former Wells Fargo building in downtown Newnan.

But the building is not just for Foundation Church; it's for the entire community, according to Foundation's lead pastor, Clint Nolder.
Foundation Church closed on the former Wells Fargo Bank building located in downtown Newnan on Greenville Street in early May 2021. Foundation celebrated its grand opening of BASECAMP a year later.
Nolder said the building is a tool to serve the community.
"We will never be a group of Jesus followers that values our possessions over people," Nolder said. "The carpet will be ruined —it can be replaced. Kids will kick holes in the drywall —it can be repaired. Crayon will be on the walls —they can be painted. Coffee will be spilt, windows will be broken, mistakes will be made and things will be ruined. That is the cost of serving people well.
"People are messy — it comes with being human," he continued. "There is nothing sacred about our space. However, there is something incredibly special about every person that will use it."
Nolder said although Foundation Church is happy and thankful to be in their new building, the church would've still carried out its mission without it. The church still hosts its Sunday gatherings at 9 a.m. and 11 a.m. in Perry Street in downtown Newnan.
"Honestly, it wasn't a make-or-break thing for us," Nolder said. "We are certainly excited about its potential. However, we would have been content being mobile forever if that is what would have been best for us. We are grateful to have such an incredible tool to use to serve others."
Nolder also said although Foundation Church has not implemented any new ministries yet, the environment the church wants to create is still the same.
"Our church exists to create a 'you belong here' movement where people are the destination and Jesus is in the lead," Nolder said. "Programs and ministries are the same; we simply have a new asset to assist with accomplishing that mission."
Nolder said the plan is still the same — to serve the city well and serve when called upon.
"Our plan is to serve the city well, to love the city well and to go beyond what is expected," Nolder said. "Our plan is to be available, to help with spiritual conversations and questions, and to be a place of refuge and recharge. Our plan is to follow Jesus."
The entire first floor was gutted and transformed into an auditorium that seats under 500. During the week, the space is used for Foundation staff offices. The building has space for gatherings, Foundation Kids and Foundation students on Sunday.
Foundation Church had been meeting at Newnan High School for services since 2018, but had to stop because of the EF4 tornado that damaged the school in March 2021. After the tornado, the church began hosting services at Ruth Hill Elementary School, with its offices remaining on East Washington Street in downtown Newnan.