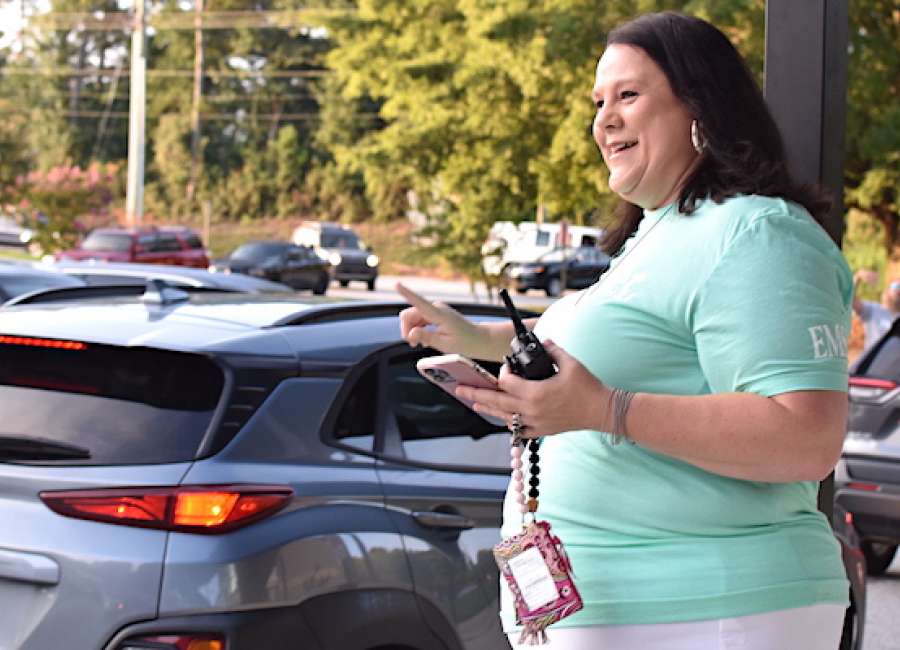 As middle and high school bus routes wrapped up on Thursday afternoon, the Coweta County School System was ready up to mark the first day of the 2022-23 school year a success.

"It has been a good day," Superintendent Evan Horton said. "It's good to have kids back in buildings, and I think people are excited. Overall, it went very smoothly, and a lot of work this summer went into making today happen."
Coweta's 32 public schools welcomed back approximately 23,000 students Thursday morning. The Central Registration Center is still registering new students, and initial numbers indicate that the school system should see a net growth of several hundred students this year, according to school officials.
Approximately 200 students formerly in the East Coweta High School district also moved to newly expanded/renovated Northgate High School this year as new district lines went into effect.
One of the biggest challenges during a new school year is the adjustment to new traffic patterns, particularly during afternoon dismissal, according to Dean Jackson, the school system's public information officer.
"It often takes the first several days at the beginning of a school year for bus and car rider traffic patterns to normalize," Jackson said.
Public safety officials are reminding drivers to use extreme caution as school resumes and traffic patterns settle into routines.
"With the start of a new school year, we remind everyone to expect heavier than usual traffic," Coweta County Sheriff Lenn Wood said. "Be mindful that there will be children walking to and from bus stops and buses stopping frequently. Please allow extra time on your commute to ensure student safety as they begin a new school year."
Wood also warned of the consequences of ignoring traffic laws for school zones or buses.
"Anyone caught illegally passing a stopped school bus or speeding through a school zone will be held accountable," he said.
Regular transportation procedures will be in place for Coweta Schools, which means bus riders will be making their way to bus stops as early as 6:45 a.m. – before the sun comes up. Times may change as bus schedules become established, but drivers should slow down and use extra caution in areas where students are gathered or walking toward pickup points.
"Let's make this the beginning of a great school year for teachers and students," Wood said.
School officials say routes and bus stops will remain largely the same as last year and will adjust as ridership demand is established. Parents/guardians who have questions about routes or stops should call the Transportation Department at 770-254-2820.
As routes regularize, parents/guardians can check on the status of bus routes to ensure that buses are on time each morning on the school system's website. Visit www.cowetaschools.net and check "Bus Status" on the left side of the page.
CCSS transportation will also add a text-based service for parents this year as the school year begins (https://busbulletin.com/ ).
School officials urge Coweta parents/guardians and other drivers to take extra time and care when students head back to school. Along with a return of bus service, parents will be dropping off young children and student drivers will also be returning.
Transportation reminders as school resumes
What can parents do?
Adults should plan to supervise children at bus stops, particularly in the first days of pickups.
What should drivers expect when school starts back?
Heavier traffic than you have grown accustomed to over the last several months. Drivers should expect longer delays at intersections, and greater traffic near school campuses and on all major thoroughfares. Drivers will not only experience more traffic, but also school buses, which will make frequent stops for riders starting at 6:45 a.m. beginning Aug. 4.
What are peak traffic times during the school year?
Most Coweta areas should see increased school traffic begin between 7-7:30 a.m. through about 9 a.m. on school days, as drivers and buses arrive first at elementary schools and then middle and high schools.
Expect that traffic will be more demanding than usual during the first week or two of the school year, as everyone reestablishes a routine. In addition to heavier traffic, parents should expect longer car drop-off lines at schools.
What time do buses begin their routes?
Buses are generally on roads by 6:30 a.m. On the first days of the school year, as new bus routes and ridership are being established, the school system asks bus riders to be at their stops no later than 6:45 a.m. for pickup. Regular pickup times for school bus stops will become established in the first weeks.
Where do children catch the bus?
Bus pickup sites have remained largely unchanged since last school year. Generally, if a home is on a street or cul-de-sac two-tenths of a mile or less in length, students should wait for the bus on the nearest street corner. If a subdivision street or other neighborhood street is longer than two-tenths of a mile long, bus stops are generally one-tenth of a mile apart based on ridership.
Parents should always accompany very young children to the bus stop and meet them on their return. If parents are unsure of where the established stop is for their address, they can speak to representatives of the school system's Transportation Department at 770-254-2820.
What should I watch out for?
If you are driving during peak school arrival and dismissal times, please be mindful of students getting to and from school. This includes being aware of students walking to and waiting at bus stops, and the need to stop and wait if you are behind a bus.
Motorists must remain stopped until all students are loaded, or until all unloading students have cleared 12 feet off the roadway. Drivers should never pass stopped buses.
What else can I do to help?
Individuals who are not dropping children off at school can help by leaving for work earlier than usual during the first days of school to help reduce traffic during peak hours.