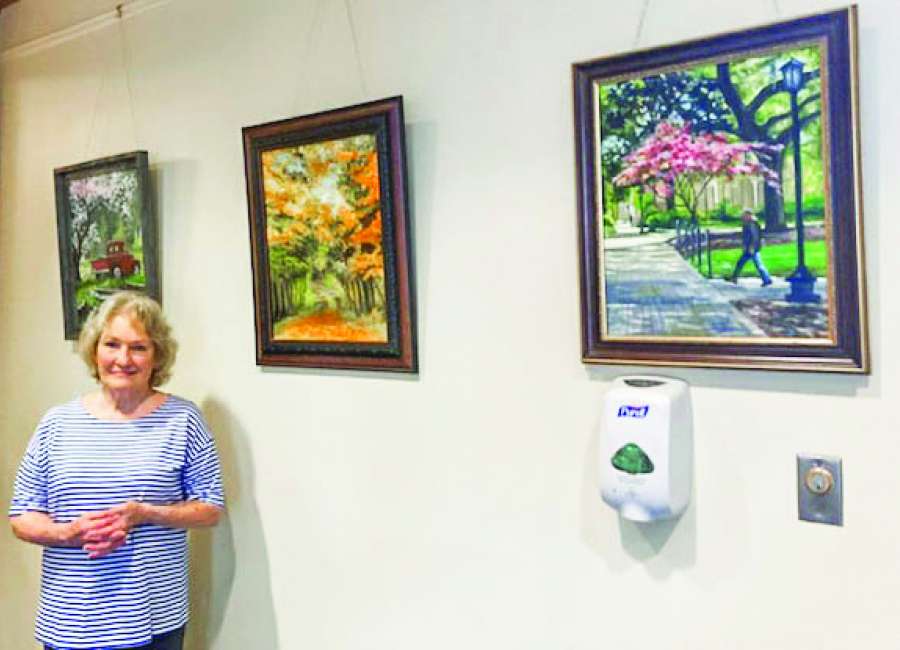 Barbara Kelly was recently named August's "Artist of the Month" by the city of Newnan.
Kelly is a native of Allentown, Pennsylvania, where her elementary school teachers recognized her budding artistic ability. This led to art lessons beginning in the fourth grade under the tutelage of Pennsylvania Impressionist Dr. Walter E. Baum.
"Back in those days, lessons were held in an old schoolroom and cost 50 cents," she said.
After graduating from Cedar Crest College, Kelly headed for Jacksonville, Florida, where she began her 33-year teaching career. She taught in elementary schools in Jacksonville and St. Petersburg, Florida, and then in Fayetteville, Georgia. Earning an M.Ed. in counseling led to seven years of school counseling in Peachtree City.
Art took a back seat to all these activities, as Kelly raised her three sons as well.
Right before retiring in 1996, The Fayette Society of Fine Art was formed and renewed Kelly's interest in painting. She took an active interest in the organization and served as its president, secretary and treasurer over the years.
Having traveled to Europe, Mexico, Canada and the Caribbean, Kelly refers to her many photos for her paintings.
Her medium is mostly oils, but she loves watercolor and pastels equally as well. Her favorite subjects are people and animals, but she tackles just about any subject that is appealing to her.
In 2010, she won Best of Show in the Newnan-Coweta Art Association's Annual Juried Show. That piece was done in pastel and inspired by a Spring trip to Provence.
Kelly has exhibited at the state capitol, The Georgia State Fair, Clayton Arts Gallery, Fayette County Courthouse Show and the Nixon Centre for Visual and Performing Arts.
She has won a number of ribbons for her work.
The paintings at City Hall "depict a number of the places I have been, and I hope the viewer will experience a little of the nuance of those places through my art."
Barbara Kelly is a member of the Newnan Coweta Art Association. The group meets on the third Monday of each month (from August through May) at the Harriet Alexander Art Center on Hospital Road at 7 p.m. An art demonstration is presented each month. Visitors and new members are always welcome.