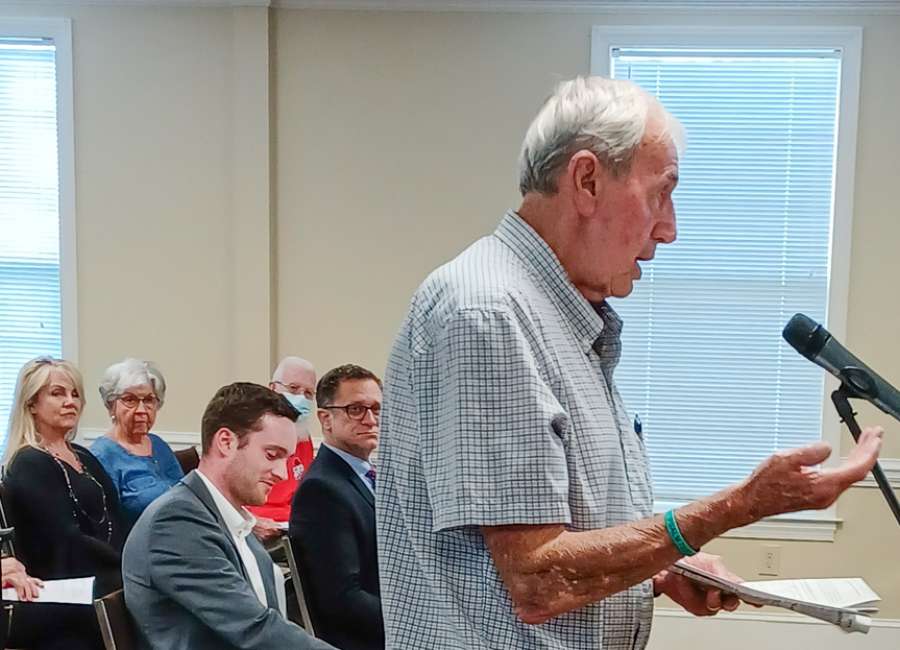 By Laura Camper / laura@newnan.com
At the Coweta County Commission meeting on Tuesday, local residents decried the rising tax bills they were expecting from the county.
Terry Zoeller told the commissioners that this year the assessed value of his land increased 77 percent, his home increased 25 percent, a total increase of 30 percent. Even with the rollback of less than 1 mill, he expects to see his tax bill increase.
"To me something's wrong," Zoeller said.
During their meeting, commissioners hosted the first of the three required public hearings for the millage rate, which will result in a 3 percent property tax increase. The county is proposing rolling back the millage rate, to 5.28 for both unincorporated and municipal property owners in the county. Last year unincorporated county property owners paid 5.756 mills while municipal property owners in the county paid 6.162 mills. Despite the roll back, the county will still bring in an estimated $3.8 million more than the current fiscal year thanks to an increased tax digest, County Administrator Michael Fouts said during the hearing. The tax digest increased 22.6 percent in part because of rising property appraisals.
It will help fund a $99.6 million fiscal year 2023 budget, which is increased more than $8 million or nearly 9 percent from the current fiscal year's $91.5 million budget.
But not all commissioners seemed to grasp the consequences for residents. Before residents had a chance to speak, Commissioner Al Smith congratulated the county staff on the millage rate roll back.
"It just looks like it's going down a lot," Smith said of the millage rate, adding, "and people think that taxes are going up because of, I guess, because of the inflation factor."
Commissioner John Reidelbach noted that from fiscal year 2019 to fiscal year 2022, the inflation rate was 13 percent for the county.
"You've done a good job," Reidelbach said to Fouts.
Residents who spoke weren't as enthusiastic.
Caleb Iddins, said he moved to the county 35 years ago because he liked the community and the taxes were fair. But in the last eight years, the assessed value on his property has increased five times. In five years, his property appraisal has increased $168,313, Iddins said.
"I've always paid taxes since 1942," he said. "I don't oppose taxes if they're fair. But the tax rate now has gotten to be out of hand."
Iddins said he doesn't want to move — he's 93 years old — but he's almost to the breaking point.
Bonnie Duncan, was also concerned. She lost her husband and her household has gone from two incomes to one at the same time that her property tax bill will double. Her husband was older than her and exempted their household from school taxes, she said. In addition, the appraisal on her home has increased dramatically.
"I don't mind paying my part, but are you going to help me pay my doubled property taxes? No. I've got to pay for it," Duncan said. "It's not fair for me."
Local Option Sales Tax under negotiation
The commissioners though focused on the local option sales tax revenue, which is currently being negotiated. LOST is a 1 percent sales tax that can be used by cities and counties to roll back the millage rate.
This year, the county's LOST roll back equaled 2.5707 mills.
By state law, representatives of the county and representatives of 50 percent of the county's municipal residents — in Coweta County that's the city of Newnan — must agree on a distribution plan for the money every 10 years. But the negotiations have been tough this time.
Commissioner Tim Lassetter cast the blame at representatives of the Newnan saying that they brought two plans to the table and said those were the only scenarios they would accept.
If the city and the county don't reach an agreement by the end of the year, that 1 percent sales tax collection will end, he said.
Lassetter noted that everyone who bought anything in the county would pay 1 percent less in sales tax if LOST was ended, but property owners would be paying more in property taxes.
"All of us would be impacted, not just the city of Newnan and the county," Lassetter said. "I'll just say, I want to do what's most fair for all the citizens of Coweta County."
In other business the commissioners:
-approved a rezoning request for a property located on Lower Fayetteville Road and State Route 154 from C-6 to C-8. The new heavy commercial zoning will be limited to offices and an indoor storage facility with no outdoor storage. The county also added a condition to the site plan that the driveway would have to be moved east to avoid interference with an existing left turn lane.
-approved a rezoning request for a property on State Route 16 from Manufacturing with conditions to Manufacturing with no conditions. It is however limited to office and warehouse use. The zoning will now match the adjoining property. Additionally, the owner of the property asked that his share in the cost of future improvements at the intersections affecting that property be limited to $50,000 for each intersection or $100,000 total. The commissioners agreed.
-approved a variance to allow Neal Buchanan to build a patio and screened porch on his property at 425 Timberview Circle in Sharpsburg and one to allow Beau St. Dennis to build a breezeway at his property at 101 Spear Circle in Senoia. The Zoning Board had recommended approval of both variances.
-approved a Conditional Use Permit for a property at 129 Pine Road in Newnan. The Zoning Board had recommended approval.
-set public hearings on Sept. 8 for requested rezonings for a property at Poplar Road and Newnan Bypass and one at 3218 Roscoe Road in Newnan.
-approved an agreement with the Georgia Department of Transportation associated with driveway and access provision.
-approved a request to temporarily close McIntosh Trail for a bridge replacement. No dates
were given.
-approved a request to submit an application for a Delinquency Prevention Grant.
-appointed Reidelbach as the Association of County Commission Governments voting delegate representing Coweta County for the 2022 Business Conference.
-approved a request from the town of Moreland to assist in mowing the right-of-ways along Harris Street.
-declared surplus an engine previously used by Fire Rescue.
-scheduled a work session on Aug. 16 at 8:30 a.m. following a second public hearing for the millage rate.
-set a public hearing for the fiscal year 2023 budget for 6 p.m. on Sept. 8.
-held a brief closed session to discuss pending litigation.