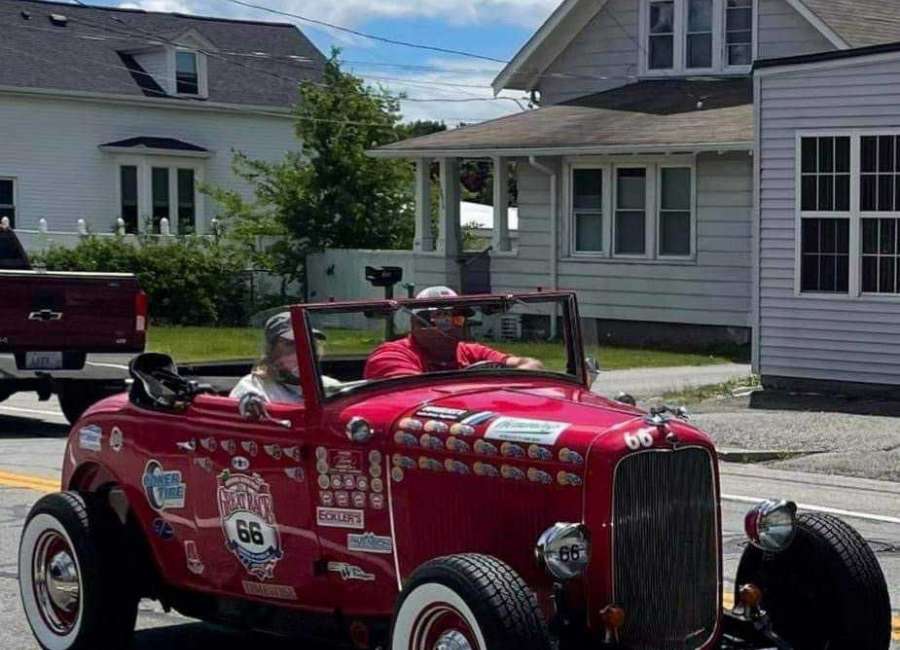 A family of racers from Newnan recently had two cars finish in the top five overall in the annual Hemmings Great Race road rally, which this year ran from Rhode Island to North Dakota.

The team of Jody Knowles and Beth Gentry finished second in the Grand Champion class and third overall, while defending champions Olivia and Genna Gentry finished third in the same class and fifth overall, out of a field of 130 cars.
Knowles, a dirt late model driver from Tyrone, was the driver of the #66, a 1932 Ford Cabriolet, while Beth Gentry was the navigator, who guided Knowles along the route.
In the other car, a 1932 Ford Five-Window coupe carrying the #1 due to their status as defending champions, Olivia drove while Genna was the navigator.
On Thursday, Beth said they didn't do as well as they would have hoped, but they still did quite well, winning two different days on the nine-day trek. The Knowles/Gentry team scored better than anyone on day 4 and day 9.
On that fourth day, traveling from Erie, Penn., to Perrysburg, Ohio, Beth said what helped them out was the hot temperatures, likely due to their familiarity with the warmer weather, compared to other teams from other areas being accustomed to cooler temperatures.
"We struggled more because it was cold," Beth said. "We always do well in the hot routes, and with this route, that was something we struggled with. We know what to do when it's hot. We race in the hot temperatures, and when it's cold, we don't necessarily know what to do."
For instance, Beth said it approached 100 degrees in Perrysburg when they
A test of precision, not speed
Unlike most forms of motorsport where the fastest car and driver is the winner, the Hemmings Great Race is decided by who can get to a checkpoint at the absolute correct time. Points are taken off if a car reaches a checkpoint too quickly or too slowly.
Beth said there were five to seven checkpoints a day, and teams knew what time – down to the second – they were supposed to arrive at those checkpoints.
Instructions given to drivers during stages, Beth said, are turn-by-turn, and are as precise as how long a car should stay at a stop sign or a stop light, how fast the car should take a specific road and which way they should be going.
Those instructions take teams up and down mostly rural roads, mostly paved, across a route that has been computer-generated and tested multiple times up to the day of the race. And with those rural roads, competitors deal with rural traffic.
"There's hardly any traffic," Beth said. "The biggest traffic are farm tractors and horse and buggies in Amish country. They became a major problem."
The score is determined by the amount of time off the ideal time set by race organizers, and then given a factor based on the age of the vehicle. The Gentry team, running a 1932 model year car, was given a factor of .810, which meant that their original score would be multiplied by .810.
At the end of the nine days, the Knowles/Gentry team ended with a score of 54.27 seconds off the perfect time, while Olivia and Genna finished with a score of 1 minute, 1.56 seconds.
A family of racers
The Gentrys have known a tremendous amount of success in the Hemmings Great Race. Last year, Olivia and Genna won the race overall, the first all-female team to win the race outright. That year, the race ran from San Antonio to Greenville, South Carolina.
In 2017, Beth and Knowles were overall winners of the event, when it ran from Jacksonville, Fla. To Traverse City, Michigan.
Knowles, the driver of the #66, races a Crate Late Model on the weekends, and has competed in the NASCAR Camping World Truck Series, running five races in that series in 2014 and 2015. His best finish in that series was 18th, at the race at Eldora Speedway in Ohio in 2015.
Knowles scored a victory at Bristol Motor Speedway earlier this year, when Bristol was converted to its dirt surface for the annual events in the spring.
Beth's husband, Oliver, also races dirt late models both at Senoia Raceway and across the southeast and their daughter Olivia also competes at Senoia.