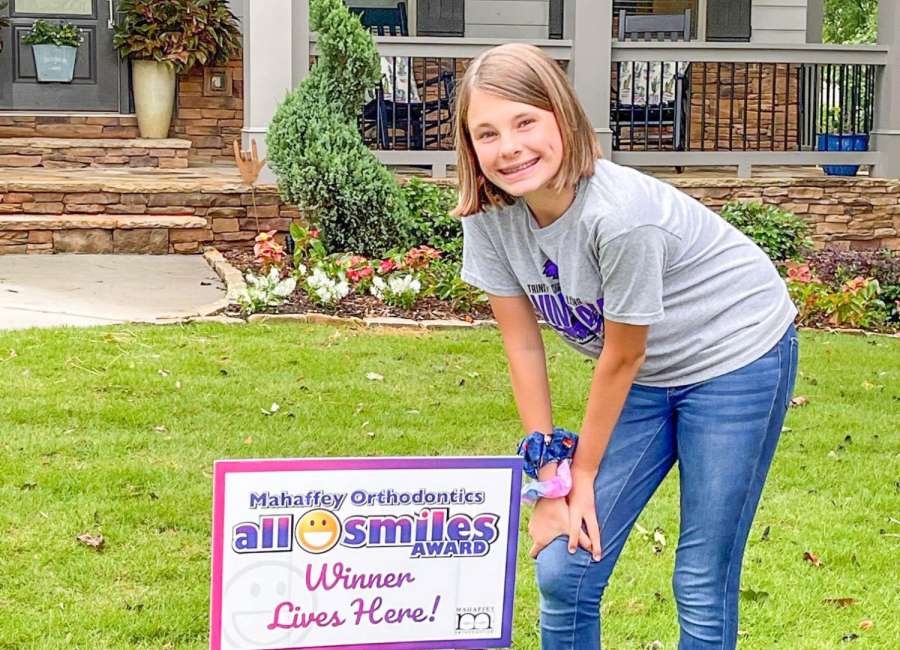 Trinity sixth grader and Newnan resident Elle Jerger was named among the winners of the Mahaffey Orthodontics All Smiles Award for 2022.

"I was very excited because I really didn't think it was going to be me, because we had so many great people in our grade," Jerger said.
Jerger has decided to combine her All Smiles Amazon gift card with her savings and earnings from a small business she runs making earrings to buy herself an iPad, her first big purchase.
Besides being an All Smiles Award winner, Jerger is also a patient at Mahaffey and Linkous Orthodontics, where she'll have her braces removed later this month.
Adam Vinson, Upper Elementary and Middle School Principal at Trinity, said the school was grateful for the program.
"Trinity Christian School is so thankful for the All Smiles Program and the generosity of Dr. Mahaffey and Dr. Linkous," Vinson said. "Our students are always so grateful for the opportunity to celebrate each other with the All Smiles Award. At TCS we want to honor and celebrate those students who go above and beyond to make our school culture positive and healthy. The All Smiles Program gives us that opportunity."
A record 42 schools participated in the Mahaffey Orthodontics All Smiles Award for 2022.
The All Smiles Award was created by Dr. Mike Mahaffey to recognize good attitude and character in students in grades 4-8.
Typically chosen by their teachers, All Smiles winners are students who make others around them smile. Mahaffey and Linkous Orthodontics gives a $100 gift card to each award winner as well as a certificate and a yard sign. Mahaffey Orthodontics also gave each elementary school $200 and each middle school $300 to put toward awards day programs.
Mahaffey Orthodontics All Smiles Winners 2022
Coweta County, Elementary: Arbor Springs: 4th Faith Elbrecht, 5th Brooke Muller; Canongate: 4th Emily Wallin, 5th Jasmin Perez; Newnan Crossing: 4th Aria Schatzberg, 5th Jamarcus Alford; Poplar Road: 5th Lyla Ballard, Ty Marlowe; Thomas Crossroads: 4th Josey Johnson, 5th Ansley Wallace; Welch: 4th Colt Troxler, 5th Sara Casas Tibaguy; White Oak: 4th Emoni Sewell, 5th Njammeh Touray; Willis Road: 4th Elise Nagle, 5th Marlee Goddard
Coweta County, Middle: Arnall: 6th Kin Apecena, 7th Aleighyah Kekoanui, 8th Angelina Boscarello; Blake Bass: 6th Joelle Valentino, 7th Bethany LaVancha, 8th Gabe Williams; East Coweta: 6th Carley Higgins, 7th Eddie Hubbard, 8th Marquis Racliff; Lee: 6th Antavious Bussie, 7th Addisyn Hasberger, 8th Michael Dorsey
Charter and Private Schools: Coweta Charter Academy: 4th Logan Coste, 5th Lalia Hunter, 6th Hannah Hill, 7th Micah Yancy, 8th Adam Cherniske; Liberty Tech Charter: 4th Ayden Tuck, 5th Avery Langford, 6th Andrew Boumeester, 7th Lily Swan, 8th Skyler Cason; Central Christian: 4th Maryanne McDaniel, 5th Kathryn Grace Lane, 6th Tucker Handley, 7th Lawson Freeman, 8th Kaden Jones; Crosspointe Christian: 4th Olivia Williamson, 5th Kinsie Kennedy, 6th Cayson Smiles, 7th Rebekah Wessels, 8th Beckham Cohran; Grace Christian: 4th Mary Christopher, 5th Montay Griffin, 6th Michael Dobbs, 7th Anthony Powell, 8th Kennedy Christopher; Landmark Christian: 6th McKenna Echols, 7th Noah Braxton, 8th Macie Churi; St. Paul Lutheran: 4th Katherine "Pippa" Conrad, 5th Harriet "Hattie" Kasinger, 6th Eric Dietrich, 7th Mayah Spieler, 8th Timothy "Timo" Tigue; The Bedford School: 4th Katy Mae Dearolph, 5th Carter June Dearolph, 6th Maci Wyatt, 7th Max Snyder, 8th Margaret Meyer; Trinity Christian: 4th Brooks Baldwin, 5th Colton Withrow, 6th Elle Jerger, 7th Harper Douglas, 8th Ben Sprague