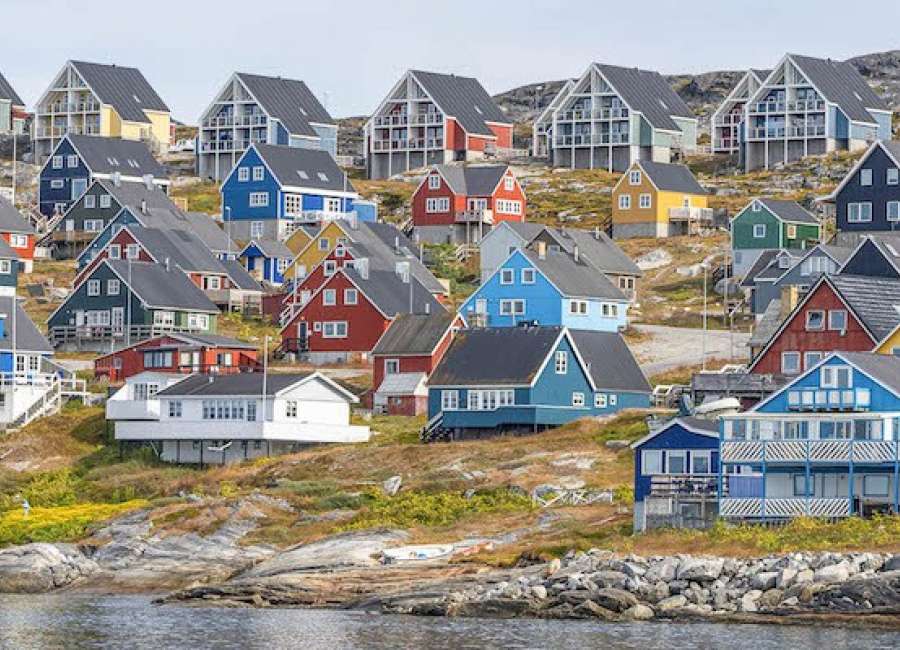 By Gordon Kilgore, Special to the NTH
Nuuk (pronounced Newk) is the colorful capital of Greenland, and even though it is small, it is the largest town in Greenland.
Nuuk was founded by the missionary Hans Egede in 1728. According to Wikipedia, Hans Egede was a Danish-Norwegian Lutheran missionary who launched mission efforts to Greenland. That led him to be known as the Apostle of Greenland.
He established a successful mission among the Inuit people. A common myth states that, as the Inuit had no bread nor any idea of it, Egede adapted the Lord's Prayer to say, "Give us this day our daily seal."
Technical Data:
A – The first picture houses facing the sea. I checked some prices and the single-family houses you see here seemed to be valued from about $500,000 to $650,000. The GPS from where I took the picture is: 64°11'1.47" N 51°44'43.962" W
B – Situated near the Old Harbor of Nuuk is the granite monument to the Mother of the Sea, Sassuma Arnaa. Carved by Christian "Nuunu" Rosing, Sassuma Arnaa is known as the goddess of the sea in Inuit culture. The GPS is: 64°10'43.728" N 51°44'45.672" W
C – A simple wooden gate is the entrance to a cemetery in Nuuk. I liked how the cross above the gate reigned over the crosses in the field beyond. The GPS is 64°10'20.898"51°44'10.458" W
D – This is a portion of the new or modern harbor of Nuuk. In the foreground are two fishing boats tied up and the pilot vessel Masik Viking is tied up on the far side of the harbor. The GPS for the port is: 64°10'14.13" N 51°43'21.678" W
Gordon Kilgore is a self-taught photographer who has spent decades perfecting his craft on photo safaris to 169 countries … so far. Kilgore continues to travel extensively, capturing unique images along the way. "There & back again" highlights Kilgore's art, as well as the stories and technical information behind his photographs. Email gordon.kilgore@gmail.com with comments, questions and requests for photography advice.