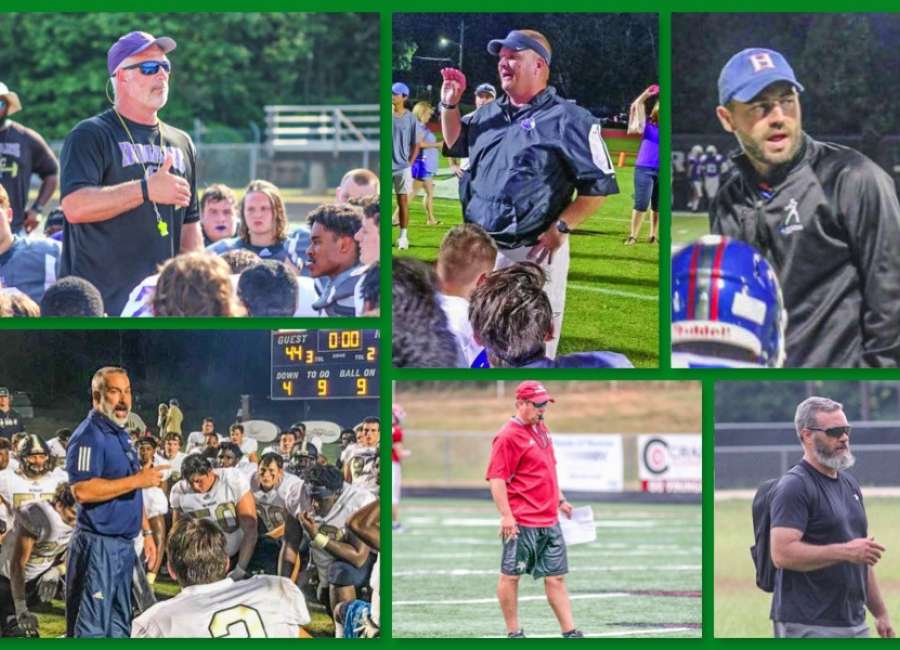 In a testament to the success and continuity of football in Coweta County, all six high school football coaches return from last season to lead their teams again.
To honor their hard work and dedication, let's go through a series of Head Coach trivia questions.

What current head coach's dad was a former first round draft pick by the Atlanta Falcons?
What current head coach has won a national championship with his current team?
What current head coach had an interception in a state championship victory?
What current head coach has taken two different schools to a state championship?
What current head coach followed in his father's footsteps by winning a state championship?
What current head coach was an all-state player at a Coweta County high school?
East Coweta football coach John Small enters his sixth season as the Indians' head coach. He brought the Indians a region championship last year for the first time since 2001.
In 1970, his father, John Small, was drafted by the Atlanta Falcons in the first round of the NFL Draft. A graduate of the Citadel, Small Sr. played five seasons in the league with Atlanta and Detroit.
At Central Christian, the Crusaders are returning to eight-man football for 2022 where they had some of their greatest triumphs. In 2014, the Crusaders defeated Memphis Nighthawks 38-18 to win the National High School Association National Championship.
The Northgate Vikings are poised to return to the Georgia High School Association state playoffs behind Head Coach Mike McDonald. This is McDonald's fifth season at the helm, and they look to get back to the playoffs for the first time since 2018.
McDonald graduated from Morrow High School, and in 1987, he had an interception in Morrow's 21-0 state championship win over Effingham County at Tara Stadium.
Trinity Christian enters a season of change as they move up a region, but they will forever be the 2021 Class A-Private State Champions. It was Dallas' third trip to a state championship. He took Trinity Christian the past two years, and in 2011 he took Landmark Christian.
The Newnan Cougars have a slight change this season, as they drop from Class 7A to Class 6A. Head Coach Chip Walker is back for his sixth year as head coach. Previously, he won three state championships with Sandy Creek before moving to Newnan.
Walker's father, Rodney, was one of the top Georgia high school football coaches of all time. He had 302 career victories and won a state championship at West Rome in 1984.
At The Heritage School, Head Coach Jake Copeland returns for his second full season in the top sport. The Hawks have returned to the Georgia Independent School Association and are ready to get back to the playoffs.
In high school, Copeland was an all-state defensive back at Northgate High School in 2008 before moving on to play in college at Lenoir-Rhyne.
The stage is set, and the season is right around the corner. The 2022 season will bring another chapter of high school football memories.