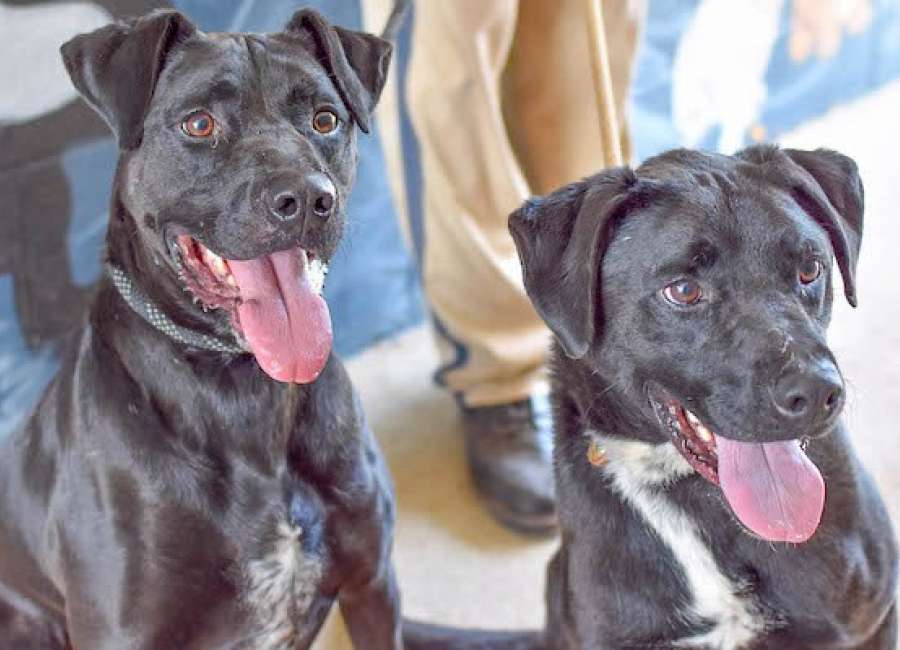 Hi! We're Hunter and Jet!

Hunter and Jet are a bonded pair of Labrador retriever mixes who have been at the shelter since May. They were found at Dyer Road and Highway 16 with no collars or microchips.
Hunter is listed as a 3-year-old pup who weighs about 60 pounds. He is black with a spot of white on his chest, and he is a bit of a couch potato.
Jet is listed as a 4-year-old pup who weighs about 59 pounds. He is also black with a spot of white on his chest, but his white spot is slightly larger than Hunter's. He is extremely playful and will chase and jump for a ball as long as someone is willing to throw one.
Both Hunter and Jet are friendly toward people and other dogs, but they have not been introduced to cats. They are available for adoption together or separately.
You can ask to meet Hunter (AO44773 from Kennel A-16) or Jet (A044775 from Kennel A-16) at Coweta County Animal Services.
All adoptions are $25
The Coweta County Animal Services Shelter is full of dogs and cats who need loving homes. All adoptions are a flat rate of $25. That fee includes spay or neuter surgery, an implanted microchip that helps the pet be identified if it should ever be lost, and the first round of vaccines.
Adoptions are free for those 65 and up, county employees and military veterans, and for heartworm positive dogs. Potential adopters who are renters must bring a letter from their landlord verifying that they can keep a pet at their home. Adopters who already have dogs can bring their dogs to the shelter to meet with potential new family members, but must bring proof of rabies vaccination.
Coweta Animal Services is located at 91 Selt Road in Newnan. Adoption hours are 10 a.m. to noon and 1 p.m. to 4:30 p.m. Monday through Friday and 10 a.m. to 1:30 p.m. on Saturday. Animals up for adoption can be viewed www.24petconnect.com . For more information, call 770-254-3735.