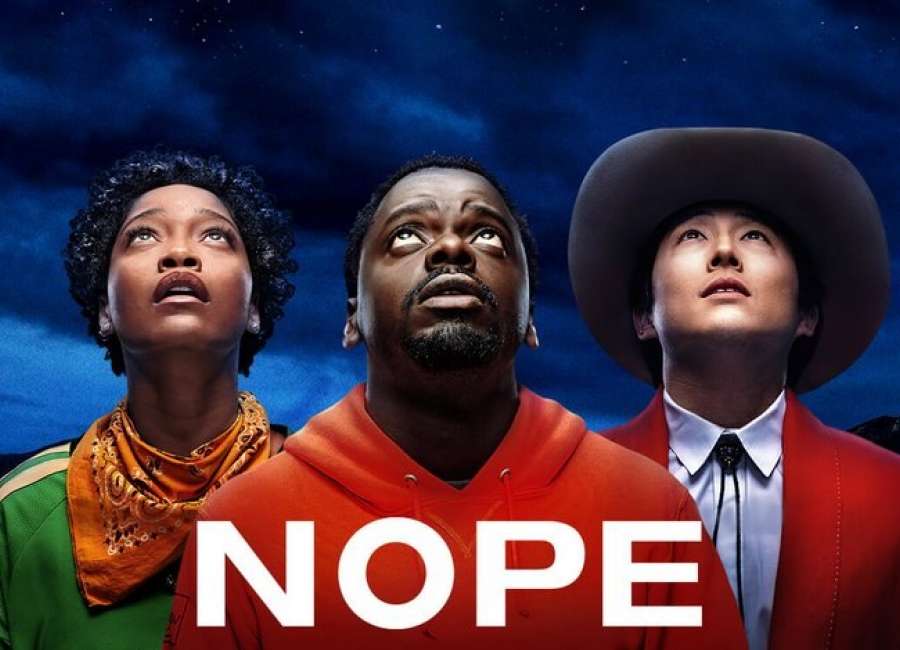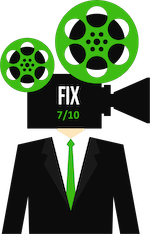 Review By: Jonathan W. Hickman
Film Details:
Director: Jordan Peele (see "Get Out" and "Us")
Cast: Daniel Kaluuya, Keke Palmer, Brandon Perea, Michael Wincott, Steven Yeun, Keith David, Donna Mills, Oz Perkins, and Donna Mills
Rated: R
Running Time: 2 hours, 15 minutes
Now playing in wide theatrical release
In his Oscar-winning 2017 hit film "Get Out," writer/director Jordan Peele explored the modern legacy of slavery by using horror and science fiction tropes. His horrific 2019 movie "Us" gave us a fantastic examination of two Americas, a place where the downtrodden and forgotten rise from a primordial subterranean dungeon.
His third feature, "Nope," studies our growing fascination with spectacle. The grandeur and the emptiness are presented within the familiar construct of the unassuming, broadly digestible monster movie. And with this undeniably entertaining production, Peele delivers an enjoyable summer blockbuster taking a subtle bite at society's thirst for exaggerated pageantry.
Are you internet famous? Do you want to be? Peele cautions you to think deeply about those desires.
"Nope" opens with a quote from the Old Testament. The Book of Nahum, a three-chapter segment from the Bible sandwiched between Micah and Zephaniah, is a blink and you'll miss it poem that provides Peele with his haunting and oddly current theme.
"I will pelt you with filth, I will treat you with contempt and make you a spectacle." – Nahum 3:6
Admittingly, I was unfamiliar with Nahum and the miserable ruin of Nineveh, and I suppose my grandmother would be displeased with my ignorance. So, I looked it up, and in my King James Version, the word "spectacle" appears as "gazingstock." Both words can be used interchangeably, but "gazingstock" carries a more negative connotation.
In "Nope," the questions are who is the gazer and who is on display?
Peele's storyline begins on the isolated, somewhat arid ranch of Hollywood horse trainer Otis Haywood, Sr., (a fatherly Keith David) as he explains to his stoic son OJ (Oscar-winner Daniel Kaluuya) that their latest business venture should finally bring them the financial security he's been seeking his entire life. Of course, no sooner does he utter these encouraging words and proudly mount his prized horse Ghost than he receives a rather violent reprisal from the heavens above. It's a positively Old Testament reckoning.
Left without his father's sage wisdom and gregarious manner, the more introspective OJ is forced to continue the ongoing concern in the patriarch's absence. Turning to his showy sister Emerald (a wonderfully irreverent Keke Palmer), OJ positions her as the front person for the ranch and its services. And after failing to complete a commercial project successfully, OJ and Emerald retreat to the ranch licking their respective wounds.
To keep things afloat, OJ has been selling horses to a nearby amusement park run by former child actor Ricky 'Jupe' Park (a terrific Steven Yeun). The attraction is patterned after an old western town, as one of Park's famous roles was that of a pint-sized sheriff. When Emerald and OJ pay a visit to Park's facility, we learn that he experienced trauma while on the set of a once popular television series.
The exchanges with Park remind us of Peele's subversive writing talents. And these sequences are enhanced by Yeun's odd characterization. Yeun, nominated for the Oscar for his work in the 2020 film "Minari," is an actor of surprising range. Here there's an understated sadness that permeates Park. And Yeun delivers his lines with a softness that underscores the emotional baggage that Park is carrying.
But viewers should be warned that "Nope" earns its horror stipes most unexpectedly. This theatrical extravaganza is a monster movie on several small and large levels. But although there are inventive twists, this Peele film is not as complex and nuanced as his previous efforts. Of course, this means that "Nope" should appeal to a broad audience that may have been apprehensive or even turned off by the edgy narratives that Peele became famous for crafting.
In addition to Yeun, veteran actor Michael Wincott shines as an aging cinematographer named Antlers Holst, who the Haywoods call to get the perfect shot. Everything about Wincott in this picture is amusing and engaging. Holst wears a kind of sarong that wraps around Wincott's thin, wiry frame.
We see Holst in his studio obsessively editing film footage of wild animals. Little traits hint at his place in life, and Wincott's razor voice only adds to his mystique. Some critics pointed out that he's the Quint character in this Spielberg-inspired tale.
While comparisons to "Jaws" are apt, the failing for Peele is that his film's ending will also be compared to the 1975 classic that helped to launch the summer blockbuster craze. Such concluding acts have uniformly given us diminishing returns over the years as elements are recycled. "Nope" peaks early.
In addition to Wincott's unusual wardrobe, Kaluuya is dressed very much as an urban cowboy. OJ may have inherited his father's love for and abilities with horses, but he's given up the stiff cowboy boots and cliched but iconic Stetsons. Instead, OJ wears loosely tied Timberland boots, cool graphic t-shirts, and a baseball cap associated with a hip brand. This refreshing take on the modern cowboy is a minor theme, but it reminds us that Peele is playing with stereotypes.
"Nope" is an awfully good-looking movie. Expanding his visual palette, Peele partnered with Oscar-nominated Swiss cinematographer Hoyte Van Hoytema (see his work with Christopher Nolan on "Dunkirk" and "Interstellar"). Much of the film was shot in IMAX, and critics were shown "Nope" in that format. It's highly recommended to see the movie on the most giant screen available.
Peele's analysis and comment on spectacle is the ironic theme of his film. Indeed, he's positioned the project as a cautionary tale; however, by employing blockbuster techniques that spare no expense, he's wallowing in the sheer spectacle he is also criticizing. This is all an intentional wink and a nod, which should have more impact.
Unfortunately, while substance is abundant, the payoff is somewhat stale. Perhaps through a second viewing, I'll pick up on more refined messaging, but instead of aiming for something profound, Peele tempers his ambition with a crowd-pleasing conclusion. This arguable weakness has the pleasing side-effect of making "Nope" his most optimistic movie to date.