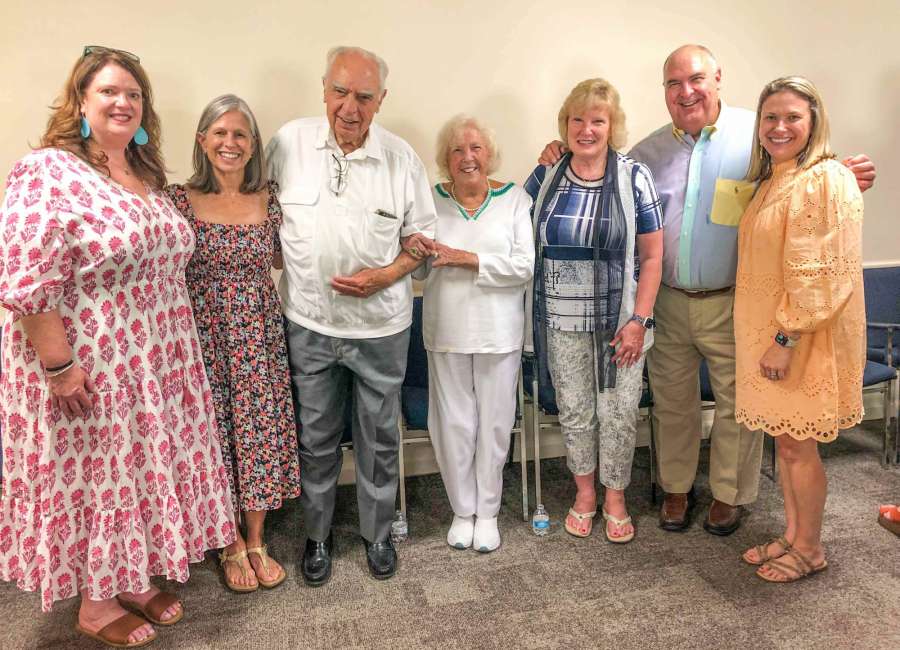 The Coweta Samaritan Clinic recently announced a long-term gift to expand its Patient Assist Program through the establishment of the Millie Coggin Patient Assist Trust Fund.

Created in honor of Coweta County resident, Mrs. Millie Coggin, the fund will provide nonmedical financial support to Coweta Samaritan Clinic patients in times of extraordinary need. Support such as assistance in accessing running water or heat can make a critical difference in a patient's health and recovery from illness or injury.
"I had given a great deal of thought to two issues that are very important to me," said Millie's husband, Bob Coggin, who established the fund in her honor.
"One of those issues involved finding a way for Millie and me to become long-term supporters of the Clinic's Patient Assist Program," Coggin said. "The other issue relates to me identifying a significant way to let Millie, our family, and our friends know how much I love her and appreciate the support she has given me during our 61 years of marriage. During a recent conversation with Amy Kelly (Social Work Case Manager) about our interest, it occurred to me that I could leverage this issue to achieve both of my objectives."
The Coweta Samaritan Clinic, which began caring for patients in October 2011, provides free health care to uninsured adult residents of Coweta County. In addition to medical services, patients also receive support from Amy Kelly, LCSW, ACM, thanks to community partner Piedmont Newnan Hospital. Kelly works to identify psychosocial needs that affect patients' health and well-being, and then connects them with appropriate community resources that meet specific needs outside of health care.
"We are so fortunate to work with many community partners who help us ensure our patients' needs are met," Kelly said. "There are instances, however, when we need to help a patient get through a uniquely challenging time (such as the recent high temperatures we've experienced by providing an air conditioning unit). Our Patient Assist Program is a safety net that simply does not exist for many of our patients. It is an important extension of care for the population we serve. The establishment of the Millie Coggin Patient Assist Trust Fund gives us a sustainable way to provide non-medical support for patients as critical needs emerge in the future."
Clinic founder, Chairman, and volunteer Medical Director, Kay Crosby, M.D. recently spoke about the Fund and the Coggin family's impact throughout the Clinic's nearly twelve years of operation.
"When I think of 'Good Samaritans,' I immediately think of Millie and Bob Coggin," Crosby said. "They have been incredible supporters since the Clinic was simply an idea," said Crosby. "From serving on our Board, to volunteering with various committees and events; and always being willing to provide guidance, feedback and counsel; they have been invested in our mission from day one. We are deeply honored and humbled that they are entrusting us with this Fund. As the parable of the Good Samaritan teaches us to love our neighbors as ourselves, Bob and Millie most certainly set an example for all of us in doing just that."
The Coweta Samaritan Clinic is funded nearly entirely through private donations. Including in-kind expenses for donated volunteer time, services and patient assistance program medications, more than 95 percent of Clinic expenses support direct patient care. Since its inception, the Clinic has served roughly 2,200 Coweta County residents through more than 27,000 patient visits.
Throughout the COVID-19 pandemic, the Clinic never stopped serving its patients, offering telemedicine patient care options, designated times to pick up medications and supplies and helping patients navigate COVID-related challenges such as job loss.
When the EF4 tornado hit Coweta County in March 2021, the Clinic also ensured that approximately 90 Clinic patients who were in the tornado's path were safe, had the medications and supplies they needed, and were connected to appropriate resources to recover and rebuild if their homes were damaged.
Contributions may be made to support the Millie Coggin Patient Assist Fund by mailing a check to Coweta Samaritan Clinic, PO Box 963, Newnan, GA 30264 (noting the fund in the memo line) or by visiting www.cowetasamaritanclinic.org and selecting the fund as the gift designation.