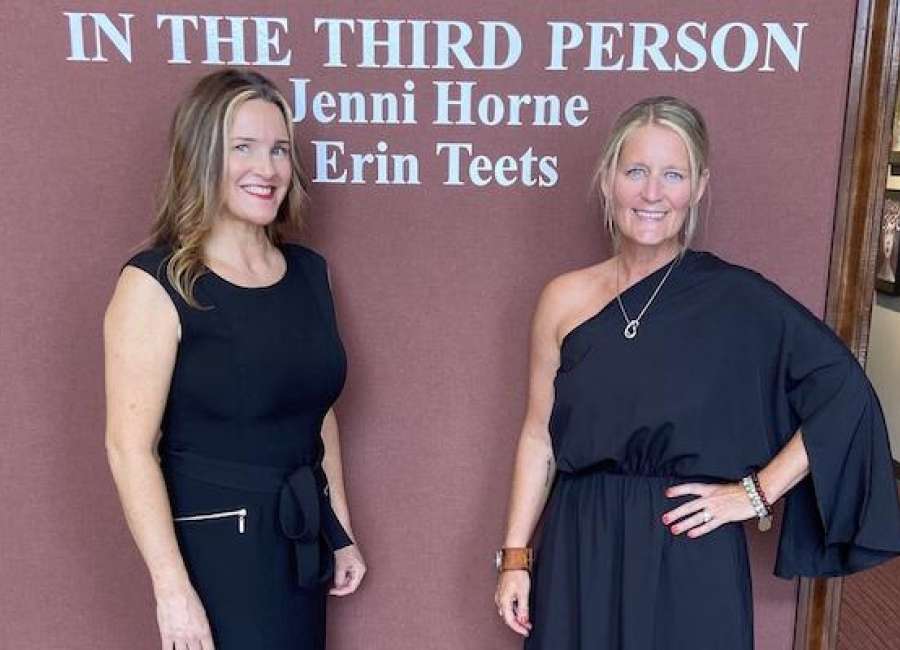 A pair of Northgate High School art teachers have become students again.

An exhibit of their collaborative artwork is currently on display in the Françoise Gilot Gallery at the Nixon Centre for Performing and Visual Arts. Entitled "In the Third Person," the exhibit is the culmination of more than a year of work – with the bulk of creation happening over the course of the spring semester.
But it's not just thought-provoking and beautiful work. It's also a research project that helped earn the pair degrees from the Kennesaw State University Master of Art and Design program.
The program is part of an emerging trend of coursework that moves away from traditional college classroom lectures and toward individually tailored education – something that the ramped-up technology of teaching in the time of COVID-19 has uniquely prepared them to embrace.
"If we had done our masters at any other time in history, we would have never learned so much about bringing technology to our classrooms," Horne said. "I have a friend who has her master's that she got way back in 2002, and technology class back then was using transparencies. So I'm glad we did it now, because we would never know all this cool stuff."
Among the "cool stuff" available to Horne and Teets through the KSU program was the choice to replace the usual master's thesis with a year's worth of artwork and an accounting of their processes, thoughts and emotional growth and how what they learned can be incorporated into their own classrooms.
"I'd never seen (a program) where you can actually do a project or a thesis, so we were like, 'We're in!'" Teets said.
But it wasn't easy blazing new trails as longtime teachers. The days were long during the school year, when hours of bookwork, studio sessions and time spent in each other's classrooms at Northgate – collaborating in the most literal sense of the word.
The plan was to literally pass canvases back and forth, each adding elements from their own unique styles of artwork. Circles and lines, nature elements, colors and textures added by the artists as they took their turns shaped themselves into what Horne and Teets think of as yet another artist's abstract work.
The first official piece for their project, "Rooted," is painted as three women: Horne, Teets and the mystery artist, who is the inspiration for the name of the exhibit.
"She symbolizes a combination of our styles, perspectives and worldviews," according to the exhibit's artist statement.
The exhibit is unabashedly feminine, with women depicted in paintings, multimedia pieces and sculpture. It's a reflection of the different facets of the women who created the artwork, of their fears and slumps and victories. Individual artwork that highlights the influences of the other partner each artist flanks the collaborative work as well.
Nixon Centre staff hung the show for the artists in early June and hosted a reception on June 23 as well. The exhibit will be open through Aug. 1 – closing just in time for the newly minted Masters to head back to the classroom.
Horne and Teets, both veteran classroom teachers and accomplished practicing artists, say they will return not only equipped with new skills but also with an altered outlook. Especially after having to answer the question of why they choose to teach.
"We feel like it's really going to impact our teaching," said Horne. "For me, I was really shutting down and I felt like I was starting to hate teaching. But jumping into (the master program) really brought me back to life."
Teets said putting herself in her students' place has changed her perspective.
"We have a lot more empathy right now for our students," she said. "We feel like we're going to probably invite more opportunities for collaboration in our classrooms."
A message from the "In the Third Person" artists:
The art (in our exhibit) is the result of a research project conducted between January and April of 2022 for Kennesaw State University as part of our Master's of Art and Design program.
We wanted to know what would happen when two art teachers with different upbringings, worldviews, personalities and artistic styles co-created a body of work. How would it affect their
individual studio practices? How would it affect their teaching? Furthermore, how would it feel to relinquish total control and ownership of a work of art, when the process is typically a highly independent endeavor?
With the exception of the sculptural pieces and individual works, all of the pieces on display were created by passing them back and forth. The artist in possession of the work at any given time had free reign to add to, modify or even delete what the other artist had previously done.
Through multiple critiques and discussions, we brought the pieces to their current states.
Engaging in the collaboration not only yielded what we believe to be surprisingly creative and thought-provoking work, but also expanded our thinking about the making and teaching of art.
Additionally, we experienced a bonding that could only have been fostered under these circumstances, for mutual trust and respect of each other's creative preferences and perspectives were vital to the process.'
About the artists:
Jenni Horne is an artist/teacher currently living in Historic Downtown Newnan with her husband Billy and two children, Mailey and William.
Originally from Alabama, Jenni moved to Georgia after marrying Billy in 1996. These southern roots have grounded her and shaped her artwork into what it is today.
She can often be found in her home studio working on multiple pieces at the same time. Her process leads to creating paintings in a series, each series focusing on different subjects. From landscapes to portraits her work is full of color and thoughtful marks.
She is currently working on a series of female portraits using a mixed media technique. Horne says, "Influences must come to a certain degree from the things that enliven and excite me. I search for balance within my work through applying a variety of materials and layers to every canvas. I love to explore, experiment and evolve my painting process. Always a student ready to learn makes my work engaging and excitingly refreshing for the viewer."
Horne attended Auburn University where she received a degree in Fine Arts, cum laude, Phi Kappa Phi in 1995. Her concentration was printmaking. Shortly after graduating she returned to college attending the University of West Georgia to obtain her teaching certification in Art Education.
Horne knew sharing her love of art through teaching was her calling. She has taught in both the public and private school settings at all grade levels over her 25-year career. She has also taught painting workshops across the United States to adults.
Currently, she has an online teaching platform called Paint Something where students from across the world take her painting courses. Horne has taught the past seven years at Northgate High School in Coweta County as the digital photography and painting instructor.
Erin Smith Teets is an artist and art instructor who lives and works in Newnan. Her typical work is characterized by a limited color palette and mixture of both water-based and drawing media. The manipulation of the media is intended to evoke a sense of transience, mystery, and the psychological layers of the mind.
Through symbolic use of imagery such as the crow or cicada, she attempts to make connections between the natural and spiritual worlds, as well as make continual investigation into her own personal metamorphosis.
A desire to elevate both her studio and teaching practices led her to begin pursuing her master's degree in the fall of 2021 at Kennesaw State University. Her experiences in the Master of Arts in Art and Design program have not only pushed her to diversify her artistic repertoire, but also to expand her teaching ideologies.
Erin is happily married to her husband of 21 years, Richard, and is mother to a 12-year old German shepherd, Ava. A Fayetteville native, she graduated from Fayette County High School in 1991 before enrolling at Georgia State University.
It was during the pivotal years at Georgia State under the tutelage of highly skilled and influential instructors where she not only honed her art skills, but also became inspired to pursue the teaching of art.
After receiving a Bachelor of Fine Arts in Art Education in 1997, she taught art for two years at Pate's Creek Elementary in Stockbridge.. After settling with her husband in Newnan, she taught for three years at Madras Middle School before transferring to Northgate High School.
NGHS has been her proud home away from home for the past 19 years. Her mission is to empower students through the creative process, and instill the same sense of accomplishment and self- confidence in them that her former instructors did in her.
It is her sincere hope that they develop a lifelong love and appreciation of art, no matter what path they take in life.