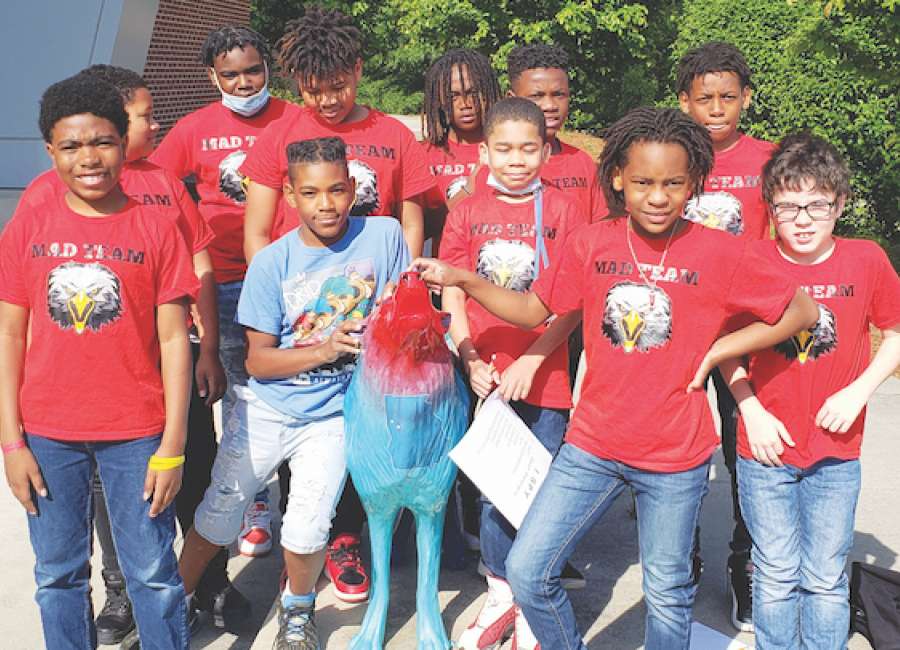 By JAYLA McDANIEL, NTH Intern
Dwight McDaniel did not always want to become a teacher.
Growing up, he felt like many of his teachers were not good role models, and they did not inspire him to learn.
Throughout his young adulthood, he was constantly told he was good with kids, but he wasn't sure he wanted to be a teacher. "I didn't want to deal with bad kids all day," he says.
After graduating from high school, he felt he had no choice to go anywhere but the Air Force.
"My grades were too low to go to college, and I didn't want to keep living with my parents," he said.
He was stationed in South Korea as a firefighter, where he learned the importance of hard work and integrity.
After being stationed, he decided to pursue a degree in Family and Child Sciences.
"I made all A's except for one class," says McDaniel.
McDaniel has been teaching since 1998 and has worked in many schools in Virginia and Georgia.
"I wanted to be the teacher that kids would remember years later for the amount of fun and engagement that they have in my class," he said.
Today, he is vice principal at Ruth Hill Elementary School, where in 2016 he created the Make a Difference Team. The MAD Team is a leadership program for fifth grade boys, and it's one of several similar programs he has created at multiple schools.
"I saw a need for students to get more exposure outside academics," McDaniel said. "I didn't have a lot of exposure to various jobs, but I did have worldly exposure in things, such as gardening, sports and vacations."
In addition to learning new skills, MAD Team members are mentored in proper behavior.
"We teach them to be accountable for their actions and consistently reiterate mannerable behavior," said McDaniel, who added that program participants have gained the respect and admiration of their teachers and peers.
The MAD Team recently held a reunion cookout at Ruth Hill Elementary. At the cookout, they enjoyed a meal together, played games and held prize giveaways. More than 90 people attended, including 31 current and former MAD Team members.
Casey Bethel, the 2017 Georgia Teacher of the Year, was guest speaker.
Bethel sponsors Project Manhood, a mentoring group for young men that focuses on character building, communication skills and social development.
Amir J., a two-year participant, said, "I joined Project Manhood to show being a boy/man isn't about guns and killing, it's about showing people you know how to act and be present."
Those goals are mirrored in programs like Ruth Hill's MAD Team. Over the years, participants have gone on numerous field trips, exploring places like middle schools, the University of West Georgia and the Central Educational Center, fire departments and grocery stores. They have also gone bowling together.
"My favorite thing about field trips is how excited the kids get," McDaniel said. "Field trips are also a great way to provide the kids with exposure to so many things."
McDaniel has often brought in guest speakers, including local detectives and FBI agents. One out-of-the-ordinary learning experience was when woodturners came to Ruth Hill and taught the students how to make pens out of wood.
Another favorite activity of McDaniel's is assisting with the Backpack Buddies program, where MAD Team members fill backpacks with food for underprivileged kids to take home on the weekends.
Other skills they have learned include how to tie a tie, how to plant a garden, how to hunt and fish, and how to wash a car.
"We raise our own money by hosting car washes and barbecues," McDaniel said. "I want to teach kids how to earn their own money. They have learned important life skills too, such as manners or being responsible for their actions.
"When kids have a lack of exposure they have a lack of options as far as jobs/careers, education and general opportunities," he added. "The more exposure, the more opportunity."