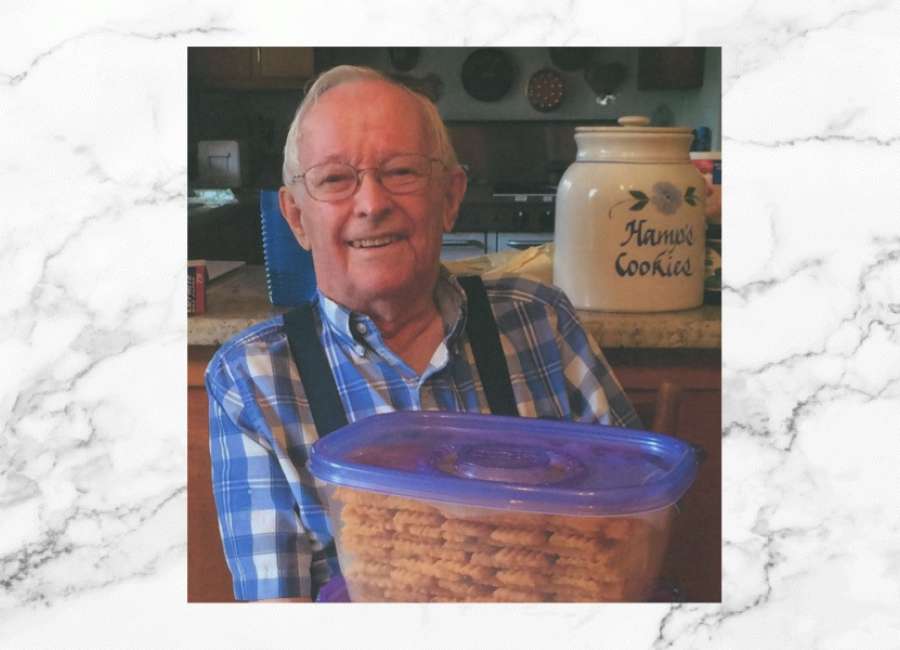 The life story of Lee Hampton Smith, Jr., came full circle in the early morning of July 27, 2022, as he peacefully slipped the bonds of his earthly life and gained his eternal life with the God he had honored for 95 years.

Hamp, as he was known to all, was born in Haralson, GA on December 2, 1926, to Lee Hampton Smith, Sr. and Rubye Addy Smith, both of whom preceded him in death.
Hamp enrolled at Georgia Tech after high school, but WWII cut that short and he was needed at home to help with the family business.
The Smith family operated a grocery store on Jefferson Street in downtown Newnan that was, in retrospect, light years ahead of its time.
Amazon was still a river back in the day when the lady of the house in Newnan could call "You -Save It Grocery" early in the morning, and magically, your grocery order would appear on the kitchen counter in time for lunch.
Hamp's first job was helping to make that magic happen until the store closed in 1972. Hamp's next job was also in the retail business downtown at the famed Johnson Hardware Company.
Anything and everything to keep the home running in good order could be bought there and there was always a "fixer" like Hamp on hand to give guidance.
Retirement for Hamp was only a word, for he would use his considerable talents at his beloved First United Methodist Church as the maintenance overseer.
Never one to sit idly by, Hamp tremendously enjoyed gardening, beekeeping, and working in his rose garden, the beauty of which was visible from the street as one drove by the Smith home.
Hamp married Patricia Johnston on May 22, 1948, and for the next 67 years, she was his faithful life partner. Ground zero in the Smith home would come to be the kitchen.
Over the years of their marriage, even in light of her busy life as a nurse at Newnan Hospital, a steady stream of breads of all kinds, cookies, and their famous cheese straws would be produced and promptly delivered wherever there was a need, or simply as a token of affection.
That little bit of love added to each recipe made all of the difference to those fortunate enough to be the recipient of the fruits of their labors.
As the years rolled by and life necessitated less strenuous pastimes for Hamp, tinkering around his home, puzzles and playing dominoes became his favorite hobbies.
He looked forward to his visits from his "girlfriends" Nancy, Pam, and Mary Ann who shared his love of puzzling and dominoes. Those last days were blessed by his village of friends who provided him with creature comforts and contact outside his home.
His family was grateful for his nurses Nancy and Tiara from Sacred Journey Hospice who supported his physical needs with great affection.
Hamp was an only child, but his life journey was blessed by his brothers and sisters in faith who carried him through his last year of life. Maria, Carla, Annie, Barbara, Dora, Shamar, Yasmine, Starr, Priscilla, Benita, and Tinnie were God-sent for him.
Hamp is survived by his children, Melissa Smith, Cindy Yeager and Bill, Hamp Smith and Patty, Angela Alexander, Patrick Smith and Susan. He was blessed with eight grandchildren and eight great-grandchildren.
A visitation for family and friends will be on Friday, August 5, 2022, between 6 p.m. and 8 p.m.
Hamp's storied life will be recalled and celebrated in a service to be held at the chapel of McKoon Funeral Home on Saturday, August 6, 2022, at 11 a.m. led by Reverend JoAn Kinrade. Interment will follow at Historic Oak Hill Cemetery.
In lieu of flowers, it is suggested by the family that memorial gifts be made to Angels' House P.O. Box 657 Newnan GA 30264 or to St. Jude Hospital for Children 262 Danny Thomas Place Memphis Tn 38105 or any charity of choice.
Online condolences may be expressed at www.mckoon.com.
McKoon Funeral Home and Crematory 770-253-4580.